USA vs. Venezuela: Why Americans Should Show World Cup-Level Interest in Match
January 21, 2012

Drew Hallowell/Getty Images
Landon Donovan won't be there. Neither will Tim Howard, Jozy Altidore, Carlos Bocanegra, Clint Dempsey or Michael Bradley.
So, why should fans care about Team USA's Saturday match against Venezuela?
They should care because it is a great chance to see who will be contributing in the starting lineup and off the bench in the 2014 World Cup.
Donovan, Howard, Dempsey and others will provide the star power for the U.S., but it takes a full roster to make an elite soccer team.
So, while Team USA knows who will lead the team in the future, they don't know who will fill out the roster to make it competitive on an international stage.
Guys like Kyle Beckerman, Ricardo Clark and Benny Feilhaber have seen some action on the national squad, so this month will be more of a tune-up for them. If these three players can step up and lead this young squad past Venezuela, it'll be a great sign for the U.S.
Then, there are young, inexperienced guys like Teal Bunbury, Brek Shea and C.J. Sapong who will try to provide some scoring for the team.
One of the biggest problems with the United States in international competition is that they can't find ways to score. The forwards often are stale and people just stand around waiting for Donovan or Dempsey to do something amazing.
That's not how you advance in the World Cup. If Bunbury, Shea and Sapong, among others, can find a way to ignite the offense, the U.S. could be a serious dark-horse candidate in 2014.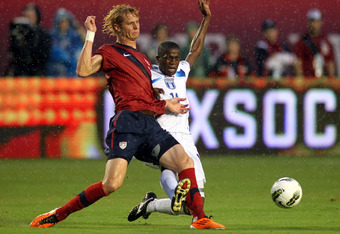 Marc Serota/Getty Images
Another problem with Team USA is inconsistent defense. Bocanegra is a stalwart on the back line, but the other spots are definitely up for grabs.
On the team that will play Venezuela, Heath Pearce has the most caps, with 33. It'll be interesting to see if he can show some improvement and solidify a starting spot heading into World Cup qualifying.
And if any of his inexperienced defensive teammates can show some stability, it will be a huge plus for the team.
So, even though this is a lackluster Team USA roster for Saturday's match, there should still be a huge level of interest from U.S. fans.
After all, these players will be the ones deciding just how far the U.S. advances in the 2014 World Cup.