Why a Permanent Move to London Would Never Work for the St. Louis Rams
January 20, 2012

Streeter Lecka/Getty Images
The St. Louis Rams are London-bound, and more regularly that you might have first thought.
Following the announcement by the NFL that the Rams will play three "home" games at Wembley Stadium in London from 2012 to 2014—starting with the New England Patriots on October 28 next season—a fanbase already unsettled by rumors of a relocation to Los Angeles are unlikely to be impressed.
The league has made no secret of its desire to establish a regular presence in Europe, and the adoption of a regular visitor seems to be the acid test ahead of a permanent franchise, probably based in London.
With the expiration on the lease of the Edward Jones Dome coming up in 2014 too, the Rams are viewed by owner Stan Kroenke as "free agents", who not only has eyes for a move to the west coast, but as the owner of Arsenal Football Club in London, may be a key player in establishing the league's vision for the United Kingdom.
As a football fan (American football, that is) based in London, I'm keen to receive as many games on my doorstep as the league is happy to throw my way.
But a franchise based in London? Not a chance. It wouldn't work for many reasons:
British fans already support their own team
The International Series games at Wembley Stadium have sold out every year since inception in 2007, thanks to a loyal fanbase which is as varied in its support for the 32 franchises as it is in America.
Games are attended by NFL fans, not necessarily fans of the teams on display, and crowds are a spray gun of color. Uniforms from all teams are represented, and all are encouraged to show their support for the "home" team.
Many fans have supported a franchise for years, and while the British psyche in rooting for an underdog could lend itself to following a team like the Rams (in the short term, anyway), we Brits are not in the habit of switching teams lightly.
Relocation is an alien concept to British sports. Identity of location matters above all commercial considerations. I could envisage the London franchise—let's call them the Monarchs again for argument's sake—becoming a second team for many, but fans in Britain are loyal too. They don't change their allegiances for anything.
Time zone pain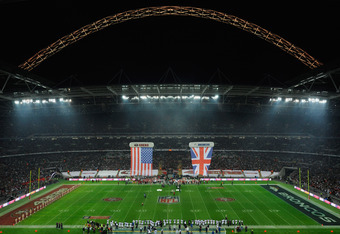 Pool/Getty Images
London is eight hours ahead of the west coast of America and five hours ahead of the east. Eight games on the Monarchs' schedule would represent jet lag, and logistical pain.
It's not just the Monarchs that would suffer. Let's say they land in the AFC East, bumping the Miami Dolphins to a new-look AFC South. The New England Patriots, New York Jets and Buffalo Bills would all receive one extra long-haul game per season.
As for the NFC and the AFC West, they would dread the journey midseason, and bye weeks would have to be cleverly managed to avoid a string of complaints from coaches and owners.
I've heard the argument for the Monarchs playing a consecutive four or five-game slate on the road, followed by a bye week, but that could turn ugly quickly. Where would players rest and rehabilitate in between road games? Where would practices take place? How would coaches catch up on game tape away from their facilities?
Then there's the human aspect. If you surveyed 1,000 NCAA college football students right now, how many would relish a relocated life in the United Kingdom?
How many veteran free agents would be persuaded to leave families and friends at home for a life in Europe, when they could take the same money from another team?
Can London sustain interest?
So far, the International Series has proven that the NFL can sell out one game per season—sometimes of dubious quality—to a British audience. Right now, it has no idea if it can sustain interest in two games, let alone eight with one team.
Putting aside the difficulties in finding a suitable stadium for a permanent franchise in London for a second, there is no guarantee that a 70,000 crowd could be expected season after season.
There is still a novelty factor, and a sense of occasion to hosting a single regular season game at present. Proposing eight games a season would quickly sort the casual observer from the hardcore follower—particularly if fans are expected to part with £80 (around $120) for a ticket, as they are at the moment.
There are a number of far-reaching issues with exporting America's game. Kroenke will know this, and perhaps the three-year deal to play at Wembley is just leverage for a renegotiated lease in St. Louis.
But if the plans to relocate are real, both the NFL and Kroenke may quickly realize that staying put made the most commercial sense for all involved.
Follow Nick on Twitter @nickbutterworth