2012 NFL Mock Draft: Teams in Need of True Franchise Players
January 20, 2012

Doug Pensinger/Getty Images
Too many of the NFL's 32 teams lack a true impact franchise player. There is nobody to identify the franchise with. That needs to change, and it needs to change now.
Fortunately, help is on the way.
1. Indianapolis Colts, Andrew Luck, QB, Stanford
In an interview with ESPN's Hannah Storm, Jim Irsay said that he will take a quarterback, even if Peyton Manning is healthy. Luck is the most NFL-ready quarterback prospect to come along since Manning. There is no way that the Colts can take anyone other than Luck.
2. St. Louis Rams, Matt Kalil, OT, USC
If the Rams keep this pick, this is a no-brainer. They need a player to step in and be a stabilizing force on the line, which the Rams have not had for a long time. 
3. Minnesota Vikings, Justin Blackmon, WR, Oklahoma State
Blackmon is an explosive playmaker that will stretch the field. That will give room for Adrian Peterson, as well as Percy Harvin, to make big plays. 
In his last two seasons at Oklahoma State, Blackmon had a combined 3,304 receiving yards and 38 touchdowns, adding one more on the ground. There is no better player for the Vikings to go with in this slot. 
4. Cleveland Browns, Trent Richardson, RB, Alabama
This is the only realistic option in this spot, despite what some would have you believe. Steve Wyche of NFL.com projected that the Browns will trade up to the No. 2 slot to take Robert Griffin III.
One, Cleveland won't need to trade up to get Griffin. Two, if they don't get some offensive talent, no quarterback will ever succeed. Richardson is a dynamic, all-around running back, built perfectly to succeed in the hard-nosed AFC North. 
5. Tampa Bay Buccaneers, Morris Claiborne, CB LSU
The Buccaneers defense and secondary looked very old in 2011. Claiborne is a dynamic player who is as fundamentally sound as anyone. An added bonus is Claiborne's big-play ability in special teams. 
6. Washington Redskins, Robert Griffin III, QB, Baylor
The Redskins aren't far off, but they won't go anywhere without a quarterback. If Wyche is even close to being accurate, the Redskins may need to keep an eye on the Browns to see if they are thinking about a trade or taking Griffin at No. 4.
Griffin is by far the best option for the Redskins. He is mobile, but can still make strong passes from the pocket. If he is available at No. 6 (which he should be), the Redskins need to pounce. 
7. Jacksonville Jaguars, Alfonzo Dennard, CB, Nebraska
If you can name the Jaguars' starting secondary, you're either a devoted fan or have way too much time on your hands. Jacksonville needs a man to step in and be there for a while.
8. Carolina Panthers, Devon Still, DT, Penn St.*
With Jon Beason returning, the Panthers' run defense will get better. But Still is a big man in the middle that will eat up blockers for Beason, which the Panthers need.
9. Miami Dolphins, David DeCastro, OG, Stanford*
With Reggie Bush and Daniel Thomas in the backfield combining for nearly 1,700 yards, the Dolphins are clearly a team devoted to the run. If that is going to hold, they will need an interior lineman to step in and open some holes.
10. Buffalo Bills, Quinton Coples, DE, North Carolina
The Bills were tied for 27th in the NFL in sacks a season ago. If they are ever going to step up and compete in the AFC East, they will need a good pass rush. Drafting a player like Coples would be a great step in the right direction.
11. Kansas City Chiefs, Riley Reiff*, OT, Iowa*
The Chiefs will be a much better team in 2011, but they need to get better in the trenches. Reiff is a logical selection to step in and help fix this team's protection woes. 
12. Seattle Seahawks, Courtney Upshaw, OLB, Alabama*
The Seahawks have a good run defense, but they need to get to the quarterback better. They were tied for 19th in the NFL in sacks in 2011, and Upshaw was a tremendous force at Alabama. 
13. Arizona Cardinals, Jonathan Martin, OT, Stanford
If the Cardinals are going to get a true read of Kevin Kolb, they will need to keep him on the field. Martin did a great job for Andrew Luck and deserves the chance to go to the desert to do the same for Kolb.
14. Dallas Cowboys, Dre Kirkpatrick, CB, Alabama
Kirkpatrick's arrest will hurt his stock, but there is no way he falls below Dallas. The Cowboys need help in the secondary like few teams. They would do well to grab Kirkpatrick.
15. Philadelphia Eagles, Vontaze Burfuct, LB, Arizona State
With a good linebacking corps, the Eagles would have easily won the NFC East. They just couldn't stop the run, especially early in the season. Burfict will step in and instantly make the defense better. 
16. New York Jets, Cordy Glenn, OG, Georgia
The Jets can't win games with Mark Sanchez passing; they need to run. If they're going to run, then they will need better blocking up front on the interior.
17. Cincinnati Bengals (via Oakland Raiders), Alshon Jeffery, WR, South Carolina
The Bengals need very little help, but Jeffery does fill a big one. If the Bengals have a man to line up opposite A.J. Green, that will be a remarkable quick-strike offense that the Bengals haven't had in a long time. 
With Jeffery and Green, the Bengals would have two receivers with great size and speed. Even the best defenses would have a difficult time matching up against that duo.
18. San Diego Chargers, Zebrie Sanders, OT, Florida State
To say that the Chargers had injury issues up front would be the understatement of the year. It was abundantly clear in 2011 that the Chargers need to improve up front, adding depth. At 6'6", 307 pounds, Sanders is a big man that will keep defenders away from Philip Rivers. 
19. Chicago Bears, Michael Floyd, WR, Notre Dame
The Bears' leading receiver in 2011 was Johnny Knox, who had 727 yards. The next best was Roy Williams, who had 507. That is the sure sign of a team that needs some help on the outside.
Despite a less than stellar quarterback situation, Floyd had 1,147 receiving yards in his senior year at Notre Dame. With Jay Cutler throwing him passes, the adjustment to the pros would be a good one. 
20. Tennessee Titans, Janoris Jenkins, CB, North Alabama
Cortland Finnegan's contract situation is anything but stable, so the Titans will need to retool in the secondary. Jenkins had arrests, which got him kicked out of Florida. But he is a phenomenal talent at corner that the Titans will do well do snag here. 
21. Cincinnati Bengals, Lamar Miller, RB, Miami
The Bengals did get better than 1,000 yards out of Cedric Benson, but he is a 29-year-old pending free agent with a bad past. In other words, they need a new running back. 
Miller is like Richardson in that he has the speed and strength needed to run well in the AFC North. If the Bengals significantly improve on offense, they will be a hard team to beat in 2012.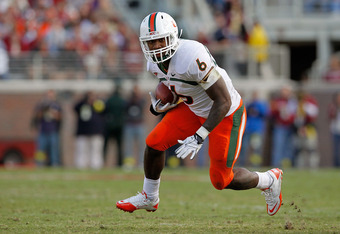 Mike Ehrmann/Getty Images
22. Cleveland Browns (via Atlanta Falcons), Kendall Wright, WR, Baylor
Much like their Ohio counterparts, the Browns need an awful lot of help on offense. Wright is a speedster, but he also has good receiving abilities, unlike Josh Cribbs. Wright is the best man to step in and give the team a real passing threat, which will make the Browns a force. 
23. Detroit Lions, Luke Kuechly, LB, Boston College
The Lions don't need a lot of help, but they do need a solid tackler at linebacker. Kuechly had nearly 200 tackles in his junior year at Boston College. He won't take a long time to adjust to the NFL game either, which is what the Lions need. 
24. Pittsburgh Steelers, Dont'a Hightower, LB, Alabama
The Steelers defense is good, but it is starting to age. Hightower is a raw talent, but that's fine for the Steelers, as he could be phased in throughout the year.
25. Denver Broncos, Brandon Thompson, DT, Clemson
The Broncos had the 22nd-best run defense in the NFL. That is not going to work for a team that does not score a lot of points. Thompson is a big force in the middle of the field that will plug up gaps, allowing Von Miller and Elvis Dumervil to attack the quarterback. 
26. Houston Texans, Mohamed Sanu, WR Rutgers
Outside of Andre Johnson, the Texans are razor thin at wide receiver. Sanu had over 1,000 yards receiving at Rutgers in 2011 and at 6'2", 215 pounds is a size problem for most NFL defensive backs. Lined up against Johnson, Sanu would make the receiving corps look a lot better.
27. New England Patriots (via New Orleans Saints), Stephon Gilmore, CB, South Carolina
The Patriots had the worst pass defense in the NFL in 2011. That will need to change in 2012, as they can't plan on 13-3 seasons doing nothing but shootouts. 
28. Green Bay Packers, Melvin Ingram, DE, South Carolina
The Packers may have been 15-1, but their pass rush was terrible. They were tied for 27th in the NFL in sacks during the regular season and only got to Eli Manning once in the playoffs. That will need to change if the Packers plan on returning to the Super Bowl in 2012. 
29. New York Giants, Mark Barron, S, Alabama
The team that lands Barron will get the steal of the draft. He is a hard hitter, but he's also able to drop back into coverage, anchoring the country's best defense.
The Giants have a strong pass rush, but they need help in the secondary and defending the run. They were 19th against the rush and 27th against the pass. This is a match made in Heaven. 
30. Baltimore Ravens, Peter Konz, C, Wisconsin
Konz fits the Ravens' style of play perfectly. He is a hard-nosed blocker that will step in and make an immediate impact. For a ball-control, run-first team like the Ravens, that is pretty close to being the ideal player.
31. San Francisco 49ers, Zach Brown, OLB, North Carolina
This would be a dream defense for the 49ers. They are already impossible to run against. So, if the 49ers can attack the quarterback with Brown opposite Aldon Smith with Justin Smith up front, they wouldn't need to score much to win. 
32. New England Patriots, Whitney Mercilus, DE, Illinois
The Patriots' defensive front was better than their secondary, but nothing to write home about. They were 14th in the NFL in sacks, which is not what you want from a Super Bowl contender.