Australian Open 2012 Scores: 3 Eye-Popping Results from Day 5
January 20, 2012

Cameron Spencer/Getty Images
The 2012 Australian Open has been an exciting affair so far.
Andy Roddick has bowed out and Mardy Fish was on the wrong end of a stunning upset in Round 2.  Round 3 has been just as exciting so far.
And, as we edge closer and closer to the finals, more and more top seeds are sure to fall in exciting fashion.
Let's take a look at some of the most exciting results from Day 5 of the tournament.
Feliciano Lopez (No. 18) def. John Isner (No. 16): 6-3, 6-7(3), 6-4, 6-7(0), 6-1
Not surprising, John Isner was involved in another long, hard-fought battle. This time, however, he came up on the wrong side of the match.
The scoreboard shows this match was close, but in truth, Lopez dominated.
The three sets that Lopez won were accomplished by scores of 6-3, 6-4 and 6-1.
The 6-1 final set shows that Lopez had the stamina that Isner didn't have, which ultimately led to the upset.
Bernard Tomic def. Alexandr Dolgopolov (No. 13): 4-6, 7-6(0), 7-6(6), 2-6, 6-3
This match was a huge upset. Dolgopolov was supposed to have a chance to pull off an upset against Roger Federer in the round of 16.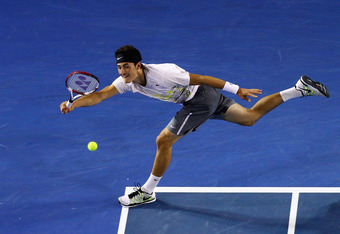 Ryan Pierse/Getty Images
Instead, Dolgopolov was the one on the wrong end of an upset.
This match has big implications because Federer now has an easier road to the semi-finals.
His biggest remaining challenge is No. 11 Juan Martin Del Potro of Argentina.
Rafael Nadal (No. 2) def. Lukas Lacko: 6-2, 6-4, 6-2
Nadal looked really good against Lacko, winning in straight sets and getting ever closer to the Australian Open finals.
Nadal didn't struggle at all in this match and he looks to be on top of his game again.
If he meets Federer in the semi-finals, he'll need to be at his best if he hopes to advance to the finals.
Federer has an easier road to the finals after Tomic's upset of Dolgopolov, so we'll have to see if he's rusty or rested if he plays Nadal.