LeBron James: What His Game Against Lakers Says About Miami Heat's Title Hopes
January 20, 2012

Mike Ehrmann/Getty Images
Which was more upsetting to the general public this week:
The Wikipedia blackout in protest of the proposed SOPA legislation in Congress?  Or LeBron James potentially not suiting up against Kobe Bryant and the Lakers?
It's hard to tell.  However, I doubt our government is dumb enough to severely limit freedom of information on the Internet and I certainly didn't think James would actually sit out a home game against Kobe and the Lake-show. 
It was an opportunity to take on enemy No. 1 in Bryant.  It was a chance to best "Mamba" without the aid of basketball's greatest sidekick Dwyane Wade.  It was a chance to go out and soundly beat the man that Jordan himself declared the only player alive worthy of his comparison.  Lastly, it would be James' first time squaring off against Mike Brown, the man who he parted with awkwardly in Cleveland.   
James suited up.  James didn't falter.     
He not only played, he dominated by turning in a 31 point performance along with eight rebounds, eight assists, four steals and three blocks.  Hard to believe James could deliver such an all-encompassing performance when only hours earlier he was ordered to stay away from the team shoot around for experiencing flu-like symptoms.  
It's not an especially prolific performance from the man who is second in the NBA in scoring at 29.9 points per game, but consider the timing and the questions that have been surrounding James' toughness and you begin to see that maybe this wasn't just another night out in South Beach.   
We've seen James quit before.  Those of you in James' corner, face it.  It's true.  Part of his already cemented legacy is that he'll always be remembered for blanking in the most crucial moments of the Heat's series against the Mavericks in last year's Finals.  If there is a clutch gene—and I believe there is—it seems James lacks it or it's been lying in dormancy. 
Thus, there are two possible takeaways from James' performance last night:
1).  James has finally found it.  And by it I mean it. 
That diamond hard edge which was present in Jordan's game, present in Bryant's game, and has been absent from James'.  To show up queasy, coughing, a little wobbly and dominate on every area of the floor against Bryant and Co. doesn't happen without one possessing a bit of edge.
Then throw in the fact that instead of Wade, James had to turn to the likes of Eddy Curry, Shane Battier, Mike Miller and the oft disappointing Chris Bosh and it seems like he helped elevate a patch-work squad of work horses much like...well, much like Jordan.
The Heat also showed poise by holding of L.A.'s late fourth quarter surge.  One might say it was on the strength of James' fifteen-foot runner, ala Tony Parker, that secured the win.  That's not just a great individual performance in the stat-column, that's acting the part of field general.  That's making sure L.A. goes home angry.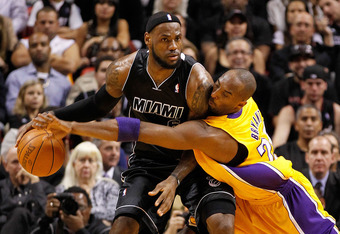 Mike Ehrmann/Getty Images
2).  James milked his illness and showed up 100 percent, thus making his big night against the Lakers that much more heroic and, had Miami lost, James would have had a convenient excuse in place to deflect any blame.
I mean, it's not as if James is adverse to using PR tactics to make himself seem larger than life.  Remember that hour of prime-time television he paid for two years ago?
Of course you do.  
This is the cynic's view, obviously, but it's one that needs to be taken, and taken seriously.  This wasn't Game 5 of the '97 finals and it wasn't billed to be but James fighting the flu and nearly tallying a triple-double certainly hearkens back to the "flu game."
If the Heat had lost, James and Erik Spoelstra would have no doubt blamed it on his being "off" or not feeling 100 percent.  Of course, all Bryant would have to do in post-game interviews is point to his fractured wrist and say, "this didn't hold me back" and Jordan would nod approvingly, knowing he anointed the right guy to take up his mantle.  
The Heat did win, though and James was seen in the locker room following the game sipping on cold medicine.  So, it seems the cynic's view will have to get shelved for the time being.  
Apologies to Skip Bayless, although I'm sure he'll still find something wrong with James' game.  
We might have witnessed a turning point for James, folks.  Many of you, I'm sure, will decry it and say the stars aligned last night or Tim Tebow just prayed reeeally hard for all those shots to go in.
The point is, James has entered crunch time.  If Miami can't win this year, how much longer will they really have?  If "the King" is ever to reach down and find a clutch gene, it's now.  If James can captain this team, such as they are (Eddy Curry did surprise me a little bit last night) and do it without Dwyane Wade, then there isn't a single reason why Miami can't hoist a trophy at the end of the year.  
James answered a lot of questions last night just by suiting up.  Had he been on the bench in street clothes, most of us would have just chalked it up to "more of the same."  The Nikes got laced up, though, and were put to great use.  If this mental fortitude is more than just a passing thing, then James haters, get ready to feel really ill.