Chicago Blackhawks: Is Pendulum Swinging Back on Trade with Florida Panthers?
January 20, 2012

Jonathan Daniel/Getty Images
It's been almost a year since the Chicago Blackhawks traded Jack Skille, David Pacan and Hugh Jessiman to the Florida Panthers for Michael Frolik and Alexander Salak. With the Panthers visiting the United Center Friday night, how does that deal look in hindsight?
A year ago, I broke down the deal and gave a slight edge to the 'Hawks. At this point, that's really all I can do heading into play Friday. In truth, the full impact of this trade may not be felt for awhile.
Here's how things stand with the players involved.
Hugh Jessiman
Jessiman was the throw-in on the deal and is no longer in the Florida organization. He is currently playing on an AHL contract with Lake Erie, where he has 19 goals in 36 games. He's a big journeyman who can score in the AHL, except for last season when he spent most of his time in Rockford with injuries.
David Pacan
Pacan is playing his second season in Niagara of the OHL. After a 62-point season a year ago, the 6'3" center has 19 goals and 21 assists in 42 games. Pacan is really the player that this deal will probably hinge upon.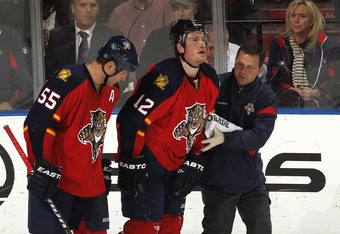 Joel Auerbach/Getty Images
Jack Skille
Long the whipping boy for the organization, Skille went to Florida and soon injured an ankle. He has spent the last month on the IR with a shoulder injury, but he could see action Friday. In 31 games, he has a pair of goals, four assists and a skater rating of minus-eight.
It doesn't seem like Chicago would have to get much production from their haul in the deal to claim a win here. That's good, because so far, they haven't been overwhelmed with results.
Michael Frolik
When the 'Hawks picked up Frolik, he was a former 20-goal scorer who had slipped down in the lineup. Heading into Friday night, Frolik is a former 20-goal scorer who has slipped down in the lineup, but plays hard.
Skille, who couldn't get his Blackhawks locker cleared out fast enough for a lot of fans, had seven goals and 10 assists before the trade last year in 49 games.
Through 45 games, Frolik has five goals and eight assists. Throw in last season's regular-season performance, and he has eight goals and 14 assists in 73 games. He's not exactly blowing Skille's numbers away.
Frolik has skated hard this season, but certainly hasn't had the production his $2.33 million cap hit suggests. Skille hasn't lit up the league, but he's underwhelmed for a third of Frolik's price.
Alexander Salak
We excitedly looked forward to the day Salak came in and gave us some depth in goal. If he ever gets back in the lineup, maybe he will.After finishing an impressive year in the Swedish Elite League, Salak signed a two-year deal to back up Corey Crawford. Or so we thought.
Ray Emery was given the job out of camp. Salak pouted in Rockford, then was spotty when he finally got into some games. Just as he was starting to look like the player that was advertised, he got hurt. He hasn't played in Rockford since December 2nd.
Indications are that Salak will soon be back in goal for the Ice Hogs, where he can hopefully improve upon his 3.06 goals against average and .893 save percentage.
So, what's the bottom line?
Does your perspective of last February's trade change when you pull back and look at the players involved? Chicago probably still got the better of the trade in the short-term, provided Salak is able to eventually win the back up role next season.
The NHL futures of Salak and Pacan will probably swing this deal one way or the other in favor of the 'Hawks and Panthers. Right now, Chicago may have a slight edge based on the role Frolik has played and the number of games in which he has appeared.
For now, the trade remains a swap of young bottom-six skaters. It will be up to Frolik and Skille to decide how things continue in the short-term.