NFL Playoff Picks: 8 Bold Predictions for Championship Weekend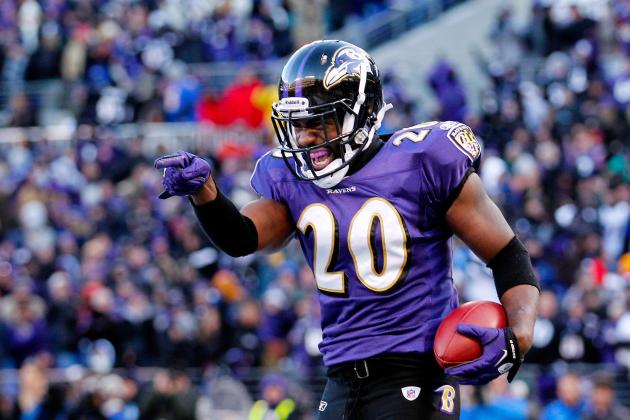 Rob Carr/Getty Images

NFL championship weekend presents the most anticipated Sunday in the NFL this season, and these bold predictions will help sway your opinion on the outcome of these events.
Football fans everywhere shouldn't quite know what to expect other than both of these games will go down to the wire. Expect 120 minutes of nail-biting, bone-crushing NFL action.
This is the first time in recent NFL history where there's not a clear-cut favorite to walk to the Super Bowl. Both of the two remaining games are a toss-up on who is to come out victorious.
Is it Sunday yet? Get ready for some unforgettable NFL football.
Begin Slideshow

»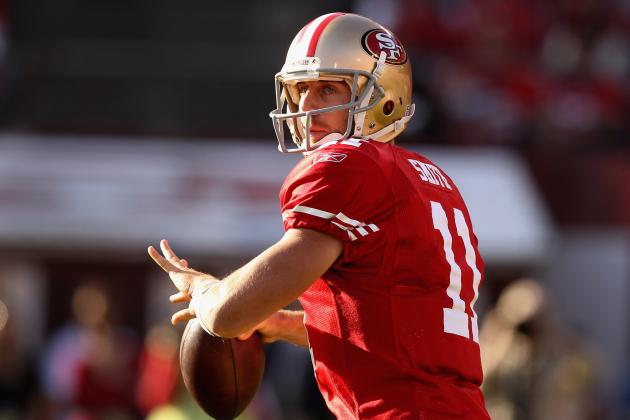 Ezra Shaw/Getty Images

San Francisco 49ers quarterback Alex Smith had the best game of his career against the New Orleans Saints in the divisional round of the NFL playoffs.
Sadly, he'll tumble back down toward mediocrity against the New York Giants in the NFC Championship Game. Despite throwing only five interceptions all season, Smith will throw two interceptions to the Giants.
With the forecast being slippery in San Francisco, Smith will have troubles handling the ball.
With the Super Bowl on the line, the rapid rise to stardom will get to Smith and he won't have his best game.
Good thing he has a superb team around him to pick him up when he's down.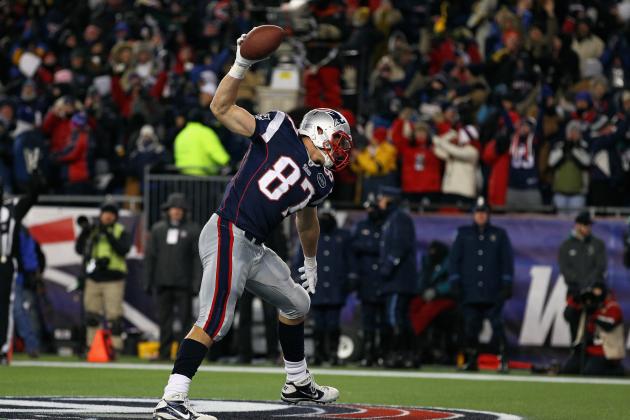 Al Bello/Getty Images

New England Patriots tight end Rob Gronkowski lived in the end zone this season.
His 17 touchdowns not only set a single-season record for tight ends once held by Mike Ditka, it led the NFL.
Gronkowski proved he is automatic by scoring three touchdowns against the Denver Broncos in the AFC divisional round.
Things will be different for Gronkowski and the Patriots against the Baltimore Ravens in the AFC Championship Game.
The Ravens know they have to stop Gronkowski from taking over the game and will focus on stopping the once-thought unstoppable beast. By clogging up the middle of the field, the Ravens will frustrate Patriots quarterback Tom Brady and his offense.
Patriots fans should be realistic in their expectations for Gronkowski in the AFC Championship Game.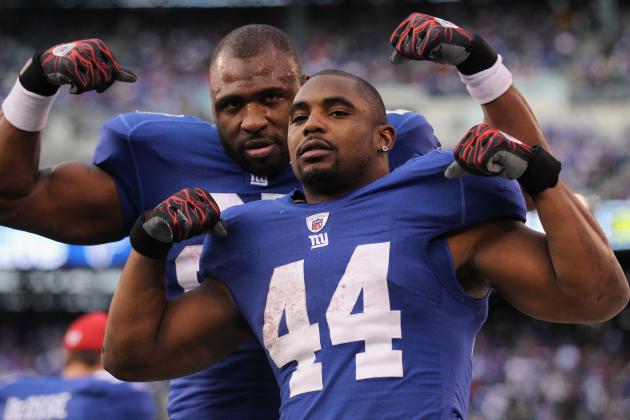 Nick Laham/Getty Images

New York Giants running backs Ahmad Bradshaw and Brandon Jacobs are the new-age NFL's dream when it comes to a dual running threat.
With speed and power, these guys fit the bill.
Despite averaging the fewest amount of rushing yards per game in the regular season with 89.2, the Giants are averaging 133.5 rushing yards per game in their two playoff games.
While it's true that the their opponent in the NFC Championship Game, the San Francisco 49ers, have the best rushing defense in the entire NFL, don't let these numbers deceive you.
Fans should expect to see plenty of these two men as they combine for over 150 yards and two touchdowns. With the Super Bowl on the line, these men will do their part.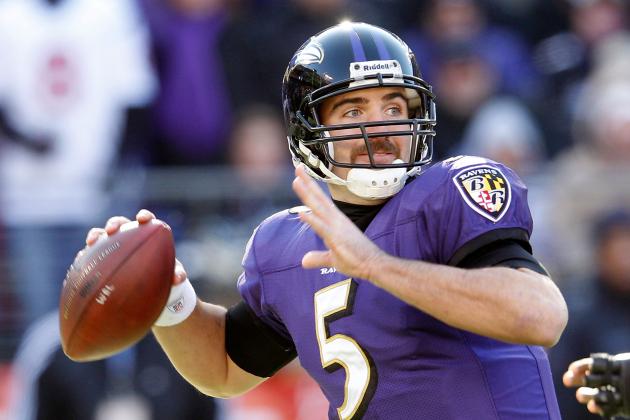 Rob Carr/Getty Images

Baltimore Ravens quarterback Joe Flacco has some very thick skin these days. He's taken criticism from seemingly everyone, even his own teammates.
Flacco knows that his career-defining moment is in the upcoming AFC Championship Game against the New England Patriots.
Flacco is 5-3 all-time in the playoffs, although he averages just 153.3 passing yards in those games.
Expect Flacco to double his passing average against the porous Patriots defense in their upcoming showdown. Without a win, Flacco is as good as gone in the minds of the Ravens faithful.
Good thing for Flacco, the Patriots defense will make him look good and buy him some more time in Baltimore.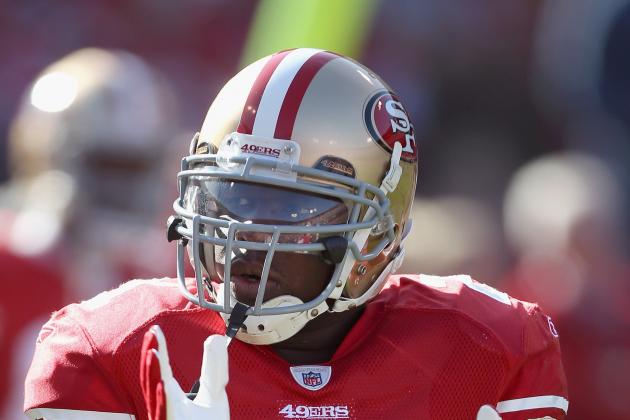 Jed Jacobsohn/Getty Images

Frank Gore will be the bulk of the San Francisco 49ers offense in the NFC Championship Game against the New York Giants.
Not only will Gore pound the ground for two touchdowns, he'll even throw a touchdown toss to tight end Vernon Davis.
49ers head coach Jim Harbaugh knows it's that time of year to pull out the entire bag of tricks and he'll do so with Gore.
With it being potentially wet and wild in the Bay Area, expect Gore early and often for the Niners.
He'll rush for over 120-plus yards and score a total of three touchdowns.
Ezra Shaw/Getty Images

New England Patriots quarterback Tom Brady will become visibly upset with his defense by the third quarter in the AFC Championship Game against the Baltimore Ravens.
The combining factors of Brady being stymied by the Ravens defense and the Patriots defense making Joe Flacco look like Joe Montana will cause Brady to boil over.
Brady's call to arms won't be enough in the end.
The Patriots poor defensive performance may force them to use all their 2012 draft selections on defensive players.
Needless to say, the offseason in Foxboro will not be a pleasant one. A Super Bowl title is needed before Brady, 34, becomes too old.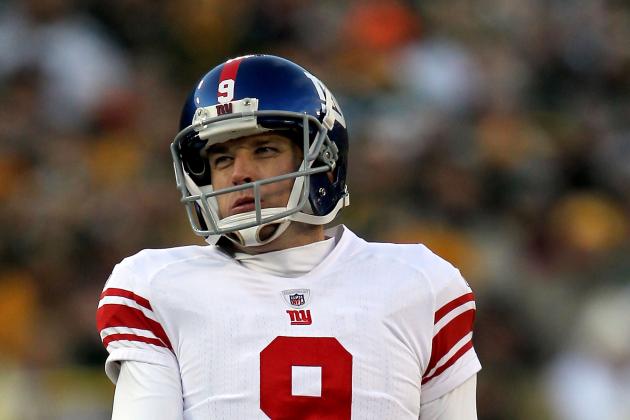 Jonathan Daniel/Getty Images

New York Giants kicker Lawrence Tynes will miss a potential game-winning field goal in the waning moments of the NFC Championship Game against the San Francisco 49ers.
With less than two minutes remaining and the game on the line, Tynes will miss a 42-yard field goal in mucky San Francisco.
Tynes has made 4-of-6 field goals this postseason and is 9-of-14 in his playoff career.
Those numbers aren't spectacular, and Tynes will crack under pressure with Super Bowl XLVI within his grasps.
Heartbroken, Giants fans will come up empty handed and have to move onto dreaming about next season.
NFC Championship Game Prediction: 49ers 28, Giants 27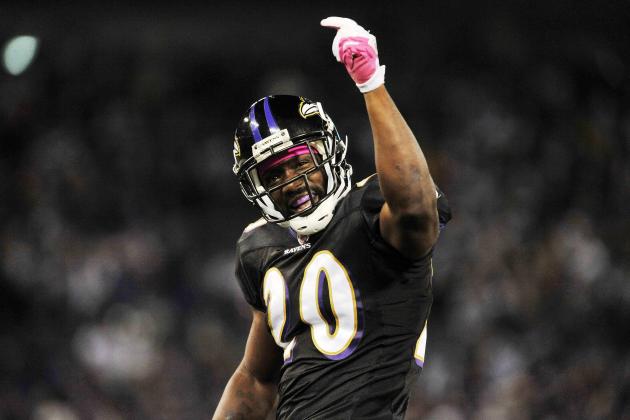 Larry French/Getty Images

After calling out his entire offense this week, especially his quarterback, Baltimore Ravens defensive back Ed Reed will do his part in taking his team to Super Bowl XVLI.
Reed is the NFL's active leader in interceptions with 57 and has eight career playoffs interceptions. With his biological football clock ticking, Reed, 33, knows this may be his last time at a chance Super Bowl ring.
The Ravens are going up against some stiff competition in the New England Patriots, but thanks to Reed, the Ravens will push onto Indianapolis.
Although he's played magnificently multiple times in his career, Reed will play the game of his life against the Patriots. Expect Reed to have double-digit tackles, a sack and a forced fumble.
Although it's a rocky situation right now in the Ravens clubhouse, all that is fixed with a win.
AFC Championship Game Prediction: Ravens 34, Patriots 24