NFL Playoffs 2012: 8 Underrated Players Crucial to Their Team's Super Bowl Hopes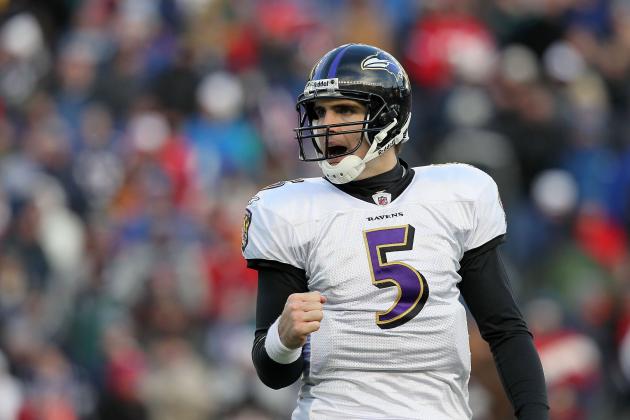 Jim Rogash/Getty Images

As we get closer to the conference championships, lots of the focus is on the stars who can lead their teams into the Super Bowl.
The mistake with doing this is that people forget about football being a team sport. Often times, the last team standing is the one that best works together, not the one with the best player.
In this slideshow, I will look at several underrated players who have received less media coverage but still play vital parts in their team's game plans. By underrated, I mean players who have not been to any Pro Bowls or been named All-Pro.
For the most part, they will be players who haven't been discussed much, meaning players like Baltimore Ravens quarterback Joe Flacco who will not be eligible.
Here are eight of the most underrated players on the four teams that are trying to get to Super Bowl XLVI.
Begin Slideshow

»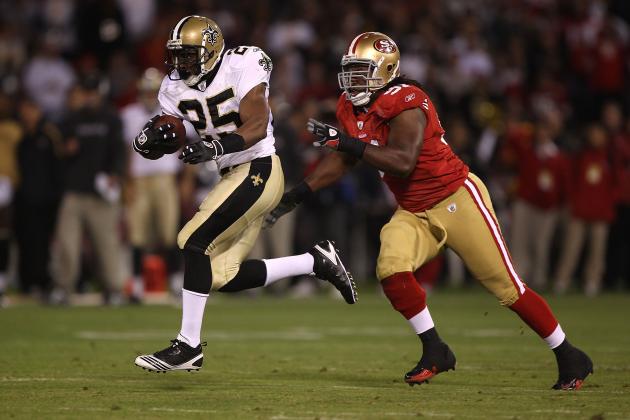 Jed Jacobsohn/Getty Images

It's a little hard to call anyone on the San Francisco 49ers defense underrated. After all, this elite defensive unit is largely responsible for the 49ers resurgence this season. With the fourth overall defense and the top rush defense in the NFL, it is clear that the 49ers have one of the best defenses in the league.
A lot of that attention has gone to Pro Bowl players like free safety Dashon Goldson, middle linebacker Patrick Willis and defensive end Justin Smith. However, one player that consistently flies under the radar is Smith's fellow defensive end Ray McDonald.
Starting 15 games this season, McDonald gathered 5.5 sacks to finish fourth on the team. This was only McDonald's second season starting nine or more games and he made good with the opportunity getting 39 tackles and two forced fumbles.
The reason McDonald could be important Sunday is that the 49ers will need to be getting after New York Giants quarterback Eli Manning. If he has time, Manning can beat the 49ers weaker pass defense (they were ranked 16th) with his stud receivers. But pressure Manning sufficiently and he can start forcing throws that aren't there and maybe give the secondary some takeaways.
If Manning is constantly harassed by the 49ers defensive front, don't be surprised if McDonald is involved.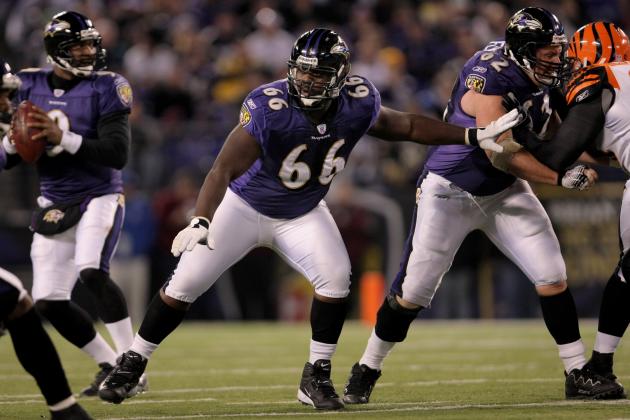 Doug Pensinger/Getty Images

All the talk this week has indicated that Joe Flacco's performance is the single most important factor in whether or not the Baltimore Ravens can beat the New England Patriots. However, it isn't too much of a stretch to say that the Ravens offensive line could be the deciding factor.
The reasoning behind this is that running back Ray Rice is the single most important player in the Ravens offense. Because of this, it is necessary that the offensive line have a good game and open up tons of holes for Rice to run through. If Rice doesn't do well, it's doubtful the Ravens will win.
One crucial offense lineman who has been under the radar is guard Ben Grubbs. The Ravens first round pick in 2007, Grubbs is the longest tenured player on the Ravens offensive line having started ever since his rookie season. Like most good offensive linemen, Grubbs is a quiet player that just simply gets the job done.
This offseason will be important for Grubbs who is scheduled to be a free agent. It's no coincidence that out of the six games he missed, two were losses and in two of them Rice had under 50 rushing yards.
Simply put, for the Ravens to win the AFC Championship, Rice needs to have a good game. For Rice to have a good game, Grubbs and his fellow offensive linemen need to do their jobs well.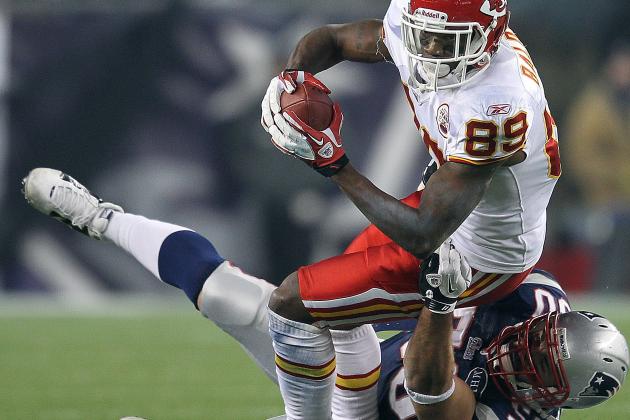 Jim Rogash/Getty Images

Although New England Patriots coach Bill Belichick is thought of as a defensive genius, the Patriots defense isn't all that good this year. In fact, saying they're not good is generous. The Patriots defense is ranked 31st overall and 31st against the pass where they give up an astounding 293.9 passing yards a game.
Yet this maligned defense has had its moments and it's also produced some unlikely heroes. One of them is outside linebacker Rob Ninkovich. Originally signed as a long snapper, Ninkovich has played his way into a starting position on the Patriots defense.
In his first season starting 16 games, Ninkovich has had 74 tackles and 6.5 sacks. In the divisional round of the playoffs, he went off against the Denver Broncos collecting five tackles, 1.5 sacks and forcing a fumble.
His importance in the conference championship is magnified by the Patriots lack of playmakers on defense. Although the Patriots offense can put up 30 points on just about anyone, this defense has been known for keeping lesser teams such as the Washington Redskins and the Buffalo Bills in games. Joe Flacco has had some rough postseason games so the Patriots defense could have a surprisingly good day should that trend continue.
Ninkovich meanwhile will likely be all over the field wreaking havoc and getting tackles. He may not be a household name, but Ninkovich might be the Patriots defensive player most likely to impact the game.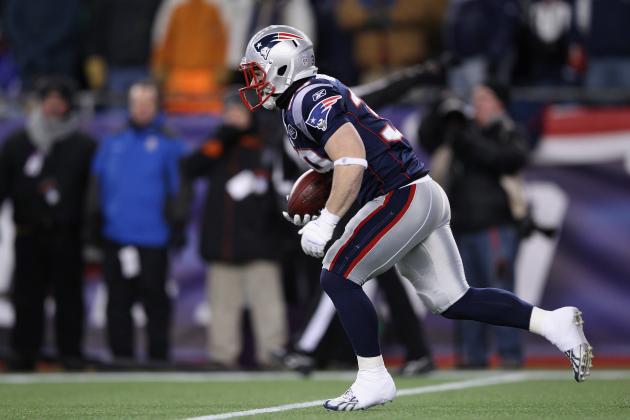 Elsa/Getty Images

Really this spot could go to any New England Patriots running back. Bill Belichick is known for his running back by committee approach that allows him to utilize the talents of multiple running backs. But why not go with the underdog Danny Woodhead?
At only 5'7" and 195 lbs, Woodhead is one of the smallest players in the NFL. Although he was a superstar at Division II Chadron State in college, Woodhead went undrafted and didn't see much playing time his first two NFL seasons. It wasn't until his third season last year when he was signed by the Patriots that he finally saw substantial playing time.
Having finished with 547 rushing yards in 2010, Woodhead's 2011 season could be viewed as a disappointment. He only had 351 rushing yards and one rushing touchdown. However, he did have the most catches out of any Patriots running back, getting 18 catches for 157 yards.
For now it seems clear that Woodhead is behind both Ben-Jarvus Green-Ellis and Stevan Ridley on the Patriots running back depth chart. However, it's dangerous to assume anything with Belichick's consistently unpredictable use of his rushers. Any one of five running backs could be in line to lead the Patriots in rushing carries against the Baltimore Ravens.
Although the Patriots often neglect the running game, it would be foolish to do so against the Ravens. The Ravens have a very solid defense across the board and arguably their biggest defense is allowing runs to the outside. Therefore, a speedster like Woodhead could potentially shock people by having a good game against the Ravens.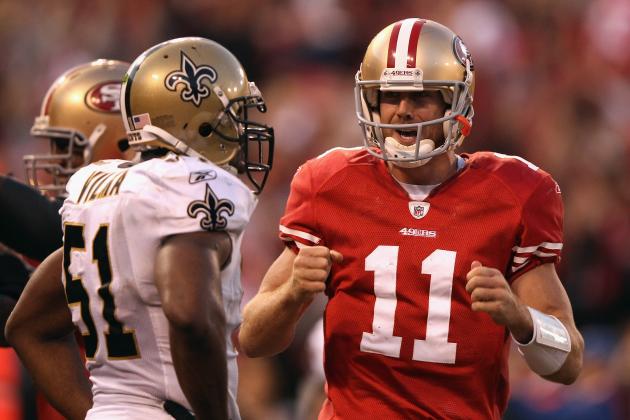 Ezra Shaw/Getty Images

Initially I wanted to keep quarterbacks off this list. It's pretty impossible for quarterbacks to be overlooked given the fact that today's sports media is practically obsessed with them. But when I thought about San Francisco 49ers quarterback Alex Smith, it seemed this list would not be complete without him.
The fact that Smith has led the 49ers to the NFC Championship is nothing short of amazing. Only a year ago Smith was being booed off the field and was expected to leave in free agency as one of the all-time greatest NFL busts. Technically, the reason he stayed a 49er was because the lockout had taken away the time rookie quarterback Colin Kaepernick would need to learn the playbook.
New 49ers coach Jim Harbaugh wisely decided to emphasize the 49ers power running game this season. They have just the runner to do that with Frank Gore who had a Pro Bowl season with 1,211 rushing yards. Smith, therefore, was more of a game manager who doesn't have to make as much throws as most NFL quarterbacks.
Smith excelled in this role throwing for 3,144 yards, 17 touchdowns and only five interceptions. However, he has shed the game manager label by playing calm under pressure and winning some games for the team. Particularly his performance against the New Orleans Saints in the divisional playoffs last week has shown us that Smith is very much one of the reasons the 49ers have been so good this season.
For the 49ers to win the NFC Championship, Smith has to do more of the same. He'll be facing a New York Giants defense that has played well recently but is still ranked 29th against the pass. If the 49ers win, don't be surprised if it's because of Smith playing well against the Giants.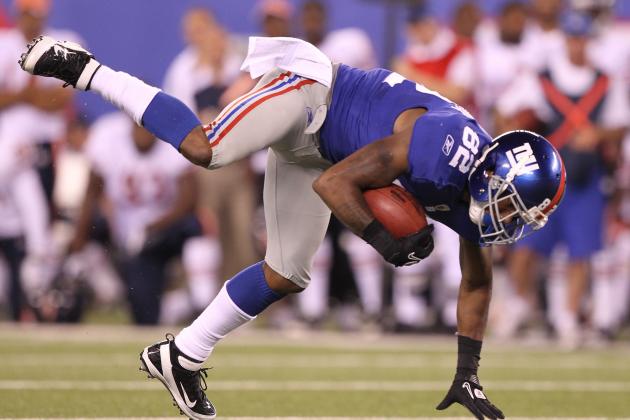 Al Bello/Getty Images

The New York Giants have a fine receiving group this season. In fact I would argue they might have the best group of receivers in the entire NFL. Both Hakeem Nicks and Victor Cruz are studs with freakish physical abilities.
But one Giants receiver constantly seems to get a lack of credit. Mario Manningham is the player that lost his starting job after Cruz's meteoric rise this season. Although good, the consensus is that Manningham isn't as good as the two aforementioned receivers.
Manningham definitely didn't have great numbers this season. He only started 10 games catching 39 passes for 523 yards and four touchdowns. As a third-string receiver these numbers aren't bad, but as an aspiring starting receiver this has got to hurt Manningham's confidence.
It's far more likely that Nicks or Cruz will have the big game this week against the 49ers 16th ranked passing defense. But Manningham shouldn't be forgotten about. As a third-string receiver, he'll be lining up against less talented cornerbacks.
In the Giants two playoff games this season, Manningham has seven catches for 99 yards with two touchdowns. Therefore, it's not unreasonable to think that he could have a good day against the 49ers or even against their AFC opponent should the Giants make the Super Bowl.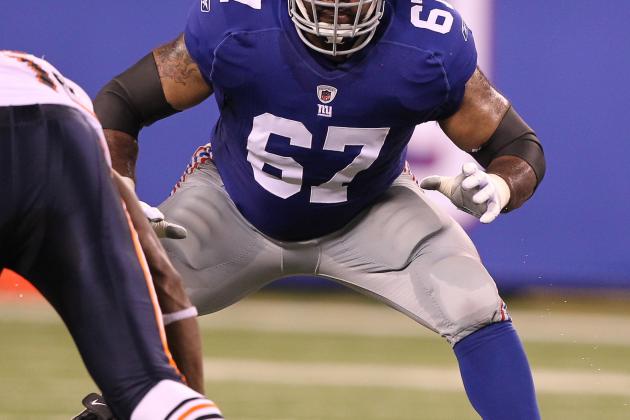 Al Bello/Getty Images

The New York Giants have been known for having good offensive linemen for awhile now. A consistent part of that line is right tackle Kareem McKenzie.
After arriving via free agency in 2005, McKenzie has started 16 games in four of of his seven seasons as a Giant. This season McKenzie was part of an offensive line that only allowed 28 sacks, enough to finish seventh in the NFL. Thus far in two postseason games, the Giants have only allowed quarterback Eli Manning to be sacked twice.
McKenzie has not gotten much recognition during his career with no Pro Bowl or All-Pro nominations—he just goes in there and plays hard. And he stays healthy, having only missed seven regular season games as a Giant.
McKenzie is important for two reasons this week. First, he needs to keep Manning upright against a ferocious 49ers defense that has pass rushers like Justin Smith and Aldon Smith (seems like there are a lot of good Smith's on the 49ers.)
Second, McKenzie needs to run block well for a Giants rushing attack that was ranked last in the NFL. They have been slightly better since the playoffs began thanks to the successful one-two punch of Ahmed Bradshaw and Brandon Jacobs. It's going to be hard running against the 49ers, but it's still possible especially if the Giants can split carries with their running backs.
Larry French/Getty Images

Another Baltimore Ravens free agent has a lot to prove this postseason. Veteran defensive end Corey Redding will be entering his 10th season in the league next year. He has spent the last two seasons with the Ravens after suffering seven seasons with the lowly Detroit Lions and the Seattle Seahawks.
Redding had an admirable season in 2011, getting 43 tackles and 4.5 sacks after playing in 11 games. With all the mention of pass rushers Haloti Ngata and Terrell Suggs, it's easy for Redding to be lost in the shuffle.
Redding doesn't seem to mind, though. He's fine with not receiving credit on the star-studded Ravens defense. Instead, he plays well and tries to be a mentor towards the younger players.
For not making the postseason his first seven seasons, Redding has played well in his three postseason games as a Raven. Last year he had a huge fumble return for a touchdown against the Pittsburgh Steelers in the divisional playoffs. Last week, he had three tackles against the Houston Texans.
It's pretty obvious that for the Ravens to win on Sunday they're going to need a good pass rush. Many experts are expecting Suggs to provide the pass rushing and sacks. However, Bill Belichick often does a good job gameplanning and it's very possible that he could think of a way to try to slow down Suggs so another lineman like Redding may need to step up.