College Football Bold Predictions: 30 Predictions for 2012
January 20, 2012

Stephen Dunn/Getty Images
The celebrations have barely finished for Alabama's victory and we haven't even gotten to recruitment deadline day (A note to Penn State fans: Don't expect anything), but we thought we'd be bold and make some predictions for the 2012 College Football Season. Some might be pretty crazy.
1. Your Preseason Top 5 will be: LSU, Oregon, USC, Alabama and (we'll throw this one out there) Georgia.
2. Georgia will win the SEC East because they are bringing everyone back bar tight end Orson Charles. Malcolm Mitchell will learn how to catch in the off-season, and Aaron Murray will be seen as the second coming of Matt Stafford. And the Dawgs are helped that they play nobody in the SEC for the second year in a row (apart from South Carolina, who they'll beat in a squeaker on the road). The game with Georgia Tech will be their biggest non-conference game. The rest are a joke....
3. LSU will win the SEC West, thanks to a good schedule. The game on the road against Arkansas will be a war. The Tigers will beat a vastly improved Washington team, too.
4. College Gameday will be at Oregon vs. USC on the 3rd of November, which will feature the 2nd and 3rd best team in the nation. LSU's home game with Alabama will be avoided, because A. it's on CBS and B. we're all bored of it by now. I pick Oregon to win that one - despite it being in LA.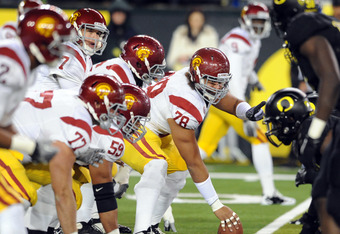 Steve Dykes/Getty Images
5. Your five Heisman Trophy finalists will be: Matt Barkley (USC), Landry Jones (Oklahoma), Montee Ball (Wisconsin), De'Anthony Thomas (Oregon), Denard Robinson (Michigan). Tyrann Mathieu (LSU) would get in, but no one's going to throw anywhere near him this year. Georgia's Aaron Murray could also be a dark horse, particularly if the Dawgs make a run for it.
6. Oregon will win the Pac-12 North, and USC will win the Pac-12 South. That'll set up the game of games in the Pac-12 Championship Game. I'll pick USC to win that one. Barkley and Robert Woods are just too good a combination, and there's nothing like a bit of revenge in the air.
7.  The Big XII will be won by Oklahoma, because of Oklahoma State's rebuilding. We anticipate that Texas' running game will keep the Red River Rivalry game close, and the game could be an early finale to see who will win the conference.
8. West Virginia will sue the Big East and get out of the conference and join the Big XII. Which is good for everybody, quite frankly.
9. Boise State won't get its shot at the National Championship this year, because Kellen Moore's graduation will be too hard for the Blue Turfmen to take. Particularly as they've got Michigan State in the first game of the season (we're calling for Michigan State to win that one).
10. Speaking of great starting games, we'll call for Michigan to upset Alabama in the first game of the season. Denard Robinson's return has given a huge lift to Ann Arbor already - and Brady Hoke's one hell of a quarterback. Plus, Nick Saban's defense (and Trent Richardson) - has all but graduated. This is not the same Alabama team as we're used to. In 2013, put Alabama as the No.1 team in the nation...
11. Penn State's first season without Joe Paterno will be really ugly. We're calling for a 7-5  season, with wins against Ohio, Navy, Temple, Virginia, Northwestern, at home to Indiana and on the road to Purdue. Offensively it won't be fun, although Silas Redd will again be one of the top running backs in the nation.
12. I'm calling for Ohio State to win the Big Ten Leaders and Michigan to win the Big Ten Legends. Because of the 'Tressel Ban', there's going to be no 'The Game II' in the Big Ten Conference Game. Michigan will beat second-placed Wisconsin.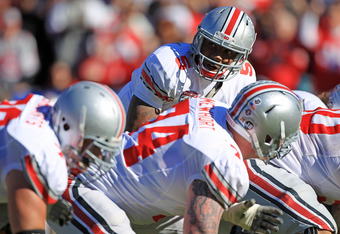 Scott Halleran/Getty Images
13. Despite all the love for Denard Robinson, the big talk of the Big Ten will be Ohio State quarterback Braxton Miller. Be afraid of the Buckeyes, people. Urban Meyer is going to lead the Buckeyes to the promised land, and Miller could be the one to help Meyer do it. The California game in Week 3 is going to be fun.
14. Clemson is NOT going to be Clemson in 2012 - thanks to the fact that they are bringing back wide receiver Sammy Watkins and quarterback Tajh Boyd. Running back Andre Ellington, and receiver DeAndre Hopkins are back, too. Having said that, they've got no depth on the offensive line. Will they win the ACC Coastal? No, because...
15. Florida State's going to finally live up to the hype and win the division in 2012. Tallahassee will be a good place to be - and the home game against West Virginia will be a ton of fun.
16. On the other side of the ACC, it's going to be the usual Virginia Tech division victory, although Florida State will win the divisional title in front of a noisy home crowd in Miami.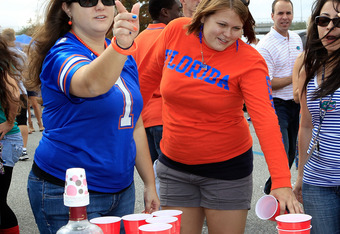 Sam Greenwood/Getty Images
17. Speaking of Miami, it's going to be a tough year for the rest of the Florida schools. I expect both Miami and Florida to end the season unloved and unranked. Florida will be particularly suffering from the loss of speedsters Chris Rainey and Jeff Demps, while Miami will be suffering from a battle with the NCAA gods. Expect hot seats for Al Golden and Will Muschamp respectively. The "It Was The Previous Coaching Staff's Fault" excuse will get old for the success-hungry (and needy) fans in the Southland.
18. And while we're on the subject of the NCAA, the NCAA will finally use some of its cash to put towards investigators. They will want to enforce the new oversigning rule that it's going to put in effectively giving schools next year scholarship punishments for oversigning. In other words, if Arkansas oversigns by 3 players in 2013, it's going to get 3 less scholarships in 2014. Suddenly, the SEC schools learn to behave themselves. Or suddenly college football starts to straighten up a bit...
19. Cincinnati wins the Big East, and earns some national credibility after coming within a field goal of beating Virginia Tech at FedEx Field in Week 5.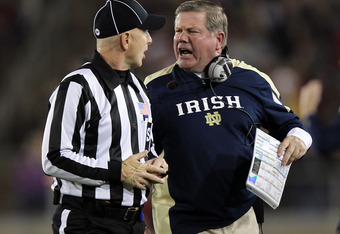 Ezra Shaw/Getty Images
20. Notre Dame will finish the season 8-4, with losses to USC, Oklahoma, Michigan and Michigan State. They will end up with a ranking, but it won't be enough to appease the Irish faithful, who will be wanting Brian Kelly's head.
21. Isaiah Crowell, the brilliant Georgia running back, will be the first big-time college football player to land himself in trouble. The odds become 2-1 as to whether he lasts his sophomore year at the Bulldogs. Mark Richt is found praying that he'll calm down. UGA is found praying too.
22. South Carolina defensive end Jadeveon Clowney will be renamed 'The Clown', and after he beats the crap out of quarterbacks across the country and laid waste to running backs, he will ask each quarterback: "Why So Serious?". The trend will become talked about across the country. The VFA won't get any credit after it becomes a "Big Thing" for Tom Rinaldi to talk about. ESPN starts a 24-hour network praising him, called 'The Big Clown Network'. Little kids are said to be scared.
23. Texas A&M and Missouri's first SEC seasons will be rough ones. Out of the two, Texas A&M will have a rough 5-7 season (but won't see new coach Kevin Sumlin fired, on accounts of the fact that the rest of the college football world will be yelling at Aggies fans and saying: 'We told you so'), while Missouri will be a respectable (ish) 6-6.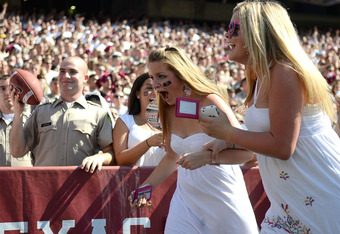 Sarah Glenn/Getty Images
24. Aggies fans will be calling Ole Miss and Mississippi State rivals, while Missouri's will be Kentucky, Vanderbilt and Tennessee. Why? Because that's about the level of wins both sides will get.
25. Every upset won't be called upsets, they'll be called 'Tessitores'. ESPN will develop a time machine so whenever there's a big upset on the horizon,  commentator Joe Tessitore will automatically come into the box and make sure it happens. This will lead to the craziest NCAA season in the history of crazy NCAA seasons.
26. Rich Rodriguez will have a successful return to college football, leading the Arizona Wildcats to the promised land of bowl eligibility.
27. Mike Leach will take Washington State to 5-7, which isn't great but it's a hell of a lot better than previous years. He'll make remarks about pirates....and start stealing some stellar recruits away from his neighbours in the 2013 season.
28. Charlie Weis will fail at Kansas. And no one will feel sorry for him.
29. The BCS will finally decide for a playoff game for 2015, involving four teams. SEC West fans will be angry that their teams can't have all four places and demonstrate by a week-long tailgate outside the BCS Championship Game in 2013.
30. LSU will win the National Championship, beating USC as good defense once again overcomes good offense.