Giants vs. 49ers: 4 New York Players Who Need to Step Up Big in San Francisco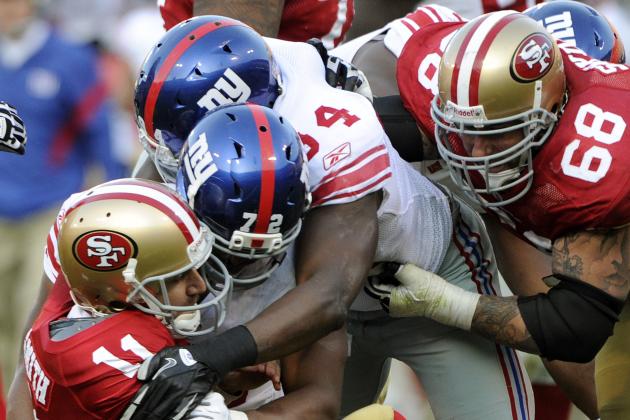 Thearon W. Henderson/Getty Images

This Sunday evening the New York Giants are heading out to San Francisco to face off against the 49ers in what will be a rematch of their Week 10 meeting.
There's one big difference this time...
These two teams are going to be fighting for a chance to go to Super Bowl LXVI.
It's safe to say that since November 13th both teams have picked up some momentum and confidence. This is more true for the New York Giants.
The Giants have been in the playoff mindset for well over a month now. They have won four straight games and have no intention of stopping here.
Heading into San Francisco and coming out with a victory is not going to be easy.
Here are four players who, with superb performances, can very well send these Giants off to Indy for a shot at it all.
Begin Slideshow

»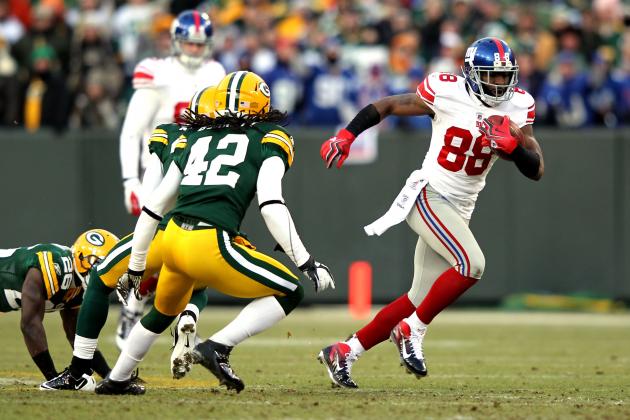 Jamie Squire/Getty Images

Heading into the playoffs this year, Hakeem Nicks' numbers were not exactly where most people would have expected them to be.
He did finish with nearly 1,200 yards and seven TDs, but there were games where he was just shut down. Maybe it had a lot to do with the emergence of second-year player Victor Cruz coming into the spotlight.
Regardless of regular-season performance, Nicks has found his niche so far here in the 2012 playoffs. His numbers in the past two games are rather impressive. He has accumulated 280 yards and caught four TDs. Two of those touchdowns went for over 65 yards.
For the Giants to be successful this weekend against a modest 49er secondary, Nicks is going to have to have a huge game—something like what he did in Green Bay this past weekend.
With a large effort from Nicks, the Giants will be one step closer to a victory.
Jamie Squire/Getty Images

If you have watched the Giants this year there is a clear difference in their defensive performance when Osi Umenyiora is in the lineup and when he is not.
He has the ability to get at the opposing quarterback very quickly. Umenyiora only played in nine regular-season games this year and still was able to rack up nine sacks.
His presence on the field is always felt. And it just seems that the whole defensive line performs better with him in there at right end.
So far in the postseason, Umenyiora has four tackles, three sacks and one forced fumble. These are very respectable numbers for a guy who basically missed half of the regular season.
Look for Osi to continue what he started three weeks ago in Dallas and have a big game on defense.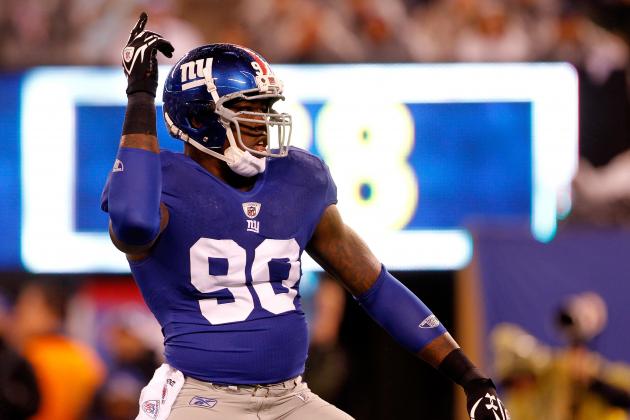 Rich Schultz/Getty Images

Jason Pierre-Paul has had a quiet postseason thus far. Is it possible that he's nervous about playing in his first tournament? I don't think so. But he has not put up much in the past two weeks.
This guy was probably the most imposing force of the Giants defense all season. It's only a matter of time until he lets loose and starts racking up some big numbers. I suspect that will be this weekend against the 49ers.
For a defensive end who had 16.5 sacks in the regular season, so far he has zero sacks and just 10 tackles in the playoffs.
If he can help get the pressure on Alex Smith along with Justin Tuck and Osi Umenyiora and force some bad throws, then he's done his job.
If Pierre-Paul comes out fired up and ready to go, it could be a long day for the 49er offensive line and Alex Smith.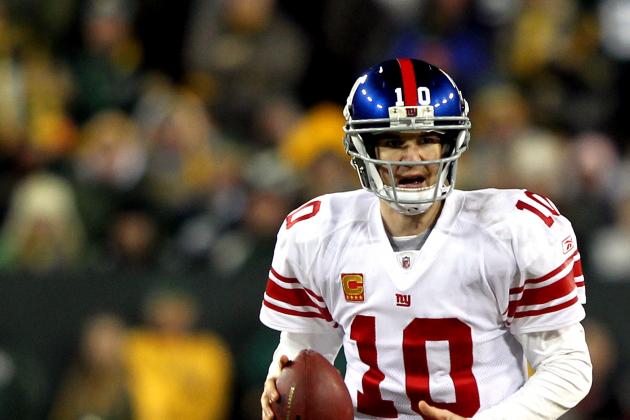 Jamie Squire/Getty Images

This one is really just a no-brainer.
He's the leader of the offense. Not only is he coming off of his best regular-season performance, he is also putting together an incredible postseason run.
The majority of the game is going to fall upon Manning's shoulders.
Thus far in the playoffs, Manning has thrown for 607 yards, six TDs and just one interception.
If he can keep up this caliber of play, the Giants very well could pull out the victory over the 49ers.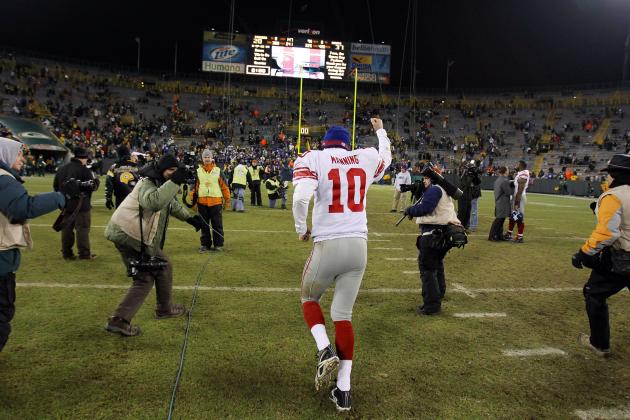 Jonathan Daniel/Getty Images

This Sunday there is going to be a battle.
The Giants vs. 49ers is going to be a very exciting matchup. The winner of this game, as we all know, gets a ticket to Indy for the championship.
Both teams have an excellent chance of pulling off a victory.
But, if these four Giants come with their A-game and play mistake-free football, the advantage is very much going to be with the Giants. It can be argued that, right now, these four players are the core of this football team, and when they play well, the team plays well.
If Hakeem Nicks, Osi Umenyiora, Jason Pierre-Paul and Eli Manning have big games on Sunday evening, the Giants will get the W and be heading to Indianapolis.