Kobe Bryant: Black Mamba's New Mansion Looks Like a Humble Abode
January 20, 2012

Los Angeles Lakers superstar Kobe Bryant may be about to lose half his riches in his divorce, but at least he'll be able to rest easy knowing he has a stable roof over his head.
Actually, he's going to have a giant roof over his head at all times.
According to TMZ, Kobe's new mansion in Orange County is now ready for occupancy. It cost him nearly $9.5 million and two years' worth of construction time, but he is free to move in at his earliest convenience.
TMZ doesn't have many details to offer about Kobe's new digs, but we do know that it has at least six bedrooms and a two-level "sport court."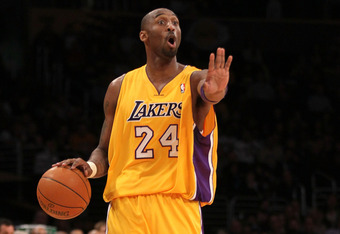 Stephen Dunn/Getty Images
Judging from the aerial shot, it looks like there's probably a lot more than that packed into Kobe's new pad. I've seen enough episodes of MTV Cribs to know that mansions are even bigger on the inside than they appear to be on the outside, and Kobe's mansion looks pretty darn big.
TMZ reported back on Jan. 5 that Kobe had signed two mansions over to Vanessa Bryant, but he kept sole possession of this property, which was still under construction at the time.
Per the Los Angeles Times, we know that Vanessa stands to gain much more. Kobe's net worth is estimated to be around $150 million, meaning she'll get about $75 million plus ongoing spousal and child support payments.
Had Kobe arranged for a prenup, a legal expert said he could have saved "half of his fortune."
Well, it's too late now. If Kobe ever feels like regretting anything, his new house probably has a Regretting Room.