Purdue vs. Michigan State Basketball: Previewing the Matchup with the Spartans
January 19, 2012

Joe Robbins/Getty Images
Purdue basketball is coming off a win against the Iowa Hawkeyes at home and looks to continue winning in the Big Ten against Michigan State on the road on Saturday afternoon.
Purdue comes into this game with a record of 14-5 and 4-2 in conference play while the Spartans are 15-4 with a conference record of 4-2 having dropped their last two games, including a close loss to Michigan. 
This game is very important to both teams and will likely be one that has serious title implications in the Big Ten.
With such a tight conference this season, it's important for everyone to protect their home-court and surely the Izzo will be out in force for the Boilermakers after Purdue, led by JaJuan Johnson, went into the Breslin Center and beat the Spartans just a season ago.
One of the biggest matchups for this game is going to be Keith Appling versus Purdue's great set of point guards.
For Purdue to be successful in this one, Lewis Jackson, Kelsey Barlow and maybe even Terone Johnson must step up and play great defense against Appling.
Appling, a sophomore guard, is averaging 12 points and almost four assists per game. Appling is the stereotypical Tom Izzo guard that has the ability to not only play stiff defense, but can shoot from three-point land as well as slash through the lane, creating havoc.
Appling will be a key point for Purdue, because if Purdue cannot control the guard play of MSU they have virtually no chance with the lack of size the Boilers have in the paint.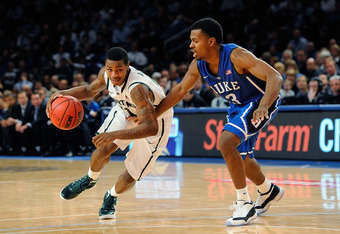 Patrick McDermott/Getty Images
Another key aspect of this game will be controlling the big men of MSU.
Led by senior Draymond Green, the post presence of Michigan State is phenomenal. Green averages 15.4 points and 10 rebounds per game and has established himself as not only an inside threat but a deep threat as well.
If Purdue is going to be successful on the road, it will be essential for the Boilers to contain Green, as stopping him is rather unlikely.
For Purdue to win this game a lot of things need to go the Boilermakers' way.
Purdue is going to have to have better bench play than the Spartans as well as contain the Spartans guards and their post players. The post will be key as the Spartans have been under a lot of pressure to get the ball to Green and Nix more.
With Purdue struggling from the three-point line lately, it will be key for the Boilermakers to get going and hit some quick three-pointers to stay in this one.
Ryne Smith has dropped off as of late and it's time he gets going once again if Purdue is going to be successful.
It's always fun watching both of these teams play with their blue collar styles and hustle and this one should be no different.
This game is going to come down to who wants it more.