New Orleans Saints End-of-Year Report Card: Grading Every Saints Regular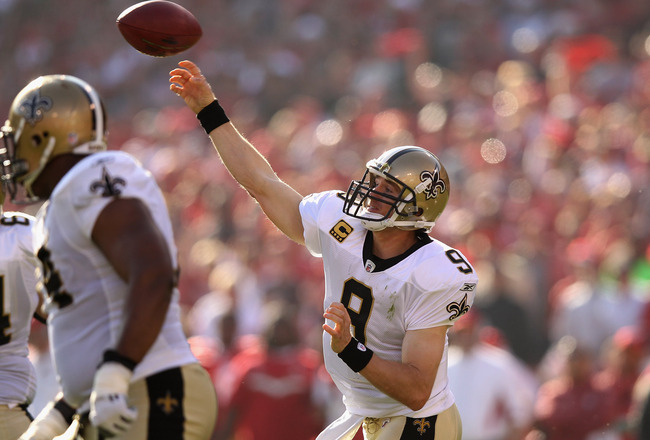 Ezra Shaw/Getty Images
I did it today. I subjected myself to the pain and misery of re-watching Saturday's Divisional Playoff loss to the 49ers.
I did it because I had to. As a writer and someone who wants to better understand football, and specifically the New Orleans Saints, I really didn't have a choice.
I felt like a bit of a masochist partaking in some sacred suffering ritual. It was even tougher to watch this time than the first.
And truthfully, I didn't learn much about this team other than what I already knew.
I already knew the offense played well enough to win. I already knew the defense took the exact opposite approach to this game as every other game this season (you know, start slow and finish fast).
Perhaps I learned that the 49ers were a much more worthy opponent than I had given them credit for being prior to this game.
But I think the main thing I learned is that this season's sour ending pretty much killed an otherwise magical season. The 2011 season should have been a memorable one which ended in a culturally-relevant parade.
Instead, it ended in what will likely always feel like a funeral procession. It ended in sorrow and shame.
It ended with a defensive coordinator fleeing the scene without even needing to give an explanation for his porous efforts over the course of the season. It ended with more questions than answers.
But for a few moments, I want to provide some answers and shine some light on what was, and not so much what could have been.
QB Drew Brees: A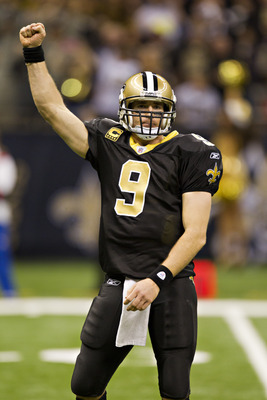 Wesley Hitt/Getty Images
This Saints' season revolved around No. 9, Drew Brees. He, of course, set the league's single-season passing record not in Week 17, but the week prior in fairly dramatic fashion.
He finished second in the league in passing touchdowns, QB rating, first in completion percentage, attempts, completions and about a thousand other categories.
Yeah, he threw a high number of interceptions, but when you throw the ball as often as the Saints do, Brees' pick total actually looks quite impressive.
I couldn't possibly conceive of a better overall quarterback season, but some guy named Aaron Rodgers challenged that assertion.
Brees will likely end up as NFL Offensive Player of the Year, while Rodgers will likely take the MVP Trophy.
Not bad for two guys who didn't even reach their conference championship game.
RB Darren Sproles: A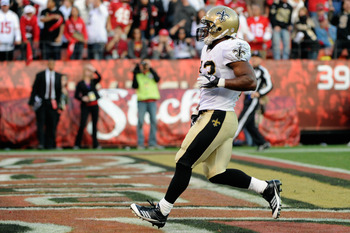 Thearon W. Henderson/Getty Images
Darren Sproles' lack of inclusion in the Pro Bowl this season is a shame. He was probably the most exciting and dangerous weapon in the entire league.
The numbers don't do justice to the play of Sproles in 2011. Sproles broke free a number of times for huge pass plays and included some long runs and returns.
And I didn't even mention that he set the single-season record for total yards. Now I just did, and therefore, put a nice cap on everything Sproles did. That is because so much of what Sproles did can't be measured by anything other than what the team did as a cumulative unit.
RB Pierre Thomas: B+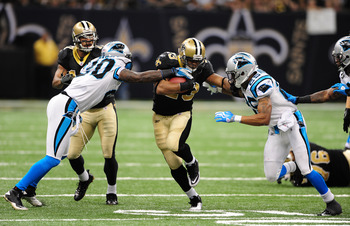 Scott Cunningham/Getty Images
Never mind the crushing hit Thomas took in the playoff loss, Pierre was the Saints' most physical runner over the course of the 2011 season.
He found the end zone on many occasions, but more importantly, he set the Saints up in prime position quite often with his excellency as a receiver on screen passes and other checkdown throws from Brees.
His presence in the Niners game would have given the Saints the balance they needed in that game (though without, they still should have won).
He's not the flashy guy like Sproles, nor the bruiser in the same way as Ingram or Ivory, but Thomas' role and value on this Saints squad cannot be underestimated.
RB Mark Ingram: B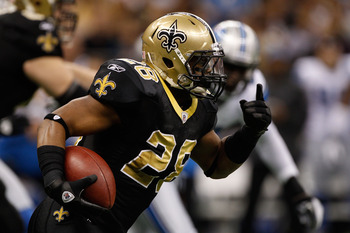 Chris Graythen/Getty Images
Mark Ingram came to the NFL with a lot of fanfare. For a rookie season, he managed to maintain his focus and not create too many critics.
But clearly, Ingram did not perform to the level many uninformed fans expected. Instead, Ingram showed flashes of brilliance followed by some moments where we were all reminded he's a rookie.
One thing we learned about Ingram in 2011 is that his inclusion into the lineup made for an RB group who could change the entire complexion of the New Orleans offense if and when Drew Brees ever is not the Saints quarterback.
With Ingram and Chris Ivory, the Saints could power over most teams' flimsy defensive front sevens. And Thomas and Sproles could run around some of the bigger defense (my wish as to the kind of running game we would have seen against San Francisco).
Chris Ivory: B
Chris Graythen/Getty Images
Chris Ivory improved in one key area from 2010—he didn't once fumble the football. And his game improved overall as well.
That Ivory that was available at midseason came very much in handy for this Saints squad, especially when Mark Ingram was lost for the season in December.
Ivory stepped up and filled the role Ingram had been placed in, and excelled.
The Saints are likely to maintain a four-headed monster in the backfield in 2012. And that should present a whole other bag of issues for defenses.
WR Marques Colston: A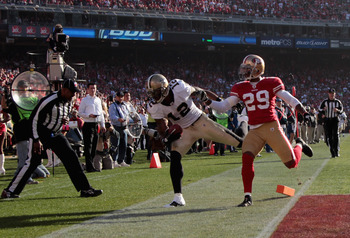 Jed Jacobsohn/Getty Images
Marques Colston had his finest season of a six-year career that has been relatively spectacular. None of the stats Colston put up were singularly the best of his career, but as a whole, it would be nearly impossible to disagree that the Saints No. 1 receiver put up his best effort in a contract season.
I'm not saying his effort was enhanced by that fact, but it is clear that Colston earned himself a nice raise this offseason. We're all hoping that comes from the Saints, as he is probably the most important skill player in this offense after Drew Brees.
His ability catch the ball over the middle and be a third down safety blanket for Drew Brees is the most underrated aspect of the entire Saints offense.
Marques Colstons don't grow on trees. Replacing him in this lineup is nearly impossible. So let's hope the Saints are able to keep him and continue to reach for another Super Bowl title.
Lance Moore: A-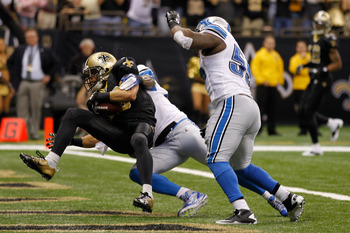 Chris Graythen/Getty Images
If Marques Colston is Batman, then Lance Moore is Robin, but to a much greater degree than the superhero duo are portrayed.
Moore's impact on this offense is too great to explain in words. You must simply watch a game and see the way Moore interacts with Brees and makes plays for this Saints offense.
Despite his diminutive stature, Moore is quite the red-zone threat due to his shiftiness and toughness. And he too is a crucial element of the Saints' third-down package.
Robin cannot fight crime without Batman. But he can sure take some positive steps to cleaning up a city. Let's hope Moore has Batman to do the heavy lifting next season so he can do what he does best: fly under the radar as the superhero's sidekick.
Robert Meachem: B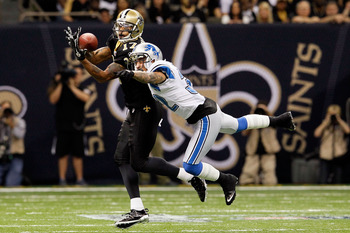 Kevin C. Cox/Getty Images
Robert Meachem made as many big plays in 2011 as he did in 2009, perhaps even more. And he became more consistent as a receiver in terms of making the needed reception for possession of the football.
But make no mistake about it, Meachem's value to the Saints this year, and going forward if he's given that opportunity, is as a big-play receiver.
Drew Brees utilized his speed and route-running ability to shred weak secondaries all season. And though Meachem was consistent, there's no doubt he had stretches where he shined brightest.
His play in the first three games of the season really carried the Saints offense. And in some weeks thereafter, his play was the key to the Saints offense going off.
Devery Henderson: B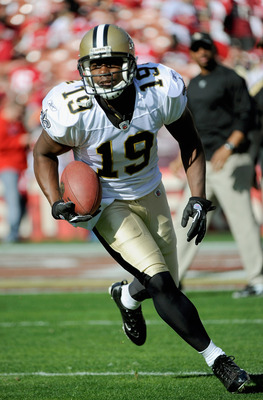 Thearon W. Henderson/Getty Images
Devery Henderson had probably his most consistent season as a pro in 2011. He not only made some huge plays, but also became more of a possession receiver.
This made him even more dangerous, since defenses couldn't assume he was only going deep when on the field. Paired with Robert Meachem, the duo are the most dangerous complementary weapons in terms of their big-play ability.
It is quite the scary combo.
Jimmy Graham: A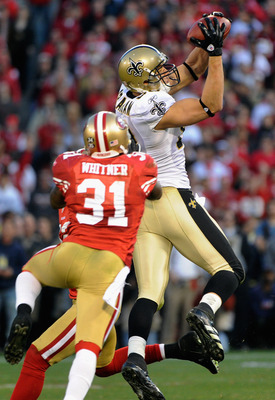 Thearon W. Henderson/Getty Images
Is it even possible to question the growth of Jimmy Graham from his rookie season to his sophomore campaign? He went from a really nice talent to one of the most dangerous receivers in the entire game.
Though not as consistent as Colston or Moore as a third-down recipient, Graham was definitely a guy Brees looked for at pretty much any time.
And his ability to work effectively against any kind of defender in the red zone made him extremely valuable to this offense.
You want to know why this Saints offense was so good? Look at all the skill players. Not one of them received worse than a B grade.
Of course, a good offensive line didn't hurt the unit's cause either.
RT Zach Strief: B-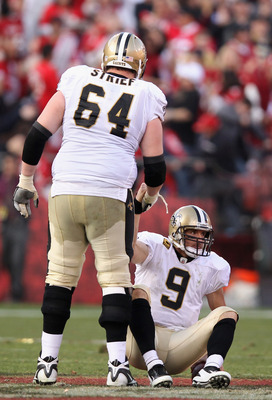 Ezra Shaw/Getty Images
Of the entire New Orleans Saints offense, Zach Strief may have been the unit's least effective player. This isn't to say that he didn't perform adequately. In fact, he did.
But Strief required help on many occasions and got beat regularly. Of course, the coaching staff found ways to help him, and the entire line improved as the season progressed.
Let's just say Strief was more effective in his role as a sixth offensive lineman in the Saints' jumbo packages. But as the weakest link, it isn't as if Strief was a huge problem.
RG Jahri Evans: B+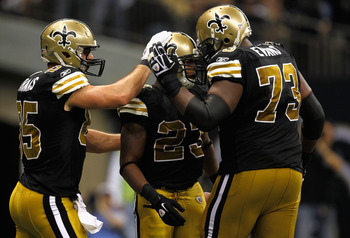 Streeter Lecka/Getty Images
NFL experts consider Jahri Evans one of the finest offensive linemen in the entire league. I don't want to discount those experts' opinions, but Evans clearly struggled at times this season.
He's never been a dominant run blocker, but his pass-blocking was lacking something much of the season. Teams did a better job this season of pushing the pocket up the middle, forcing Brees outside.
A lot of that is on Evans, though much of it is also due to a team's game plan and scheme in terms of getting Brees uncomfortable.
C Brian De La Puente: B+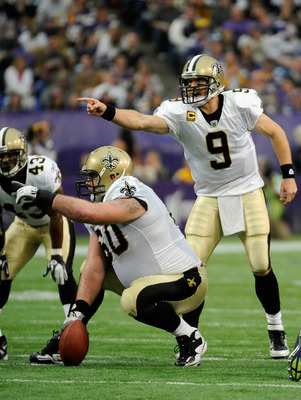 Hannah Foslien/Getty Images
Brian de la Puente was one of the surprises of the entire NFL season. As a first-time starter, de la Puente's arrival into the starting lineup coincided with the Saints' radical improvement from their offensive line.
Replacing Olin Kreutz proved to be a task that de la Puente was up for, and then some. Yes, he had one bad snap in the Week 15 game at Minnesota, but aside from that, the fourth-year veteran from Cal had no crucial mistakes.
In fact, he was a steadying force for an offense desperately needing to replace Jonathan Goodwin, a free-agent casualty this past summer.
LG Carl Nicks: A-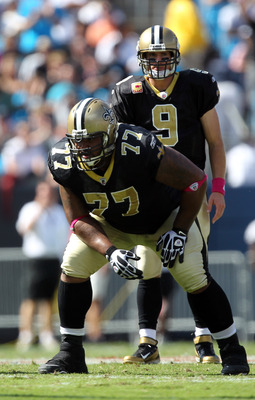 Streeter Lecka/Getty Images
To assure you of how much I am sold on Nicks as a great player, read this. Nicks has been about as good a player as the Saints have had since he was inserted into the lineup at right guard late in his rookie campaign back in 2007.
Since then, he's been voted to multiple Pro Bowls and earned All-Pro honors this season. In my opinion, he is the Saints' best player on the offensive line and worth every dollar he gets this offseason.
LT Jermon Bushrod: B+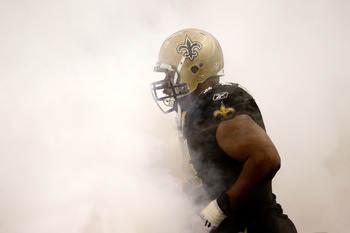 Chris Graythen/Getty Images
The Saints did a lot to help Bushrod this past season, but there isn't a left tackle in the game who isn't given help from time to time.
Bushrod responded with his finest campaign as a professional. If he continues to improve, he will be the long-term answer at left tackle for this Saints squad.
He provides a physical advantage in the run game and moves his feet well enough to hold off most edge rushers.
Yeah, he got burned a few times in St. Louis, but there wasn't a player in that game who played well.
DE Cameron Jordan: B-
Hannah Foslien/Getty Images
When you're a defensive end and you do not record a sack, there has to be some other explanation as to why you continue starting games.
For rookie Cam Jordan, there are two reasons. First, there really wasn't anyone better. But it's also true that Jordan did an excellent job as a run defender by setting the edge and forcing runs back inside.
Jordan showed glimpses of pass-rushing ability as the season went on. And he is one of the primary reasons I think the Saints would be wise to move to a 3-4 defense given his abilities to set the edge and create pressure with a bull rush.
DT Sedrick Ellis: B-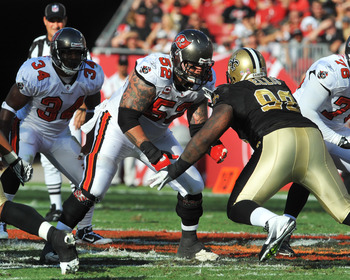 Al Messerschmidt/Getty Images
In some defenses, a lack of sacks or tackles for loss isn't alerting coming from a defensive tackle. But with the scheme the Saints used the past three seasons, Ellis needs to make plays as a defensive tackle.
That he was very quiet in 2011 was not a good sign for a defense who struggled to create significant pressure on the quarterback, especially on the road.
DT Shaun Rogers: B-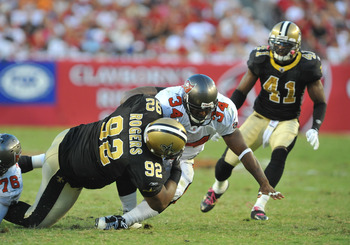 Al Messerschmidt/Getty Images
Shaun Rogers improved as the 2011 campaign went along, but at no time was he the dominant force the Saints hoped he'd be when they brought him in last February.
Rogers would also perform better if he were allowed to stay in a switch to a 3-4 defense.
DT Aubrayo Franklin: B-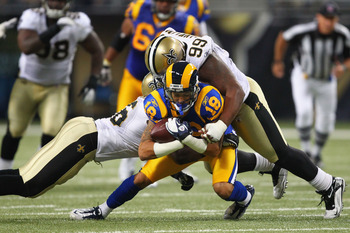 Dilip Vishwanat/Getty Images
Aubrayo Franklin was supposed to be one of the best free-agent acquisitions in the entire NFL. Instead, he trudged along most of 2011, making very little impact.
Understandably, defensive tackles are never going to get a ton of acclaim. But Franklin hardly did anything. And the defense didn't improve greatly due to his presence.
Franklin would also benefit from a 3-4 if he was kept around.
DE Will Smith: B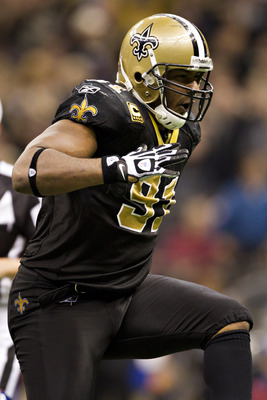 Wesley Hitt/Getty Images
Will Smith sat out two games and was still the most effective defensive lineman the Saints had this season, no matter the measurement used.
No matter how you view it, Smith excelled in comparison to the rest of the crew. Unfortunately, that isn't saying much.
The rest of the crew wasn't too good.
OLB Jo-Lonn Dunbar: B+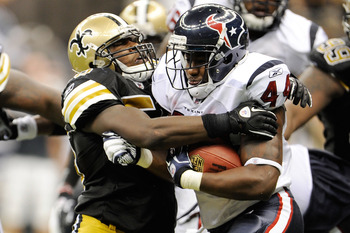 Stacy Revere/Getty Images
No player on the defense emerged to the degree that Dunbar did this season. Dunbar went from a player who played on occasion to a player who had to be on the field nearly every down.
Gregg Williams started finding ways to keep Dunbar in the game. He filled in more than admirably when Vilma was out of the lineup. And when Vilma was back, Dunbar did a great job at outside linebacker.
He made plays and then made some more plays. He should look good with Steve Spagnuolo taking over the Saints defense.
OLB Scott Shanle: B-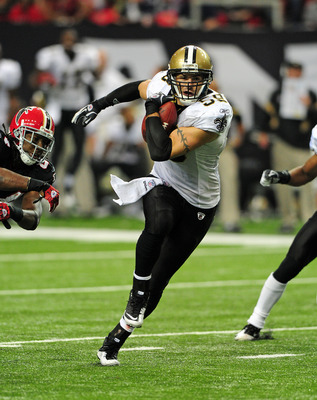 Scott Cunningham/Getty Images
Shanle looked old and incapable of covering tight ends or wide receivers for much of the year. And he wasn't spectacular, though adequate, in the run game either.
That said, he played better than the younger, more athletic Will Herring, and even made a few plays throughout the course of the season.
OLB Jonathan Casillas: Incomplete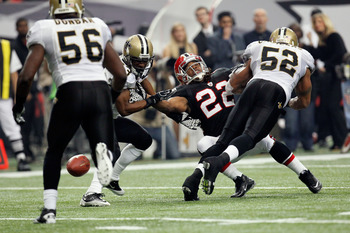 Kevin C. Cox/Getty Images
Jonathan Casillas might be the most talented linebacker on the Saints squad. He is a really good athlete who excels in coverage and has a knack to find crevices in pass protection to exploit.
That said, Casillas was hurt most of the second half of this season and is a free agent. It's hard to say what his role could be going forward with the Saints.
Let's hope the Saints can bring him back at a small cost.
OLB Martez Wilson: B-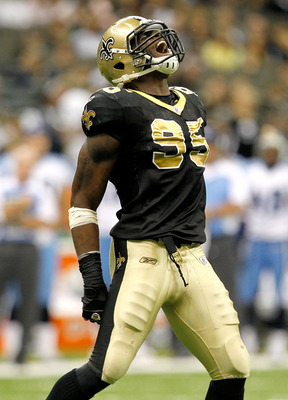 Sean Gardner/Getty Images
Martez Wilson did little early on in his rookie campaign to substantiate his selection as a third round player. But as the season went on, the light seemed to come on for Wilson.
By the time this season concluded, Wilson was a regular in passing situations and showed great promise as a pass-rushing linebacker and an ability and athleticism to fly all over the field and make plays.
Wilson is a huge part of the Saints' future at outside linebacker.
MLB Jonathan Vilma: B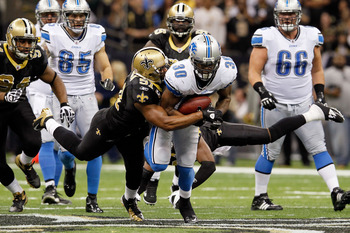 Kevin C. Cox/Getty Images
Though Jonathan Vilma missed a number of games due to a knee injury, his presence in the Saints lineup undoubtedly made the Saints defense better.
He made several big plays throughout the season and regularly found a way to bring down opponents' running backs with some big hits.
Vilma is a player I would consider getting rid of if I were the Saints, similar to the way they relieved themselves of Jeremy Shockey last offseason.
Vilma's been a great player for this team and a huge part of the 2009 Super Bowl team, but to build and grow as a defense, it may be time for Jo-Lonn Dunbar to be the featured player among the Saints linebackers.
OLB Ramon Humber: B
Scott Cunningham/Getty Images
Ramon Humber is a player who really shined in the middle of the season. His impact lessened a bit as the season went on, but Humber still made quite an impression on yours truly.
As a backup, the Saints could do a lot worse than to bring Humber back and see how much he contributes in Steve Spagnuolo's 4-3 defensive system.
CB Patrick Robinson: B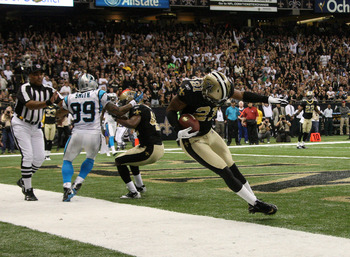 Scott Cunningham/Getty Images
Maybe it was the four interceptions or the marked improvements in other areas.
Either way, Patrick Robinson's improvement from the beginning of the season to the end was beyond belief. No player improved as much as Robinson.
I still think Robinson is ideal as a nickel corner. But he has the potential to be one of the finest nickels in the league.
CB Tracy Porter: B+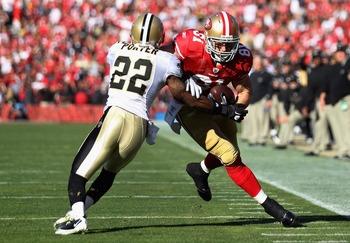 Jed Jacobsohn/Getty Images
Tracy Porter isn't spectacular, but one thing you know about him is that he's consistent. He's a player who excels at keeping receivers in front of him. He almost never gives up the big play.
And occasionally, he'll find a way to make a play too.
The Saints would be wise to keep Porter since he's the best option for the No. 2 corner the Saints would have access to this offseason.
CB Jabari Greer: A-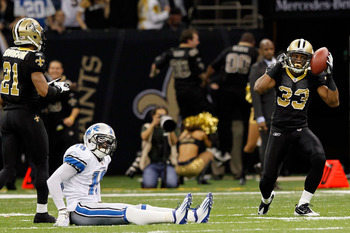 Kevin C. Cox/Getty Images
Jabari Greer was the best corner in football this season. I don't care what you say. He is a great football player.
That he never got the recognition is quite sad. Though if the Niners make the Super Bowl, it's completely possible that Greer will at least get a trip to Hawaii.
Sure, Greer got burned a few times, but that's mainly because he was going up against some of the best receivers in the entire league. That sort of thing happens.
There isn't another player I would trust guarding an elite receiver in the entire NFC than Greer.
S Roman Harper: A-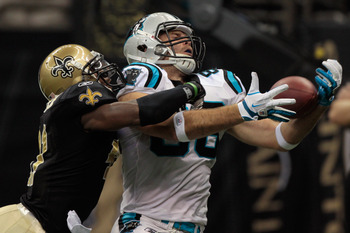 Chris Graythen/Getty Images
Harper is an elite run defender as a safety and had the finest season of any DB in getting pressure on the quarterback. In fact, he was almost the best in league history from the position.
How he missed out on the Pro Bowl is inexplicable.
There isn't another safety in the league who is more dangerous to an offense in their base schemes as Harper.
S Malcolm Jenkins: B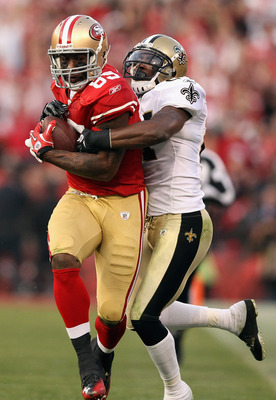 Ezra Shaw/Getty Images
Malcolm Jenkins won't forget the struggles he had covering Vernon Davis anytime soon. And neither will we.
But there isn't a player in the league who could have covered Davis one-on-one in that football game.
Over the course of the season, Jenkins made some big plays and improved mightily as a run defender. He, like Harper, shows great ability to bring pressure on the quarterback as well.
A scheme that takes advantage of Jenkins' strengths could make Jenkins the best safety in the league.
P Thomas Morstead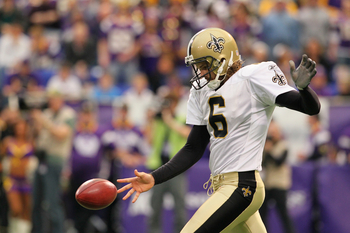 Adam Bettcher/Getty Images
It's difficult to think a specialist could play such an integral role to a team's success. But in 2011, the Saints were aided greatly by the presence of Thomas Morstead.
His ability to create field position via the punt or the usual touchback on kickoffs was huge for this team.
Much like Greer, Morstead would gain a trip to Hawaii if the Niners come out on top Sunday afternoon.
K John Kasay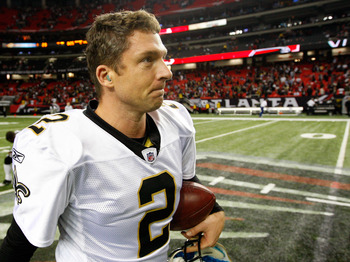 Kevin C. Cox/Getty Images
When Garrett Hartley was lost for the season in training camp, a sigh of "here we go again with our kicker" swept across Who Dat Nation.
Then, the Saints made a simple signing of John Kasay. The rest was history. It's not as if Kasay was the best kicker in the league or set any records like the 49ers' David Akers. But Kasay provided a boost and maintained a high level of play at one of the most thankless positions in the entire game.
Keep Reading

New Orleans Saints: Like this team?