Utah Jazz: 10 Takeaways from Utah's Solid Start to the 2011-12 NBA Season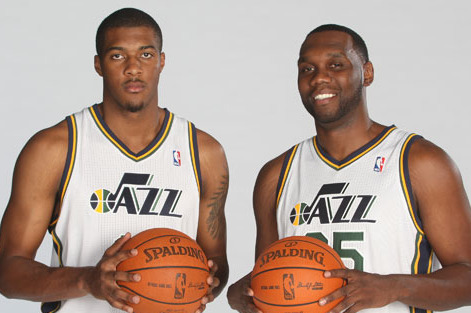 After a disjointed and disheartening beginning to the 2011-12 NBA season, the Utah Jazz are firing on all cylinders and find themselves with an impressive 9-4 record, posting a red-hot 8-1 record in their last nine games.
Though the season is still relatively young, here are 10 things that Utah has shown us so far.
Begin Slideshow

»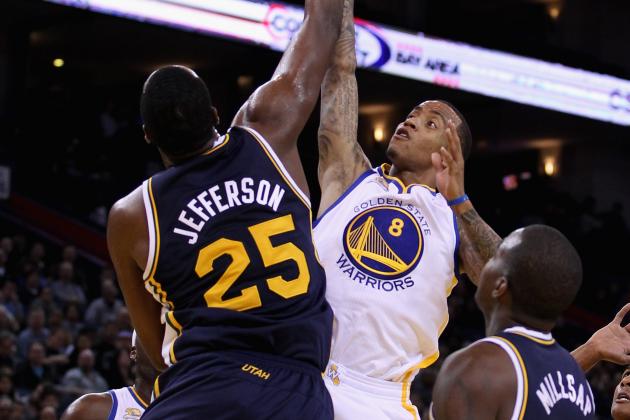 Ezra Shaw/Getty Images

As important as having a deep bench to rely on is in a regular season, the brutally condensed schedule and subsequent elevated injury risk of this season make depth exponentially more important. The Jazz have the tremendous asset of not just depth, but frontcourt depth.
Al Jefferson has shaken off a rough start and has added noticeably improved defense and passing to his dominant offensive arsenal, and Paul Millsap has been burning the nets and making the tremendous hustle plays he's known for. After a brief starting-lineup stint, Derrick Favors continues to show improvement in his still-raw offensive game and wow the Utah faithful with his tremendous athleticism and highlight-reel blocks, and rebounding savant Enes Kanter has shown more than a few flashes of low-post brilliance in limited minutes.
Utah's frontcourt depth has and should continue to give fits to opposing teams.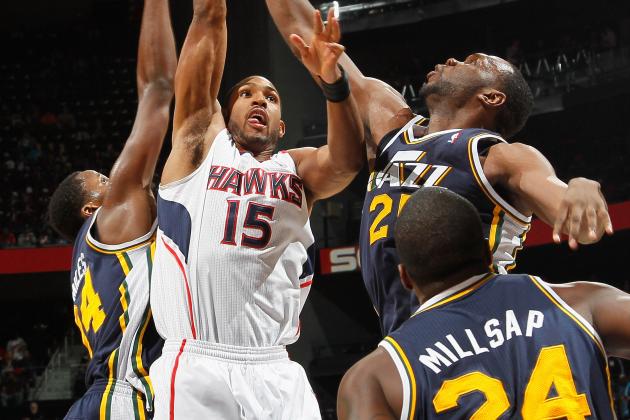 Kevin C. Cox/Getty Images

The ability of Paul Millsap and Al Jefferson to play together was regularly questioned before the start of the season, and was likely at least a part of the reason Derrick Favors was chosen to start at power forward over Millsap early in the season. Millsap's play quickly made it impossible for Tyrone Corbin to justify keeping Favors out of the starting lineup, and Millsap and Jefferson have been smoothly sharing the offensive load ever since.
The primary concern with playing Millsap and Jefferson together was that certain aspects of their offensive and defensive games were too similar and did not complement the other very well. Millsap and Jefferson both needed the ball in their hands to be effective scorers, and neither was expected to make noise for defensive MVP.
Jefferson and Millsap have since silenced the critics thanks to Jefferson's improved defense and passing, and Millsap's white-hot shooting and unstoppable energy. Millsap has also picked up the offensive slack when Jefferson has had an off night, and Jefferson's improving passing out of the double team has morphed him from an absolute ball-stopper to dangerously dynamic player.
The improvement and hard work shown by both players should continue to give optimism to the Utah jazz faithful, not to mention headaches to their frontcourt foes.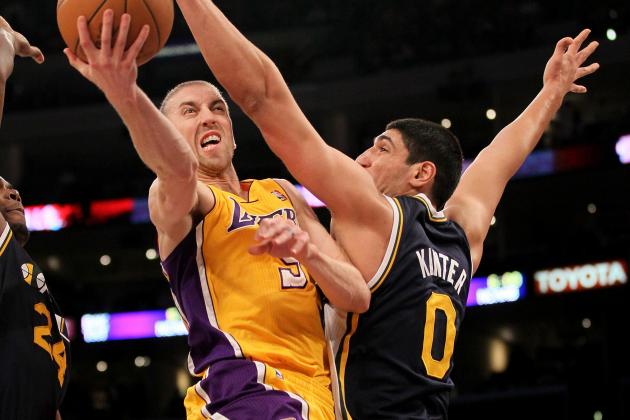 Stephen Dunn/Getty Images

In recent years, the hallmark of the Jerry Sloan defense seemed to be chronic susceptibility to dribble penetration and an unacceptably high number of fouls committed. In part, this was due to Sloan's defensive philosophy of forcing your man inside rather than forcing them outside, which, as of this year, was a defensive philosophy that only the Orlando Magic used.
One of Corbin's first changes was this more conventional defensive tactic of forcing the ball-handler away from the basket. The defensive improvement has been as significant a factor in Utah's recent success as anything else Coach Corbin has implemented. Aside from the philosophical tweak, the rotation/help defense has been tremendous and has reduced the number of easy baskets opponents get.
The defensive effort in general has been kicked into overdrive. Even Jefferson, who has a reputation for being a defensive sieve, is playing much smarter and is making life much harder for the opposing team's big men.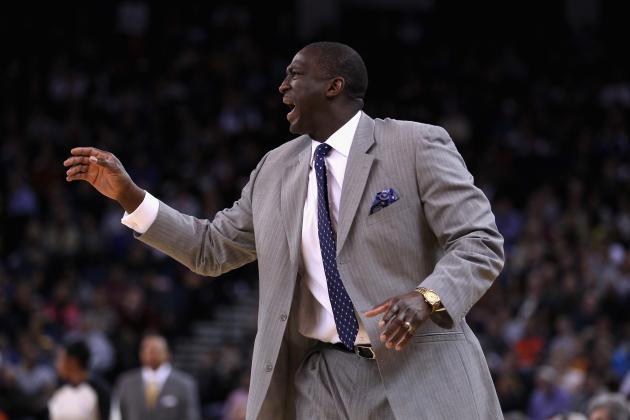 Ezra Shaw/Getty Images

The Jazz limped to the finish line last season, finishing four games under .500 after a promising 15-5 start. More significantly, Utah found itself without the guidance of longtime coach Jerry Sloan for the first time in 23 years after his abrupt midseason resignation.
Days later, embroiled point guard Deron Williams, the cornerstone of the team, was just as abruptly traded to the New Jersey Nets, leaving the Jazz looking nothing like they did at the beginning of the 2010-11 season. Former Jazz player and third-in-command Tyrone Corbin was promoted to head coach, as longtime assistant Phil Johnson resigned at the same time as Sloan.
After a dismal 8-20 record to finish out the 2010-11 season, and a 1-3 start to the 2011-12 season, Corbin's coaching ability was openly questioned. Corbin has overwhelmingly shown he's capable of filling the gargantuan shoes of Sloan and has even changed the defensive philosophy of the Jazz, which is at least in part responsible for a dramatic defensive improvement. The dramatic improvement in team chemistry and cohesion is evidence that Corbin has both the attention and respect of the entire roster.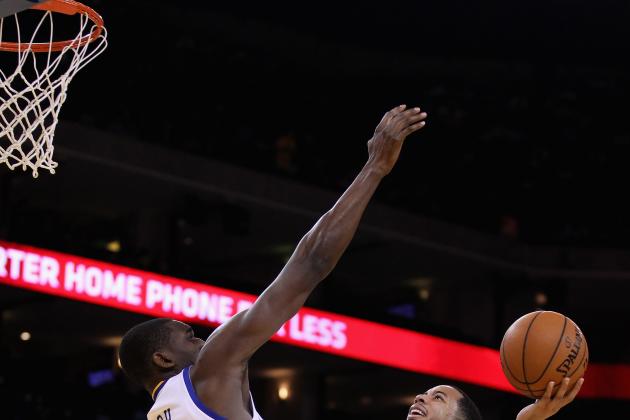 Ezra Shaw/Getty Images

Although Derrick Favors and two first-round draft picks were the most coveted returns in the Deron Williams trade, Devin Harris was certainly more than a throw-in. The lightning-quick point guard has undeniable skill, but is struggling to find his niche within the confines of Ty Corbin's offense, which is largely the same as Jerry Sloan's, save a few teaks.
Devin's primary skills are his speed and ability to get to the rim, whereas the Utah offensive system is more designed for a prototypical point guard such as former Jazz Hall of Famer John Stockton to run. Two of the most important skills for a Utah point guard to have, passing and court vision, are two areas where Harris has plenty of room for improvement. Harris' paltry assist average (4.8 per game) and subpar shooting percentage (35 percent) are clear indicators that Harris is still struggling to maximize his skills in this less-than-ideal system.
On the positive side, Utah's success is coming despite Harris' struggles. If Harris can become more of the distributor that this offense dictates, then the ceiling for the Jazz goes up a dozen floors.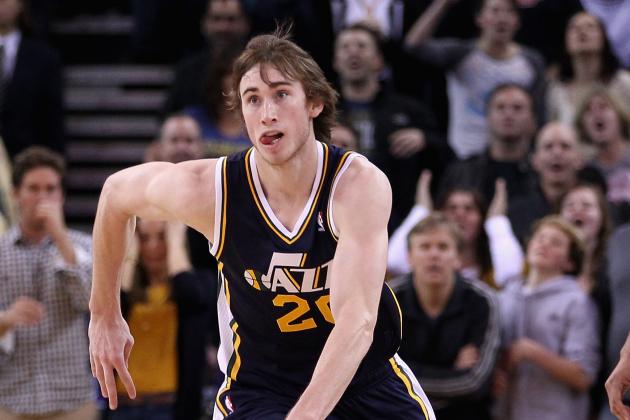 Ezra Shaw/Getty Images

Jazz fans who eagerly flipped to ESPN after watching the Jazz thrash a depleted Los Angeles Clippers squad in hopes of seeing a Earl Watson-Jeremy Evans "early-oop" or any other number of Jazz highlights were sorely disappointed, as the highlights of the game were limited to the few good plays from L.A.
Even in a 29-point victory, Utah was a mere afterthought. Despite boasting an 8-1 record in the past nine games, the mainstream coverage of Utah's early season success has been sparse, if not nonexistent. Though it can be frustrating to see the national media ignore your team's success in favor of bigger-market teams, Utah fans can find a silver lining by looking at the lack of fanfare surrounding the Jazz from a slightly different angle.
The lack of a mainstream spotlight on the Jazz can both give Utah players a useful chip on their shoulder that provides additional motivation, as well as ensure that Utah will not be sandbagged by any distractions that big-time media attention can create.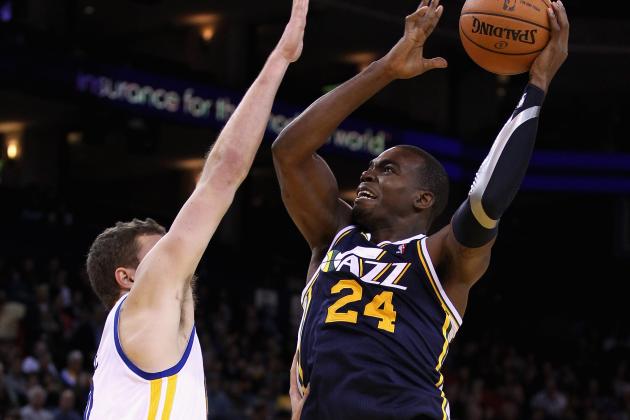 Ezra Shaw/Getty Images

The Jazz find themselves in the relatively unique situation of having great early season success without a vocal leader or on-the-court general. The combination of on-court success and vocal leadership that is usually requisite of a team leader seems to have eluded every player on the roster thus far.
Paul Millsap looks to be the favorite to grab the team captain role, as he has the tenure and the on-court results needed, but has been fairly soft-spoken thus far in his career. Will Millsap step up and take the helm, or will someone else step up? Is a "team captain" even necessary for this team?
An argument could be made that not having a specified captain aligns perfectly with the on-court identity of a balanced and roughly equal team. It will be interesting to see if the Jazz continue to roll without a featured player, or if someone starts regularly demanding the ball in crunch time and commanding the respect and attention of his colleagues.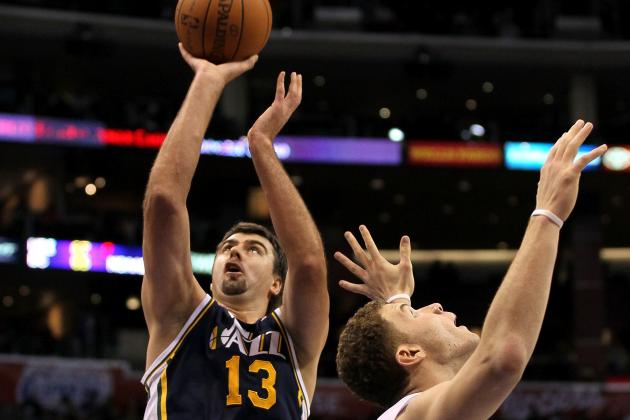 Stephen Dunn/Getty Images

Utah's preseason trade of beloved Jazzman Mehmet Okur, which netted a paltry future second-round pick and cap relief, was a bitter pill for Jazz fans to swallow. Okur had endeared himself to Utah fans in that special way that seems to only exist between fans of small-market teams and tenured players.
That player-fan bond makes a trade such as this much tougher for fans of small-market teams much tougher to swallow than their big-market counterparts. Despite the hurt feelings and disappointment Jazz GM Kevin O'Connor undoubtedly created by pulling the trigger on this trade, it has proven to be the right move.
Prior to the trade, Utah's frontcourt depth was more of a logjam and Okur being on the roster would have significantly usurped valuable minutes from Derrick Favors and Enes Kanter, and would have virtually ensured fan favorite and human pogo stick Jeremy Evans would have never seen the floor, barring injury.
Okur's departure has opened the opportunity for Okur's fellow countryman Enes Kanter to log valuable minutes—something that is of even greater importance than normal for someone who played little to no competitive basketball in 2011 due to being declared ineligible at Kentucky.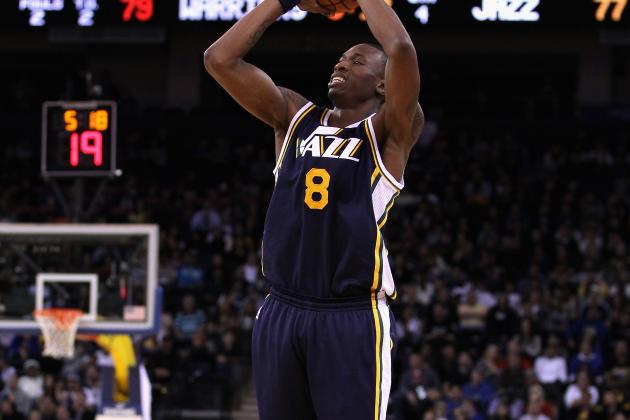 Ezra Shaw/Getty Images

With a few exceptions, the Jazz were reluctant to bring in any players who had questionable character or a history of disciplinary issues. This was likely due, at least in part, to the no-nonsense attitude and disciplined coaching style of Jerry Sloan.
While this is admittedly conjecture, Jamaal Tinsley and Josh Howard likely would not have ended up in a Jazz uniform if Sloan was still steering the ship. Utah GM Kevin O'Connor took two uncharacteristic chances on Howard, who had previous disciplinary issues due to drag racing and marijuana possession, and Jamaal Tinsley, who infamously fired his gun outside a strip club and was also involved in a 2007 bar fight.
Though bad behavior has been known to rear its ugly head at inopportune times, thus far both signings have been home runs, especially Howard. Howard brings length, athleticism and the ability to create his own shot to the Jazz, and he's been an integral part of Utah's success thus far.
Tinsley's minutes have been few and far between, but he has made an impact as the vocal veteran leader of the team. His willingness to speak up has earned him the nickname "The Voice" among teammates.
Signing Howard and Tinsley were certainly gambles, but thus far they are paying dividends.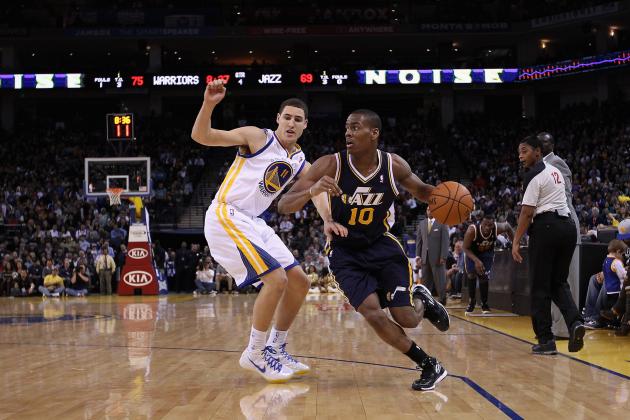 Ezra Shaw/Getty Images

Win now or rebuild? This was one of the most-asked questions regarding the Jazz coming into this season. The loss of Deron Williams and the poor end to the 2010-2011 season seemed to logically dictate that rebuilding and focusing on getting the younger players experience and playing time.
Conversely, the Jazz organization seemed focus on winning now, as they always have been. A perfect example of this is the 2003-2004 season, where a Jazz roster that inspired little to no awe and that was predicted to set a new record for losses in a season came within one game of making the playoffs.
As it turns out, the Jazz have been doing a great job of both simultaneously. Though Favors is still very raw, his incredible athleticism and defensive prowess make him far from a liability of any kind on the court. Similarly, Enes Kanter has shown an uncanny ability to end up with any loose ball or missed shot that comes anywhere near him, and so can at minimum contribute via rebounding while he develops his other skills.
Former Colorado Buffalo and scoring wunderkind Alec Burks can get to the basket almost at will, and thus can also be a significant contributor in a certain area while learning the ropes.
Partially due to smart trading/drafting, and partially due to good fortune, Utah doesn't have to choose between rebuilding and winning now.