Sacramento Kings: Thomas Sets Tempo in Comeback Victory over Indiana Pacers
January 19, 2012

Ezra Shaw/Getty Images
SACRAMENTO, CA-
The game tempo of rookie guard Isaiah Thomas gave the Sacramento Kings the energy they needed to seal a 92-88 comeback victory over the Indiana Pacers.
Kings coach Keith Smart wants his team to become a family, and that vision is starting to come together. But who would have ever thought it would have been the rookie second-round draft pick to be the emerging leader of the Kings?
If he were 6'2" or 6'3", he'd be a first-round draft pick the way he played in college," Smart commented. "He's going to keep making noise because he has toughness that you can't understand."
The Kings rallied from 14 points down in the fourth quarter to beat the Pacers. The surprising factor is they shot 30.1 percent from the field.
Thomas is a small, hard-nosed competitor who won't back down from anyone, and Smart sees the toughness in his game. Thomas just wants some minutes to show what he can do.
"Once I get more opportunities, I'll show you I can play at this level," Thomas said. "My teammates trust me, and I have a lot of confidence in myself."
Marcus Thornton led the Kings with 17 points, and Francisco Garcia came off the bench to score 10 of his 14 points in the fourth quarter.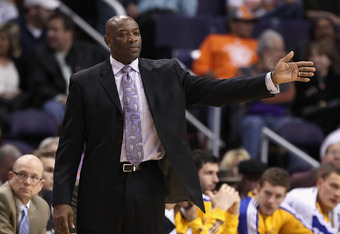 Christian Petersen/Getty Images
The Kings came out of the man-to-man defense and went into a zone defense. The Pacers were confused and committed nine turnovers, allowing them to be outscored 26-8 in the final quarter.
"Our staff did a good job in our morning meeting by seeing we could possibly play a zone," Smart stated. "The zone kind of kept them from posting guys up because they had their way earlier (first half) and it kept them on the perimeter."
DeMarcus Cousins led the Kings with 19 rebounds, including 12 on the offensive glass to go along with his 13 points. Cousins also set a Kings record with 10 offensive rebounds in the first half. 
The Pacers were balanced in scoring:  Darren Collison had 16 points, as did Danny Granger. Roy Hibbert and David West added 13 points apiece.
This was a short homecoming for the Kings. They must get right back on the road and face the San Antonio Spurs on Jan 20, which is the start of a three-game road trip.
Mike Walker is a Correspondent for Bleacher Report. Unless otherwise noted, all quotes were obtained first-hand.