UFC's Jared Papazian Ready to Make Noise in His Octagon Debut
January 19, 2012

In today's day and age, the UFC is often defined by its superstars, those who standout amongst the average, ordinary fighters due to their spectacular skill set, fan-drawing appearance, or one-of-a-kind personality.
However, as the years progress, we are rapidly approaching the next generation of fighters as the Georges St-Pierre's and Anderson Silva's of the world will quickly come to pass.
In result, we are in dire need of a future filled with superstars that will ultimately allow the organization to maintain its popularity.
Enter 135-pound martial artist Jared Papazian (14-6).
Papazian is likely the last name that comes to mind when pondering the future of the bantamweight division.
But not so fast.
At just 23 years of age, Papazian will make his Octagon debut when he takes on Mike Easton (11-1) at UFC on FX on Friday, Jan. 20.
Papazian's career path hasn't always been smooth sailing as he began his career with a lackluster 4-4 record. It wasn't until the early stages of 2010 when Papazian's career hit the ground running.
"The Jackhammer" then won eight of nine bouts, including three knockouts and five decisions, on his way to signing a contract with the UFC.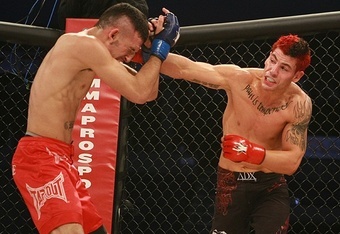 Papazian will enter the Octagon in the best condition of his life when he takes on Easton, whose strength lies in the knockout.
However, Papazian has never been knocked out in his career and has the conditioning to outlast his opponent in any three-round fight. Papazian's well-rounded skill set has all the ingredients for a stellar victory over Easton in his UFC debut.
Whether Papazian chooses to remain in the bantamweight division or make the transition to 125 pounds, he'll be a legitimate contender in the UFC for years to come.
To learn more about Jared Papazian, follow him on Twitter.
For additional information, follow Garrett Derr on Twitter.