LA Lakers vs. Miami Heat: TV Schedule, Live Stream, Spread Info and More
January 19, 2012

Mike Ehrmann/Getty Images
The Miami Heat are hosting the Los Angeles Lakers tonight in a matchup between two of the top teams in the league.
Both teams are surely going to make the postseason, so this game is all about regular season dominance and respect.
It's certainly going to be a good one, so keep reading to find out everything you need to know.
Where: AmericanAirlines Arena, Miami, FL
When: Thursday, Jan. 19 at 8:00 p.m. EST
Watch: TNT, Live Stream
Betting Line: Heat -5.5
Key Injuries
Los Angeles
No Major Injuries to Report
Miami
Eddy Curry—? (Hip)
Dwyane Wade—OUT (Ankle)
Dexter Pittman—PRB (Illness)
Mike Miller—PRB (Ankle)
LeBron James—PRB (Flu)
What's At Stake?
MVP Candidacy.
Kobe Bryant and LeBron James are both playing MVP-caliber basketball this season. Tonight they match up, and whoever does best will have an early leg up on the opposition.
These two men have put their respective teams on their back and are No. 1 and 2 in scoring within a mere point per game of one another on the season.
What They're Saying
Joseph Goodman at the Miami Herald found Eddy Curry is excited about his possible debut at center for the Heat tonight, but he's also nervous and knows it's been a while (since December of 2009) since he's seen the floor in an NBA game.
If my number is called, I'm going to be winded, obviously, but a lot of that is going to be adrenaline — just haven't been out there in so long.

But eventually I'm going to settle down and my game will come out and [Spoelstra] will do a good job of getting me in and out of there, so I'm not worried about it.
Ben Bolch of The Los Angeles Times reported that Shaquille O'Neal, one of the greatest centers in the history of the game, had high praise for Andrew Bynum.
"He's the best big man in the game right now," O'Neal said of the Lakers center. "He's the only big man in the league that's playing like a true big man."
Lakers Player to Watch: Kobe Bryant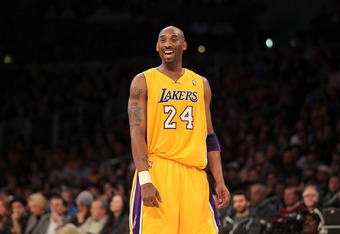 Stephen Dunn/Getty Images
Kobe is playing with an injured wrist and has taken 21,743 shots in his career. He isn't slowing that pace down whatsoever this season and is leading the league in scoring because of that.
He also has the Lakers competitive despite losing their Hall of Fame coach and an aging roster.
Heat Player to Watch: Eddy Curry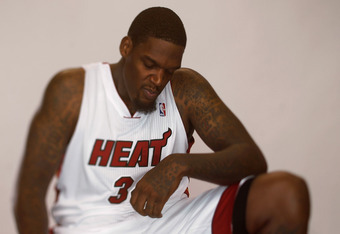 Mike Ehrmann/Getty Images
The Heat have struggled with play from the center position for over a year now. They need a competitive big man down there to defend and score easy buckets when LeBron, Wade and Chris Bosh are struggling.
Can Curry be that guy?
If he's on the floor tonight, watch and see if he has the potential.
Key Matchup: Post play
The Heat have no solid centers, while the Lakers have two seven-footers who can play the five and dominate it.
Pau Gasol and Bynum will be "challenged" by Joel Anthony, Dexter Pittman and Eddy Curry down low tonight, and if the Heats' bigs can at least slow down the Lakers', its going to be a good game.
Prediction
Lakers 102, Heat 101