Giants vs. 49ers: Jerry Rice Will Rue Adding Fuel to Brandon Jacobs' Fire
January 19, 2012

Nick Laham/Getty Images
New York Giants running back Brandon Jacobs is many things. He's 6'4" and 264 pounds, which would qualify him as "big," especially for a backfield ball-carrier. He's a winner, having played a key role in carrying Big Blue to the Super Bowl four years ago and bringing them back to the brink this season.
One thing he's not, though, is "soft," contrary to what Jerry Rice would say.
Of course, it wouldn't be out of the ordinary, albeit still inadvisable, for any current members of the San Francisco 49ers to talk trash about—and light a fire under—the former Southern Illinois Saluki, along with his current NFL teammates, heading into Sunday's NFC Championship Game at Candlestick Park.
And, granted, Jacobs isn't exactly the player he once was. He posted his lowest rushing total since 2006 this season, despite playing in 14 games for New York.
But for Jerry Rice, arguably the greatest football player of all time but still a guy who played a far less injurious and more glamorous position (wide receiver) than Jacobs, to come out and criticize Jacobs smacks of foolhardiness, if not downright hubris.
It's one thing for a current Niner to rock the the Giants' boat. It's another for someone who identifies closely with the team but hasn't suited up for it in more than a decade to grant San Fran's opponent such a motivational advantage.
To be fair, Rice wasn't exactly "dissing" Jacobs per se, but rather pointing out that a guy Jacobs' size shouldn't be struggling to run over, around or through contact:
"He can't get away from a defender. This guy is 265 and it upsets me when I see him get tackled by a guy that's like 190 or 200 pounds."
Not exactly an unfair criticism, particularly from a guy like Rice, who currently works as a pundit for ESPN. For all his size and strength, Jacobs has looked like a shell of his former self for most of the season, having shown only flashes of the punishing running style that originally made him such an effective and productive change-of-pace partner to Ahmad Bradshaw.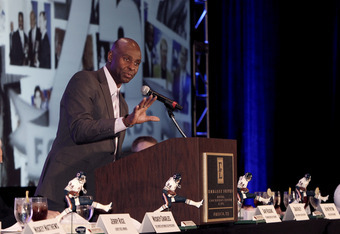 Brandon Wade/Getty Images
Still, Rice clearly didn't do the 49ers any favors by essentially handing the G-Men another nifty piece of bulletin board material to play up before Sunday's renewal of one of the NFL's great postseason rivalries.
So, if Brandon Jacobs storms out like a man possessed and romps all over San Francisco's vaunted run defense on Sunday, Niners fans will know exactly who to blame.
And, conversely, Giants fans who to thank.