East-West Shrine Game 2012: Which Players Should Draft Nuts Keep an Eye On?
January 19, 2012

Eric Francis/Getty Images
With a lot of scouts, fans, coaches and players alike watching the 2012 East-West Shrine Game this Saturday, there's obviously a lot of 2012 NFL draft prospects to look for.
That includes players like Michigan State receiver BJ Cunningham and TCU linebacker Tank Carder, among others. Well, here are four players many fans may be unaware of who are deserving of some recognition this weekend as well.
Matt Daniels: Safety, Duke
Al Messerschmidt/Getty Images
A sure-tackling, hard-hitting safety from Duke, Matt Daniels is really going under the radar since the Blue Devils have never been known for football.
In 2011 he recorded 126 tackles, picked off two passes, defended 16 passes and has seven career forced fumbles. Daniels also accounted for 176 tackles between 2009 and '10, so his ability to roll down and help with run support makes him quite appealing.
An expected fifth- or sixth-round pick, a solid display in the East-West game would drastically increase his stock, and Daniels could potentially go late in Round 3.
Keith Tandy: CB, West Virginia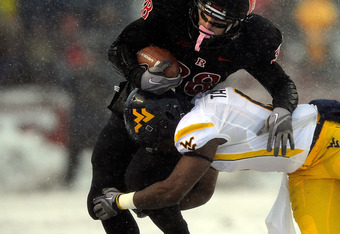 Patrick McDermott/Getty Images
It's easy to overlook a cornerback from the Big East in the 2012 NFL draft because of other guys like Morris Claiborne, Dre Kirkpatrick and Alfonzo Dennard.
That being said, West Virginia's Keith Tandy recorded 13 interceptions, 182 tackles and 37 defended passes in his final three seasons with the Mountaineers. Tandy may be undersized, but he has great instincts and awareness to make him a suitable player in the pros.
With time to develop, he can become a nice shutdown corner despite only being considered a fifth-rounder. Provided he can display and improved press coverage, Tandy could move up into the middle of Round 3 this spring.
Dan Persa: QB, Northwestern
Not considered a draft choice, Northwestern's Dan Persa has a lot of ground to make up before the 2012 NFL draft.
Now, Persa has decent size and a good arm as well as deadly accuracy (2011 completion percentage of 73.4 and 73.5 in 2010). He has durability concerns but didn't let that affect his 2011 play, as he threw for over 2,300 yards with 17 TDs to just seven picks.
Prior to getting injured in 2010, Persa threw for over 2,500 yards and had 15 TDs to just four picks. He's careful with the ball but must shred the East defense when given the opportunity this weekend.
Otherwise he's going to go undrafted and will need to put in more work for a look prior to the 2012 preseason.
Kevin Koger: TE, Michigan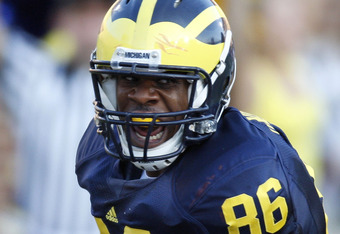 Gregory Shamus/Getty Images
Koger definitely does not get nearly as much recognition because of quarterback Denard Robinson; however, Michigan tight end Kevin Koger is you're prototypical reliable player.
He has sure hands in the intermediate passing game, and he is a great run-blocker and solid pass-protector. Koger's size is ideal for being an NFL tight end, and he's quite dangerous in short-yard situations as well as the red zone.
Currently slated as a fifth-rounder, his ability to run/pass block and receive will impress in the Shrine game. Now, being a tight end isn't going to propel his draft stock immediately, but as an early to mid-fourth-rounder, he would be a realistic steal for teams wanting another tight end with good potential.
John Rozum on Twitter