Fast Start in 2012: Ole Miss Leaving the Wilderness with Hugh Freeze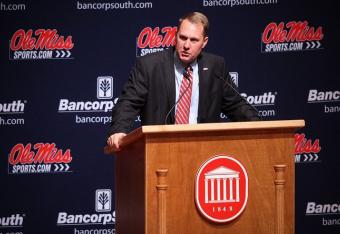 Hugh Freeze addressing the media after his speech at the announcement back on December 5.

Since the December 5 announcement that Hugh Freeze would take over as Ole Miss football coach, there has been quite a buzz surrounding the Rebel program. Hugh Freeze spoke at the Gertrude C. Ford Center on campus at Ole Miss on that rainy and cold Monday morning, and looking back at the weeks since then, he seems to have sparked a fire of optimism inside some Rebel fans.
It isn't abnormal to have that preseason optimism every year. That is out of excitement for one the best times of the year. The problem with Ole Miss is, that optimism is there, then it quickly fades when the Rebels don't do well.
Now in Oxford there is a greater optimism. The optimism that Ole Miss is moving in the direction the Ole Miss family wants. Houston Nutt tried his best to make this team succeed, but in the end no matter how much you want it, you must show that on the field with wins.
At the press conference announcing that Houston Nutt was not returning for another season, Coach Nutt was asked a question about the coaching change and the first thing he said was, "The thing about the SEC is that they pay you to win." Nutt simply did not do that, and many Rebel fans are grateful for his service to the University of Mississippi but agree it was time to move forward.
But back to the optimism that is brewing inside every Rebel fan.
With the new coaching hire, the optimism that success and championships will return to Oxford is growing each day. Hugh Freeze sparks that optimism, and that is the leader Ole Miss needs.
Will Hugh Freeze be successful at Ole Miss?
Coach Freeze spoke of leaving the wilderness to his players, various fans and members of the media during his first press conference, making fans wonder, is this the guy to lead us back to greatness?
During that presser in the Ford Center, Freeze outlined how his team will work and their various philosophies. He talked about his team meeting with his players that had occurred a few hours earlier and let everyone know that he is fully aware of the situation with the football team at Ole Miss, saying, "we understand that we are in the wilderness and we have to realize why we are here and how we are going to get out."
Accompanying Coach Freeze to the announcement and press conference were his wife Jill and their three daughters. While he was speaking about his family, Freeze spoke about being the Ole Miss Head Coach was a dream that he had now fulfilled. He said to the audience and various members of the media that Ole Miss is not a stop for him, it is a destination.
In midst of some tears of joy, the new Rebel coach said, "I've taken my family all over the country to get to back to this one place. That place is The University of Mississippi." After that statement the crowd erupted.
Leaving the wilderness started January 1, 2012. The first day of the new year, and the first day of the new season. Players were required to report back to Oxford the first of the year to begin preparing for their trip out of the wilderness, but they still got some much needed time off.
During that time off Hugh Freeze was hard at work hitting the recruiting trail. Freeze and his new staff have already landed some high ticket recruits including 4-star defensive end Channing Ward and four-star running back I'Tavius Mathers. Along with those two commitments, Bo Wallace, a junior college transfer quarterback will also be joining the Rebels.
Speaking of Freeze's new staff, here is who will accompany him on the sidelines:
1. Tom Allen- Assistant Coach/Special Teams/Linebackers
2. Maurice Harris- Assistant Coach/Recruiting Coordinator for Offense/Tight Ends
3. Grant Heard- Assistant Coach/Wide Receivers
4. Chris Kiffin- Assistant Coach/Recruiting Coordinator for Defense/Defensive Line
5. Matt Luke- Assistant Coach/Co-Offensive Coordinator/Offensive Line
6. Wesley McGriff- Assistant Coach/Co-Defensive Coordinator/Cornerbacks
7. Derrick Nix- Assistant Coach/Runningbacks*
8. Dan Werner- Assistant Coach/Co-Offensive Coordinator/Quarterbacks
9. Dave Wommack- Assistant Head Coach for Defense/Defensive Coordinator/Safeties
10. Paul Jackson- Head Coach for Strength and Conditioning
*Derrick Nix is the only assistant on the staff that is returning from Houston Nutt's staff.
The final thing Freeze spoke about on December 5 was a change in the attitude at Ole Miss. He stated you must win the day before you can win it all. That win the day statement has seemed to stick with the Ole Miss people along with leaving the wilderness.
Many Ole Miss students end posts on Facebook and Twitter with the statement "win the day." That is the attitude Coach Freeze is bringing into North Mississippi. He wants everyone to buy into winning the day, because he says you must win the day to win on the football field. Here is an excerpt from his presser on December 5:
"The last thing I told our team is that no matter what, we have to stay in the game. You cannot get discouraged. You can't lose sight of the goal and vision. We are going to be open and honest about what our "its" are, but the deal is if you aren't winning today, you aren't going to get there. Our daily actions have to be our spoken goals. Our actions and our goals have to match.
"You can't say that you want to be an honor roll student and not go to class. You can't say you want to be an All-American athlete and not practice hard every day. You have to win the day. We will start immediately and we will win the day here. That will be the first priority."
That shows Rebel fans and the rest of the country that Hugh Freeze really does mean business about turning around this program. The crowd seemed to be not-so-sure about the Hugh Freeze hire, myself included. Many wanted big names like Rich Rodriguez, Mike Leach or maybe Kirby Smart.
In the end it came down to a few different candidates for the selection committee, headed by Rebel legend Archie Manning and FedEx Executive Vice President of Market Development Mike Glenn. Hugh Freeze clearly was the one they wanted and it showed with their excitement during the process and after the announcement. In that same presser, prior to Hugh Freeze speaking, Mike Glenn had this to say about the committee's choice:
"Once we completed our interviews our number one choice was clear. Our number one guy was Hugh Freeze. Coach Freeze is one of the most highly regarded young coaches in the country. He is known as an offensive genius, but he also understands that it takes great defensive to win in the SEC. Bob Beaudine made it very clear that he had placed many coaches throughout his career and that Hugh Freeze has what it takes."
Does Hugh Freeze have what it takes? We will all see when the Rebels open their 2012 campaign of "leaving the wilderness" on September 1 when they host Central Arkansas. If you didn't know, Hugh Freeze's Arkansas State Red Wolves defeated Central Arkansas 53-24 during the 2011 season.
The 2012 Ole Miss SEC opener and Hugh Freeze's debut in the conference is on the road in Tuscaloosa against the defending BCS National Champions, the Alabama Crimson Tide. What a way to be welcomed into a conference right? Nick Saban and Alabama in Bryant-Denny Stadium. It doesn't get any tougher than that.
Questions or opinions? You can get me at connor@yall.com or on Twitter by following @connorhennes. Thank you for reading, and as always, Hotty Toddy!
This article is
What is the duplicate article?
Why is this article offensive?
Where is this article plagiarized from?
Why is this article poorly edited?

Ole Miss Football: Like this team?