2012 NFL Draft Preview: Who Are the Draft's Safest Picks?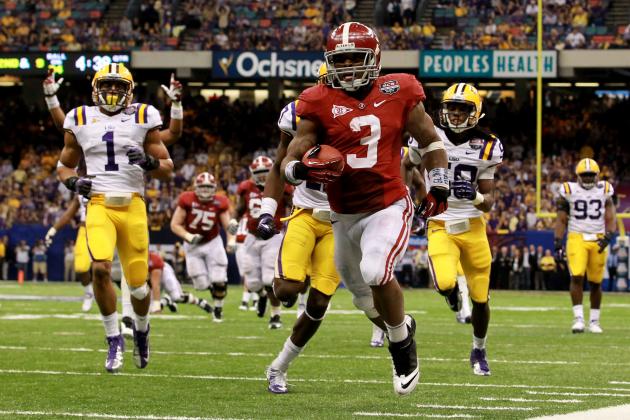 Ronald Martinez/Getty Images

The NFL Draft will never be an exact science. Getting the first pick could end with a team grabbing a player like Peyton Manning and revitalizing a franchise, or picking someone like JaMarcus Russell who just wasn't cut out for the NFL.
But the first pick isn't needed to get a great player. In fact, fantastic players are available in every round (just ask Tom Brady).
So, which players are destined to makes waves once they set foot in the league?
There are quite a few safe grabs in the first round, and all of these guys should have great NFL careers.
Begin Slideshow

»
Almost every team in the draft could use a good cornerback (and some teams need a few). Morris Claiborne is about as good as defensive backs get.
The 6'0", 185-pound cornerback has 4.45 40-yard dash speed, and he has the coverage ability to go with his quickness.
Claiborne is also ferocious against the running game and is able to tackle larger receivers. Add in the fluidity with which Claiborne moves his hips and there is no way he ends up as an NFL safety. Clairborne is destined to stick at cornerback
CBSsports.com says that the LSU Tiger is solid in press coverages, a fantastic man-to-man defender, and although he rarely played zone in college, he "...has physical tools to handle zone and doesn't shy away from contact."
Claiborne is ready for the bright lights of the NFL. He will immediately become a lockdown corner in the league.
Melvin Ingram should be selected in the first 20 picks of the NFL Draft, and if he isn't, 20 teams are going to miss out on his immense talent.
Ingram has the ability to play a number of positions. He is probably best suited for a 4-3 defensive end or outside linebacker, but his versatility will allow him to fit somewhere in just about any system.
At 6'2", 276 pounds Ingram has the ability to become an very solid pass rusher.
According to CBSsport.com, Ingram doesn't have the quickness or explosiveness to be an elite pass rusher, but he can spin off blocks, uses his hands well, hustles, is extremely strong and will be a factor against the run game.
The big man is deceptively fast, though. He moves extremely well and even managed to pick off two passes for South Carolina this season.
If a team is looking for a impact player who can help improve the defense across the board, Ingram is the guy.
Richardson isn't the flashiest runner in the NFL Draft, but he is certainly the most effective.
With Richardson, a team gets a patient runner who waits for holes to open before making a sharp, single cut. One of Richardson's best attributes is his toughness. The 5'11", 224-pound running back is nearly impossible to bring down.
CBSSports.com calls him a physical, smart blocker who breaks tackles with ease and has reliable hands as a receiver.
While Richardson's official 40-yard dash time is 4.52, CBSSports.com said that the Alabama coaching staff has clocked him in the 4.4 range.
Hands down, the Alabama running back is the most complete and all-around player at his position.
Versatility is highly coveted in the NFL, and like Melvin Ingram, Courtney Upshaw brings that unique quality with him.
The 6'2", 265-pound Upshaw has played both defensive end and outside linebacker for Alabama and has played both positions well.
Upshaw has more similarities to Ingram than just their positions. Both players are powerful, strong against the run and have a high football I.Q., but Upshaw has the edge over Ingram when it comes to the pass rush.
CBSSports.com says that pass-rushing is "one of his best traits." CBS goes on to say that Upshaw is an elite pass-rusher because he "possesses good burst off the snap and as effective a swim move as you'll see in college football."
You can't go wrong with either pick, but if a team wants the smaller, more effective pass rusher, then Upshaw should be the first off the board.
While Matt Barkley's return has gotten most of the attention, the departure of Matt Kalil has to be a tough blow to the USC program.
Kalil doesn't have any holes in his game. He is too strong to be bull-rushed and too quick to be beaten off the edge. He has incredible footwork as well.
Kalil stands at 6'6", 295 pounds and is assured to be one of the top few players taken in this year's NFL Draft.
He is described by CBSSports.com as a very good pass blocker that "fires off the snap" to attack when run-blocking.
The first round is loaded with great offensive tackles, but there is a reason Kalil is considered the top offensive lineman in the nation. He is just that good.
Just like the offensive tackle position, there hasn't been a lot of debate as to who is the best player at wide receiver in the NFL Draft.
I love Michael Floyd's talent and potential, but Blackmon is in a class all by himself.
Blackmon lacks elite speed, but he is explosive. He has been clocked at 4.54 in the 40-yard dash, but he has the best hands in the NFL Draft and is a picture-perfect route runner.
He can be used as a possession receiver, but he is also a deep threat at 6'1", 215 pounds because he rises up to grab the ball at the point of attack and makes catches over his shoulder with ease.
And Blackmon has put up truly remarkable numbers over his last two seasons at Oklahoma State.
In 2010, Blackmon caught 111 passes for 1,782 yards and 20 touchdowns. This season, he had 121 receptions for 1,522 yards and 18 touchdowns.
Any team looking for the model of consistency and a great wideout should grab Blackmon early because he won't be on the board for very long.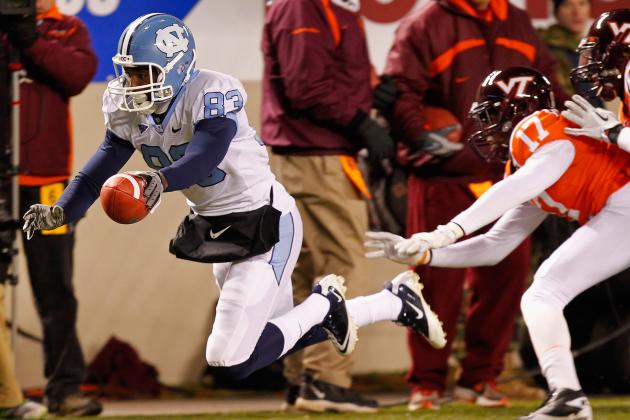 Geoff Burke/Getty Images

Projections by CBSSports.com
Dwight Jones, WR, North Carolina—projected second to third round
Harrison Smith, SS, Notre Dame—projected third round
Dont'a Hightower, LB, Alabama—projected first to second round
B.J. Cunningham, WR, Michigan State—projected fifth to sixth round
LaMichael James, RB, Oregon—projected second to third round