Ravens vs. Patriots: Breaking Down Baltimore's Defense vs. New England's Offense
January 19, 2012

Jim Rogash/Getty Images
There are many difficult tasks coaches have to execute in the NFL, such as drawing up a quality blitz or putting together an offense with rhythm, but few are harder than putting together a game plan, especially a game plan on defending the New England Patriots offense.
The Baltimore Ravens are stuck doing just that for this weekend's AFC Championship game. The three keys to New England's offense are the multidimensional tight ends and quarterback Tom Brady, of course.
Multidimensional 
New England's offense is multidimensional because of its versatile players, such as tight ends Rob Gronkowski and Aaron Hernandez.
The monstrous 6'6", 265-pound Gronkowski has been problematic for defenses, snatching high-arching passes with his long arms and commanding bracket (double) coverage.
He's also an exceptional blocker, something that is often forgotten about him. There are very few tight ends in the NFL that can lock up with a defensive end and hold their own, controlling with leverage and a strong base.
Tight ends usually are great blockers and average pass catchers or vice versa. Gronkowski is both.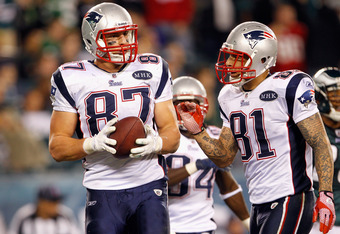 Rich Schultz/Getty Images
On the other hand, Aaron Hernandez is quite a bit different than his teammate, as he can catch, but he can also run the ball, as witnessed against the Denver Broncos last weekend. He's able to align all over the formation, which really becomes an issue for defensive personnel grouping.
For instance, when Hernandez is in the backfield, what kind of personnel grouping do you declare NE has on the field? Is it a run-based or a pass-based group?
Defensive coordinators must ask themselves, "Do I send in my nickel (five defensive backs) package in or keep my base personnel?" In New England's view, it's pick your poison—do you want to die slow with a run or die fast with a pass?
It's safe to say these two aren't your typical tight ends. 
Brilliance of Brady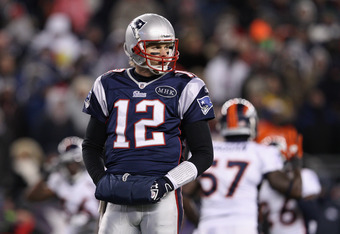 Elsa/Getty Images
And then you have Tom Brady, who (many argue) is the standard at the quarterback position.
He can make every throw in the book, and he's brilliant before and after the snap. Brady can pick apart any zone coverage you throw at him, stick throws in tight windows in any man coverage played and find his hot read when blitzed. 
So how do you slow down the Patriots offense? 
Slowing Down the Patriots Offense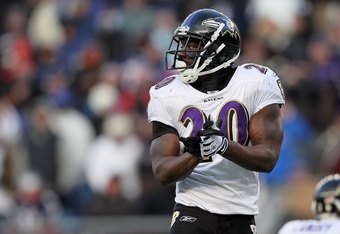 Jim Rogash/Getty Images
The last meeting the two football foes had, the Patriots came back to win 23-20 in overtime against a Reed-less Ravens team in Week 6 of the 2010 season.
The impact of Reed's absence was obvious in the way the Ravens defended, using a lot of two-deep safeties and few blitzes—which isn't the case when Ed Reed is in the game. Reed's range and football intelligence is often able to cover up any mistakes in the defensive backfield and allow the Ravens to be more aggressive downhill. 
For New England, their Week 6 matchup with Baltimore was at a time when they shipped off superstar wide receiver Randy Moss and welcomed back Deion Branch.
The aforementioned tight ends, Gronkowski and Hernandez, were still developing as players, with the former not being a great impact on the game, and the offense was limited. It lacked explosive plays downfield and often settled for a plethora of Hi-Lo concepts to put defenders in conflict and move the chains. 
It's different this time around, but the game plans should have some similarities.
Here are some of the things the Ravens could consider doing.
Jamming and Re-Routing Gronkowski
Patriots tight end Rob Gronkowski is a difficult cover, especially when he has a free release at the line of scrimmage.
When Gronkowski is aligned along the line of scrimmage, they could look to jam and re-route him with linebacker Jarrett Johnson or defensive end Terrell Suggs before releasing him into the safeties in coverage. 
Pressure Packages
The Ravens have to consider sending pressure at times against Tom Brady to make him leave the pocket and make throws on the move. A pocket passer's biggest problem is pressure up the interior, and that's what Brady has long had issues with.
In last year's meeting, the Ravens blitzed only a few times, sending overload pressures with defensive backs and fire-zone blitzes, but it was successful.
Dropping Eight
This is opposite of what is written above but also another effective way to neutralize Brady's pass targets. When dropping eight pass defenders, the Ravens are able to bracket the pass catchers and force Brady to work to his underneath targets.
Last year, they did this well (but again, not enough) and Brady often had to settle for his outlet and a smaller gain. It's also key to make tackles on the outlet receivers once they catch the ball, which is something that they didn't do a couple times and gave up a first down despite the numbers advantage in coverage.
Bracketing Gronkowski
The word "bracket" is defined as double-coverage in football parlance, and it's something that teams have used at times on Gronkowski this season.
There are two types of bracket coverage that can be used. The first one is inside-out, with two defenders covering Gronkowski to each side, and the second one is over-under, when a single underneath defender is accompanied by a defender over the top of Gronkowski. 
Press Coverage
Baltimore is known for having a physical defense—although the physicality of any cornerback is always in question—so they should look to jam Deion Branch and Wes Welker.
The two wide receivers are good at winning at the line of scrimmage with a free release, but if you jam them, they can have problems getting into their routes. This is something to watch for when the Patriots go to their three-step drop-back passing game, which they likely will look to do.