NFL Draft 2012: Prospects with Most Potential to Slide on Draft Day
January 19, 2012

Ronald Martinez/Getty Images
Draft day slides can be attributed to a number of things. More often than not, it is that the public perception of a player versus the NFL's perception of a player differ greatly.
Naturally, the 2012 NFL Draft will be no different, but there are a few stars to keep an eye on already.
It could be because they are overrated or they have legitimate character concerns, size issues, health issues, or simply because teams don't need a player at the position.
Draft day slides are simply inevitable.
Here are a few players in the 2012 draft class with the most potential to slide.
Trent Richardson, RB, Alabama
The Crimson Tide junior is a between a top-five or top-seven prospect in this draft, but the running back position holds little value anymore.
His former teammate, Mark Ingram, was considered by many to be a top 15-20 prospect at worst and he fell all the way to No. 28 where the Saints had to trade up to get him.
Richardson has all the tools and then some to be an elite running back in this league. His combination of size, speed, agility, balance and sheer determination set him way apart from the rest of this class.
Having said that, if some craziness shakes out in the top 10 (there will likely be a trade or two), he could slide out of the top 10 and possibly even the top 15, depending on who else is available.
Alshon Jeffery, WR, South Carolina
Depending on who you talk to, Alshon Jeffery ranges from a top-10 pick to a possible 29-32 pick.
The Gamecocks receiver is a gifted big man with the ability to simply take over football games if he wants to. He didn't have nearly the production most expected even with lowered expectations because of quarterback inconsistency.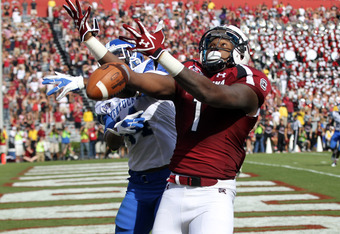 Streeter Lecka/Getty Images
At 6'4", 232 pounds, it will be hard for some teams to pass up the opportunity for a red zone threat like Jeffery, but ultimately he's not a top-15 talent and there it would be surprising if a team jumped on him too early.
Jerel Worthy, DT, Michigan State
Another "depending on who you talk to" type, Worthy flashes brilliance at times and has intriguing ability at 6'3", 310 pounds.
But there are concerns there as well.
Worthy doesn't always bring it and playing up to his potential is not his strong suit.
Some teams will be very tempted by his abilities, but others will see through it and not pull the trigger just yet.
Talk of him in the mid-first round is overblown.
Dre Kirkpatrick, CB, Alabama
Plain and simple, his recent arrest for marijuana possession is a red flag.
Always chuckin' the rock on Twitter, too.