Novak Djokovic: Three Reasons Djoker Will Stay No. 1 Throughout 2012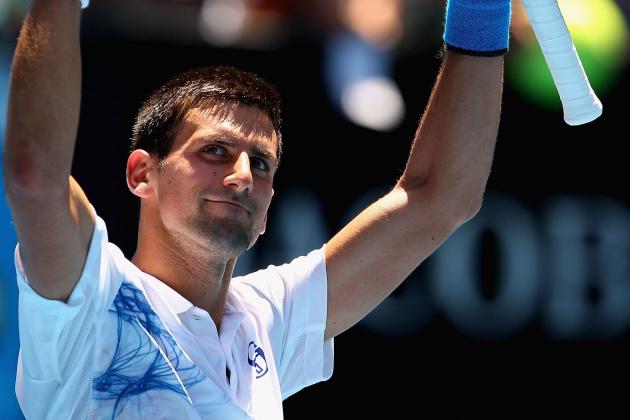 Cameron Spencer/Getty Images
Can Nole repeat his 2011 success?
Last year, Novak Djokovic lived up to his sky-high potential...and then some.
Everyone knew Nole had an elite skill-set and pedigree, but in 2011 he put it all together in such a dominant fashion that even his staunchest supporters were amazed.
After a while, there was no denying it—this guy was playing like an all-time great. Better yet, he was handily beating all-time greats.
With Nole, it almost seems like the sum is greater than the whole of his parts. He doesn't control the match with an overwhelming forehand like Rafael Nadal. He's not serving people off the court like Roger Federer. There isn't that one shot he hits for a winner over and over again.
Instead, Djokovic does everything, and he does it all brilliantly. That's part of what makes him so tough to beat: There's nothing to target or avoid in his game. It seems like his wheelhouse spans the entire court.
He's not slowing down, either. He's breezed through the first two rounds of the 2012 Australian Open in frighteningly good form, dominating his opponents so thoroughly point-by-point that you almost expected them to wave a white flag.
And yet you hear a lot of people say there's no way the Djoker can repeat his 2011 success, that the law of averages will catch up to him, that he has too many points to defend. But none of these doubts ever contain any actual tennis or technical analysis.
Just who is going to beat Novak, and just how are they going to beat him?
The predictions of Djokovic's demise seem, frankly, like wishful thinking from his detractors. At this point, there's no reason to think Novak will finish 2012 any differently than he did 2011—at the top of the game.
So instead of wracking the brain to come up with things that could go wrong for Novak, we're here to give you three reasons why Djokovic will stay number one throughout 2012.
Begin Slideshow

»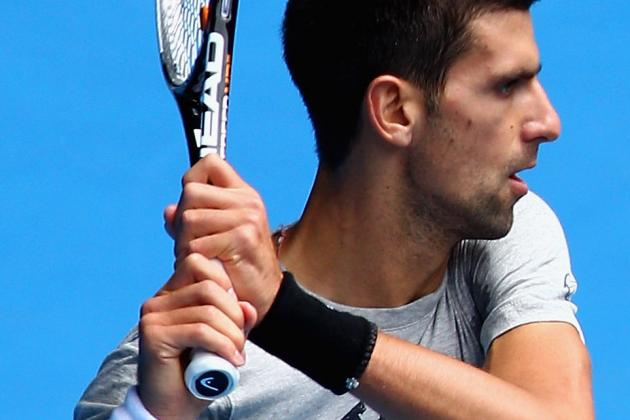 Mark Dadswell/Getty Images
Once a point is on neutral terms, it's advantage, Djokovic.
In an age of slower courts and longer points, the ability to out-rally your opponent has become paramount. Gone are the days of big-serving, one trick ponies.
Just take a quick glimpse at the Big Four. Novak, Rafa, Fed and Andy Murray play differently in many ways, but the one thing they all share is a rock solid baseline game. They move well, defend resiliently and hit aggressively without error. Nine times out of ten, if a point is on even terms, they'll win it.
And how many slams have the monster servers won of late? Andy Roddick's game seems obsolete. Robin Soderling, Tomas Berdych and Jo-Wilfried Tsonga haven't broken through. Juan Martin del Potro's got one, but he's much more than just a big hitter.
Simply put, to win in today's game, you need all the shots...on almost every point.
Enter Djokovic, the best base-liner in the game. No one outlasts an opponent better than Novak. No one can create controlled offense like the Serb, either.
It used to be Rafa, now its Nole.
If he's not the quickest man in tennis, he's near the top. It almost seems like you have to hit four or five consecutive winners to put this guy away.
His backhand is also the best in tennis. He can rally with it, error-free, for minutes at a time. He can angle it across the court for winners. He can smoke it up the line into the open court. It's diverse, dangerous and reliable.
His forehand has improved leaps and bounds as well. Again, he can either push or attack with it. It's uncannily accurate, especially when he's bending it across court to create an opening. Like the backhand, it's a very flexible shot.
Look no further than the six epic Djokovic-Nadal finals last year. On most points, you could run to the fridge for a drink and be back in plenty of time for the end of the rally. It was exhausting and awesome to watch. More times than not, Nadal would blink first, which we'd never seen before. The Spaniard was going against the best.
Djokovic can hit any shot, from anywhere, at any time...over and over again. That, more than anything else, is why he'll be number one for a long time.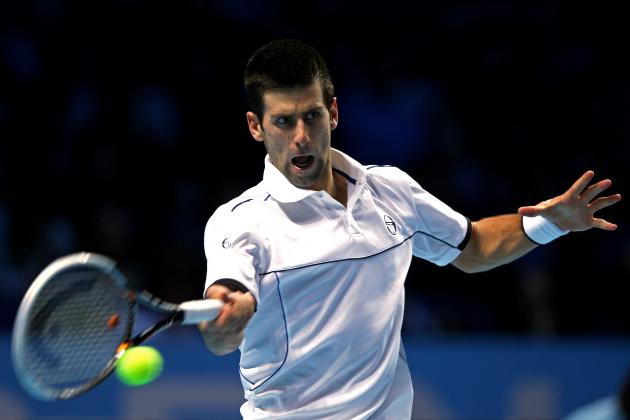 Clive Brunskill/Getty Images
Djokovic is also the game's best returner.
Not only is Novak the best once a point is on even terms, he's the best at getting a point to even terms as well. In other words, he's the best returner in the game today.
In 2011, he won the second highest percentage of first serve return points on tour, and was the best on second serve return points.
But forget the statistics, just use the eye test.
How many returns does Nole smack right to the server's feet? He almost trips opponents up with his replies—it's like target practice.
He's a master of cutting down his swing and using the server's power on first serve returns. Very rarely do you see him overcook a return past the baseline. He's also excellent at attacking the second serve with control. He doesn't get overanxious and squander the opportunity. He strikes with accuracy, and doesn't let his opponent back into the point.
He keeps his cool, too. Last year, he converted the second highest percentage of break points on tour.
Sometimes you feel like he'd rather be returning than serving.
Again, go back and watch all those finals with Nadal last year. At times it seemed like he could break at will. They were almost like WTA matches in the sense that the serve barely created an advantage for either player. A service break was realistic in every game, especially for Novak.
It just takes so much pressure off knowing that you can break whenever you need to. Novak knows, even if he loses a serve in a big spot, he can come right back and return the favor. It happened countless times last year. He gets broken, looks like he's in trouble and then breaks right back: His momentum has been restored.
When you have both the best return game and the best base-line game in tennis, it's deadly. He can thwart redlining underdogs and hot servers alike. He can wrangle control of almost every match.
It's a another big reason Novak will remain number one for the foreseeable future.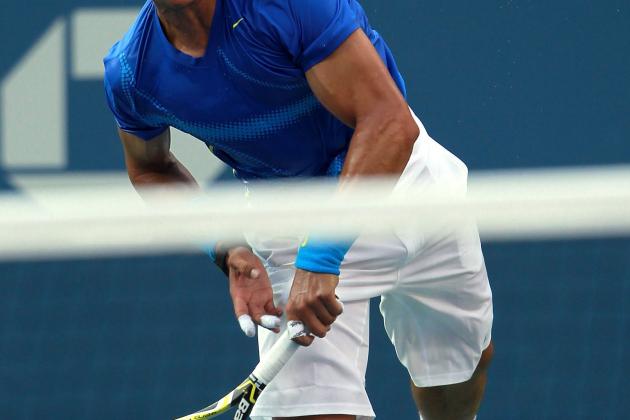 Nick Laham/Getty Images
Djokovic owned Nadal in 2011.
As much as we talk about a Big Four in men's tennis, in 2011 it was really a Big Two.
Djokovic and Nadal combined to win all four majors and six of the nine Masters 1000 events. Novak beat Rafa for six of his big titles.
Up to the fall season, the ATP was really a two man tour.
As such, that Nole's game matches up so well with Rafa's is a major ingredient to his success.
We've seen the nightmares that come with a bad match up against Rafa (see Roger Federer). Now, we're seeing the opposite.
Djokovic's game seems perfectly tailored to take down the Mallorcan. Everyone knows Rafa likes to cream his topspin forehand across court until his opponent can't handle the power anymore. It's Rafa's comfort shot, he opts for it almost instinctively. And against everybody else on tour, it's more than enough. But not against Djokovic.
Djokovic's best shot is his two-handed backhand, so while Rafa's high-bouncing cross-court forehand ends up in an uncomfortable spot for most righties, it lands right in Djoker's power zone. Djokovic relishes this forehand-to-backhand exchange, and after a few revolutions, he is in control of the point, not Rafa. He goes backhand cross-court with increasingly sharp angles until he's in a position to go up the line to an empty court. Or he can just keep going cross-court until he's close enough to the net for an uber-sharp cross-court winner.
He's the only player on tour who can win these exchanges consistently.
He's also the only player on tour who can outlast Rafa, both in a point and a match. Against everyone else, Rafa knows he'll be the last to buckle. Against Nole, he's the first. Djokovic can out-rally Rafa. He can hit for longer without making a mistake. He can gain advantages in a greater percentage of rallies. Fed fans never thought they'd see the day, but Djokovic can out-grind Rafa.
To make a long story short, Djokovic's game perfectly neutralizes the two most important parts of Rafa's: the forehand and the grind. Considering that Rafa is clearly the second best player in the world, this advantage will go a long way in helping the Djoker stay on top for 2012.