Patriots vs. Ravens: Baltimore Players Who Must Step Up to Pull off Upset
January 19, 2012

Rob Carr/Getty Images
The Baltimore Ravens are seven-point underdogs for a reason—they don't have as much talent as the New England Patriots.
That means certain players, most notably the three below, must take their game to the next level if Baltimore has any prayer of stunning the football world.
Joe Flacco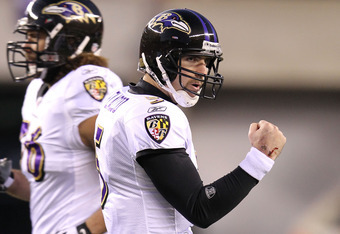 Andy Lyons/Getty Images
The Ed Reed comments about Flacco have gotten more play in the media than they deserve because he basically said what everybody was already thinking. If the Ravens are going to knock off the Patriots, Flacco needs to be better than he was last week.
It's been a forgettable season for the fourth-year quarterback, who has lost control of the offense and seems scared to take any chances. He's not going to be able to play it safe if Baltimore's offense is going to keep up with New England's high-powered group on Sunday.
He has enough weapons to make it happen, so it will all come down to his confidence level. If he comes up small, he'll deserve all the criticism that comes his way.
Torrey Smith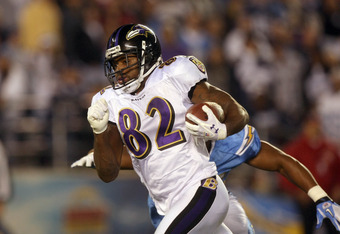 Donald Miralle/Getty Images
Simply put, one catch for nine yards isn't going to cut it. He's reliant of Flacco to get him the ball, but he has to do a better job of using his terrific speed to separate from defensive backs. Even Flacco can get him the ball if he's wide open.
Perhaps you can chalk up his poor game against the Houston Texans to the jitters associated with his first playoff game. If that was the case, he needs to get over those issues before Sunday, because every possession is going to be crucial.
There's no reason he shouldn't have a monster game since the Patriots secondary is so weak. Now he needs to step up to the plate and make it happen.
Bernard Pollard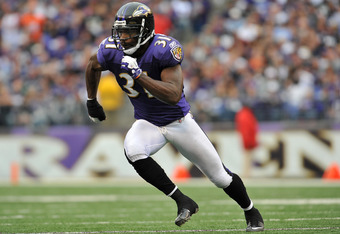 Larry French/Getty Images
Slowing down the tight end duo of Rob Gronkowski and Aaron Hernandez is the most important aspect of the defensive game plan for the Ravens. The linebackers aren't going to be able to pull it off alone, which means the safeties will need to help out.
Everybody knows what Reed has done during his career, but Pollard is more of a wild card. He'll be able to make a name for himself with a big game on Sunday. Taking away those two huge targets, especially in the red zone, would put Baltimore in position to emerge victorious.
There is literally no room for error. If the Ravens defense doesn't slow down Tom Brady and Co., they're toast. That means the heat is on Pollard to come up big.