NBA Trade Rumors: Danny Ainge Says He'd Consider Moving Boston's Big Three
January 19, 2012

Elsa/Getty Images
The Boston Celtics shocked the world and started a movement in the NBA by pairing Ray Allen, Kevin Garnett and Paul Pierce together. But now Danny Ainge is thinking about trading Boston's big three to help the future of the team. 
Ainge, the vice president of basketball operations for the Celtics, told the Boston Globe that if he can land younger talent for these aging stars then he would consider making such an astonishing move. 
The Celtics are currently 5-8, having just ended a five game losing streak. It's early in the season, but they definitely aren't looking like contenders this year, which is one of the reasons Ainge is thinking it might be time for a change. 
Allen is 36, Garnett is 35 and Pierce is 34, so looking ahead to the future isn't a bad idea for the Celtics. Nothing seems to be working right now, but maybe this news will spark a fire amongst the players. 
If it does, then perhaps Ainge won't make any moves. Of course, since it's on his mind, it's likely something that will eventually happen. So, if Boston gets it together, we may not see any trades occur until the end of the year. 
Then again, if a lucrative deal comes along that Ainge can't pass up, it will be hard for him not to take it. 
"We haven't played well as we're capable of playing. I know we're a better team than we've shown. I've seen it in spurts but just not in consistency. There hasn't been any consistency." Ainge said.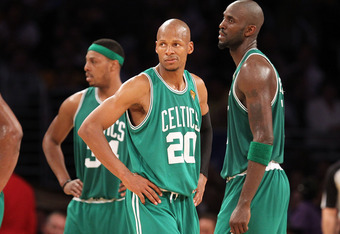 Ronald Martinez/Getty Images
It will be fun to watch if any teams around the league voice interest in one or two of the players. After all, these guys still have skills and can compete at a high level. 
Unfortunately, the team as a whole is struggling, thus bringing on the idea of possibly trading the big name stars away. 
Sometimes you have to take a hit during the season in order to make the future brighter. If that is the case, then this is the best year for Boston to do it. The season is shorter because of the lockout, meaning next year teams will be different because of a normal offseason. 
Depending on the deal, the Celtics could still make the top eight in the Eastern Conference. They're currently in ninth place, but there's a lot of games left to be played. 
Ainge made the right call in publicly voicing his opinion because he'll not only get a reaction among fans and people around the league, he should also see his players respond in some form or fashion. 
Whether that's in a positive or negative way remains to be seen. Get ready for some crazy rumors to start swirling, as the speculation on the status of Boston's big three is about to reach new levels.