Forrest Griffin Would Destroy Tito Ortiz If They Fought Again
January 19, 2012

Ethan Miller/Getty Images
Tito Ortiz lost badly against Antonio Rogerio Nogueira in their bout at UFC 140. Afterward, he claimed he had one match left on his contract and he hoped Dana White would let him compete one last time.
At this point there aren't too many options left for Ortiz. He has fought almost every name in the UFC who might be competitive with him as he gets older. Everyone else is so young they would just give him another beating.
There is one option he could try: a trilogy with Forrest Griffin.
It's a fight Ortiz has campaigned for in the past, and even with both men coming off losses, it could still sell a pay-per-view based on their names.
In that fight he wouldn't get beaten as badly as he would if he fought someone like Phil Davis or Alexander Gustafsson, though he would still get beaten terribly by Griffin. It would just be the lesser of two evils at this point.
Griffin has lost the edge that made him the winner of the first season of The Ultimate Fighter and a light heavyweight champion. He is gearing up toward retirement himself, and who can blame him? He is easily a millionaire thanks to the UFC, and at a certain point your body breaks down more and more and relaxing and enjoying life makes more sense.
If they both decide to have one last match against each other Griffin will prove that for as much as he has lost, Ortiz is worse.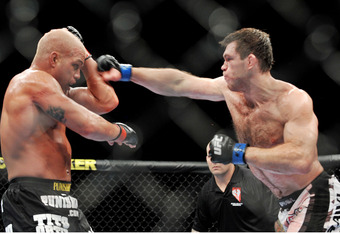 Jon Kopaloff/Getty Images
Griffin was able to split a decision over Ortiz in their fight at UFC 106, but that was back in late 2009.  Since then Griffin has beaten Rich Franklin by unanimous decision and then was knocked out by Mauricio "Shogun" Rua in one round.
In the same amount of time since their bout, Ortiz lost a decision to Matt Hamill, rebounded with an impressive submission win over Ryan Bader, got knocked out in the second round in a rematch with Rashad Evans and lost by knockout in the first to Nogueira.
Ortiz is also four years older than Griffin at 36 years old.
Griffin has been in enough wars that at 32 his body may be stalling, but Ortiz's has finally given out. Whatever Ortiz had left in the tank after their match at UFC 106 he left in the cage with Bader.
Now he is spent, while Griffin has a little left to beat down Ortiz and either walk out of the cage with a win or continue to fight on.
No matter what either man does, if they decide to face each other Ortiz will need to pray for a miracle. At this point, it is the only thing that could get him a win.
Matthew Hemphill writes for the boxing, MMA and professional wrestling portion of Bleacher Report.  He also hosts a blog, elbaexiled.blogspot.com, which focuses on books, music, comic books, video games, film and generally anything that could be related to the realms of nerdom.