Copa Del Rey 2012: What Must Real Madrid Do to Beat Barcelona?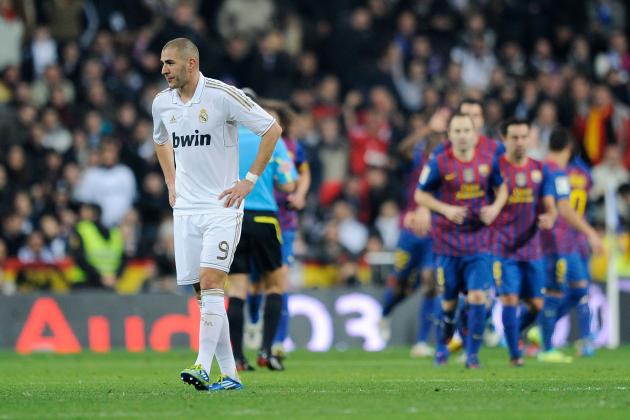 Denis Doyle/Getty Images

In the first Clásico of 2012, Real Madrid suffered defeat once again. Los Blancos took an early lead, but lost 2-1 to fierce rivals Barcelona in the first leg of the Copa del Rey quarterfinals.
Although Cristiano Ronaldo silenced his critics by scoring the opening goal of the match, goals from Carles Puyol and Éric Abidal gave the reigning European champions the one-goal advantage heading into the second leg next Wednesday.
Los Blancos played well and executed their strategy, but Real Madrid manager José Mourinho will be frustrated that the team did not earn a positive result.
Real Madrid have been dominant in Spain and Europe this season. However, they continue to struggle in El Clásico.
Wednesday's defeat at the Santiago Bernabéu has left people with one question: What must Real Madrid do to beat Barcelona?
Begin Slideshow

»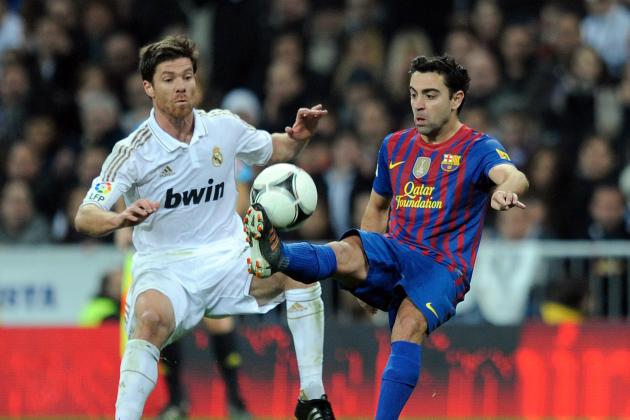 Denis Doyle/Getty Images

The 4-3-3 formation gives Real Madrid the best chance to beat Barcelona.
Although Mourinho prefers the 4-2-3-1 system, the extra man in midfield makes a significant difference against the reigning Spanish and European champions.
With the 4-3-3 formation, Los Blancos are able to mark Barcelona's midfield maestros and prevent the likes of Xavi and Iniesta from splitting the defense with precise through-balls.
Madrid become much more defensive with this system, but it is the most effective way to play against Barcelona. Xabi Alonso, Pepe, Lass Diarra and other midfielders can plug the gaps and disrupt Barca's tiki-taka football in the final third.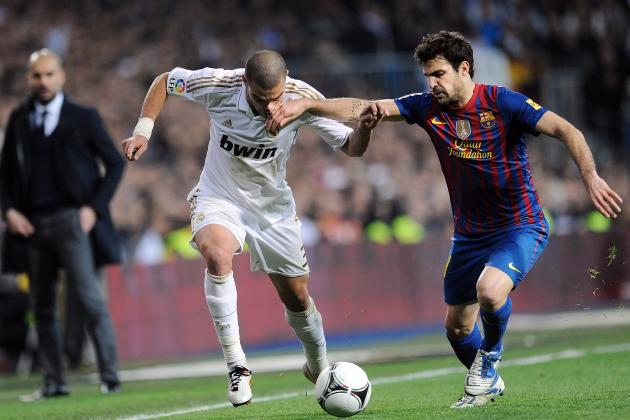 Denis Doyle/Getty Images

Pepe is undoubtedly one of the most important and irreplaceable Real Madrid players in the matches against Barcelona.
Whether in midfield or defense, the Portuguese enforcer brings the tough-tackling, tenacious and relentless style of play that is needed to combat Barca's tiki-taka football.
Although Pepe can be an exceptional defensive midfielder or centre back, Los Blancos need him to avoid getting sent off and stay on the pitch. In Wednesday's match, the Portuguese international appeared to stamp on Lionel Messi.
The Real Madrid defender could receive a suspension for his actions and possibly miss the second leg at the Camp Nou.
Pepe is an integral part of Mourinho's tactical system against Barcelona. The Portuguese international's ability to mark Messi, break up opposition play and make vital interceptions distinguishes him as a key defensive presence against Barcelona.
However, in order to beat Barcelona, Real Madrid must find a way to keep Pepe on the pitch at all times.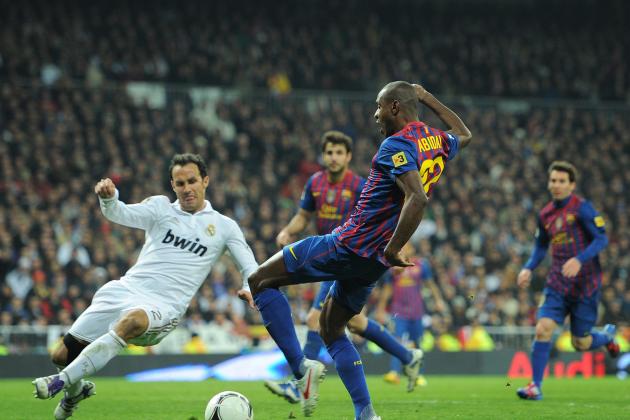 Jasper Juinen/Getty Images

Although Real Madrid gave a solid performance in El Clásico, one of the major concerns will be the back four's familiarity and communication.
The back line, consisting of Fábio Coentrão, Sergio Ramos, Ricardo Carvalho and Hamit Altintop, clearly lacked the understanding and coordination of a Mourinho-coached defensive unit. The back four had not played together at Real Madrid before Wednesday, and this unfamiliarity showed against Barcelona.
The Madrid back four looked disjointed numerous times in the match. Defenders would raise their hands for the offside call, but others would be dropping back or late to step up.
In order to beat Barcelona, Mourinho must field a well-organized back four. With Barcelona's tiki-taka football and knifing diagonal runs in behind, the defensive unit needs that understanding and familiarity with one another.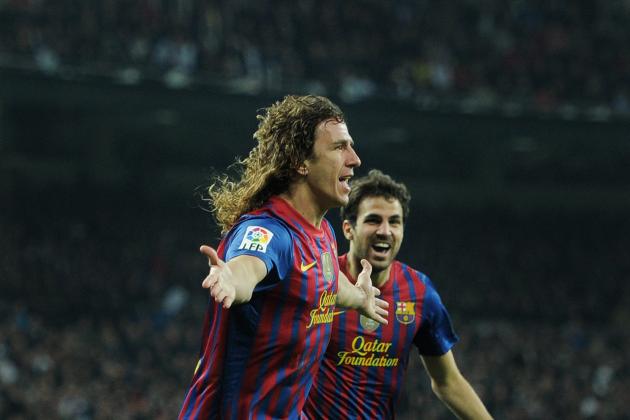 Jasper Juinen/Getty Images

Real Madrid have to dominate the aerial battles and all set pieces. Mourinho has enough tall, athletic players to consistently win flighted balls into the box from corners and free kicks.
Since returning from the winter break, Los Blancos have been poor defending crosses and corners. Puyol's equalizer on Wednesday is another example of Madrid's inexcusable defending in these situations.
Mourinho puts great emphasis on set pieces, and Los Blancos simply need to do better. There is no reason why Barcelona should be scoring goals from corner kicks.
Madrid need to improve their concentration and focus when defending set pieces against Barcelona.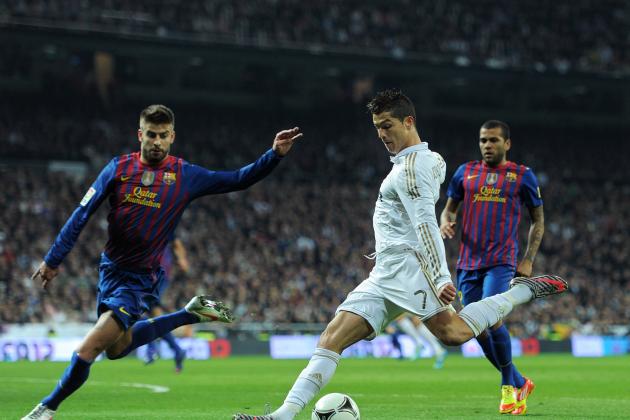 Jasper Juinen/Getty Images

Mourinho's tactical setup on Wednesday may have seemed overly defensive and passive. However, the Madrid manager was correct to play counter-attacking football against Barcelona.
La Blaugrana play with a high defensive line, leaving a significant amount of space in behind. In addition, Barca's first-choice back line lacks great speed as a unit. Puyol and Gerard Piqué are excellent centre backs, but both can be beat for pace.
With quick, talented attackers like Ronaldo, Karim Benzema and Ángel di María, Real Madrid must play on the break and capitalize on counter-attacking opportunities. However, the central midfielders have to provide the quality service and release players into space.
Counter-attacking football can beat Barcelona, but Madrid have to be more precise and consistent with their through balls in behind Barca's defense.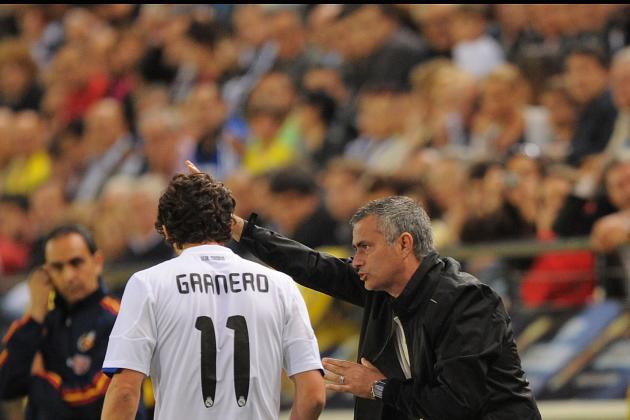 Denis Doyle/Getty Images

Mourinho devised an excellent plan against Barcelona for the first leg, but he must consider changes in order to beat Barcelona in future Clásicos.
The three-man midfield consisting of Alonso, Pepe and Lass gives Los Blancos the defensive strength to absorb pressure and prevent Barca from unlocking the defense. However, this midfield unit does not have the ability to consistently pick out teammates and launch counter attacks.
Although Alonso is amongst the best passers in world football, Barca never give him time on the ball. The Spaniard rarely has time to turn and pick a pass, as opposing midfielders quickly close him down.
This high pressure on Alonso forces either Pepe or Lass to distribute from midfield. While they are exceptional defensive enforcers, neither have the skill or vision to consistently release Ronaldo or Benzema into space.
In order to be effective on the counter attack, Mourinho needs a central midfielder with better technical ability than Lass and Pepe. The midfielder would still track back defensively, but more importantly he would help distribute from midfield, play through balls in behind the Barca defense and ease the pressure off Alonso.
Nuri Şahin would be considered as a strong candidate to fulfill this role. However, the former Borussia Dortmund star lacks the acceleration and pace to play alongside Alonso and either Lass or Pepe. With Alonso and Şahin in midfield, the likes of Xavi, Iniesta and Messi would have no trouble ghosting past challenges and making hurtful runs into the final third.
The best option for Mourinho at this point in time is Real Madrid youth product Esteban Granero. The former Getafe player has the agility to mark Barca's midfielders and the technical skill to launch counter attacks.
Granero does not have to be a defensive enforcer, but he is comfortable tracking back and contributing on both sides of the ball.
The Spaniard has the touch, vision and skill to keep possession and pick out teammates bursting forward. Granero can also help Los Blancos in transition, finding space and playing through balls in behind Barca's defenders.
He may not be a world-class talent, but he can provide the right balance to Mourinho's 4-3-3 formation.
In order to beat Barca, Mourinho should select a more technical midfielder, such as Granero, to play alongside Alonso and either Pepe or Lass in the 4-3-3 system.
During the summer transfer window, Real Madrid should seriously consider signing a more talented central midfielder in the Jack Wilshere or Luka Modrić mold. Until then, Granero could be an influential role player against Barcelona.