New York Giants: Why the 49ers' Defense Is No Match for Eli and Company
January 19, 2012

Less than two months ago, facing a multitude of injuries and inconsistencies, the New York Giants were 6-6. Amidst a four game skid, Big Blue's waning playoff hopes had local media and fans alike calling for head coach Tom Coughlin's replacement. New York was well on its way to another winter collapse, somewhat of a signature occurrence for the team in recent years.
Oh, how things have changed.
The Giants are now just one win away from completing an improbable late-season run to the Super Bowl. A victory at Candlestick Park on Sunday will not come easily however, as they'll face the 14-3 San Francisco 49ers and their formidable, top-tier defense. The Niners seem to have followed the Giants' championship formula from 2007: they rely heavily on running the football, succeed in pressuring opposing quarterbacks, and most notably, generate turnovers.
San Francisco's defense has been lights-out this year; up until week 16, the unit hadn't allowed a single rushing touchdown, an astounding feat that ties a record from 1970.
Still, much to Niners defensive coordinator Vic Fangio's dismay, the Giants' prolific offense shows all the signs of potentially dominating Sunday's match-up. Here are three hints that point to Eli Manning and the G-Men lighting up the scoreboard in the Bay.
Momentum
San Francisco cruised past opponents this year, almost exclusively thanks to their defense. Yet in their regular-season finale, the Niners allowed 27 points to Kellen Clemens and the stagnant Rams offense. Then, in last Saturday's Divisional round clash with New Orleans, they gave up 32. Had that game lasted just a minute or two longer, the Niners would be eliminated from contention with nothing but their defense to blame.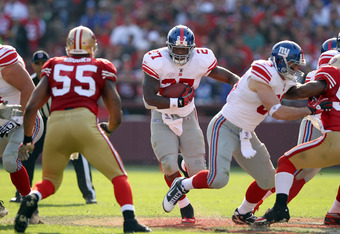 Ezra Shaw/Getty Images
On the other end of the spectrum, the Giants' offense is as hot as any unit in football. The G-Men have revived their once-great ground attack, which ranked last in yards per game and yards per carry in the 2011-12 campaign.
Yet, in the playoffs, the Giants rank third in total rushing and are averaging 4.6 yards per attempt. Bad news for the Niners, who are now forced to respect both dimensions of New York's offense, and will subsequently force fewer interceptions with safeties and linebackers out of coverage.
Moreover, the Giants' protection unit seems to have really hit its stride, allowing just two sacks in the team's two playoff games thus far. The Giants' offense has been dynamic in consecutive, definitive wins. The Niners' defense, meanwhile, has been a surprising playoff liability.
Experience
Five of New York's eleven offensive starters were also starters on the team that won Super Bowl XLII four years ago. Conversely, cornerback Carlos Rogers and defensive end Justin Smith are San Francisco's only two defensive starters with any playoff experience whatsoever. The Niners' inexperienced defense was further hindered by the team's first-round bye.
Since losing in Philadelphia in the 2006 playoffs, QB Eli Manning has a perfect 4-0 postseason record on the road. Eli's composure and maturity have been on full display in the past two weeks; while the Niners have done nothing to dispel the notion that their lack of veteran leadership may be their ultimate demise.
Airing it Out
True, the Giants are beginning to fortify their rushing game. Also true, the Niners flaunt an intimidating secondary. But when it comes down to basics, New York's offense is pass-happy, while San Francisco specializes in stopping the run. This mismatch does not bode well for the home team.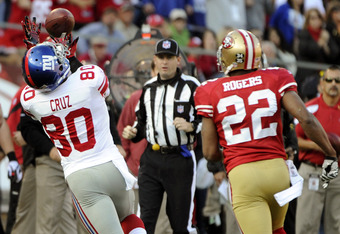 Thearon W. Henderson/Getty Images
Eli Manning's skill set as a vertical passer is eerily similar to that of Drew Brees. Furthermore, the Giants' receiving core (Hakeem Nicks, Victor Cruz and Mario Manningham) is nearly identical to Marques Colston, Robert Meachem and Devery Henderson, respectively.  If New Orleans was able to pick apart San Francisco's secondary, who's to say the Giants can't replicate that success?
Just how good are the Niners against opposing quarterbacks? San Francisco shut down the pass against divisional opponents, but the signal-callers of the NFC West are sub-par to say the least. In examining how they fared against the NFL's elite, the 49ers exalted secondary loses its luster: Pittsburg QB Ben Roethlisberger threw for 330 yards against the 49ers, Detroit's Matthew Stafford went for 293, Philadelphia's Michael Vick for 416, and Dallas' Tony Romo for 345.
Even in their head-to-head clash in week 10, Eli managed to throw for 311 yards and produced two touchdowns as well. With the G-Men clicking on all cylinders along the offensive line, pass rushers Aldon Smith, Patrick Willis and Justin Smith will be neutralized to an extent, giving Manning the time he needs in the pocket to find open receivers.
49ers TE Vernon Davis was ill-advised in rooting for the Giants last Sunday, as their offense presents the worst possible match-up for the defense that San Francisco depends so heavily on.