12 Fighters You'd Never Want to Get in a Bar Fight With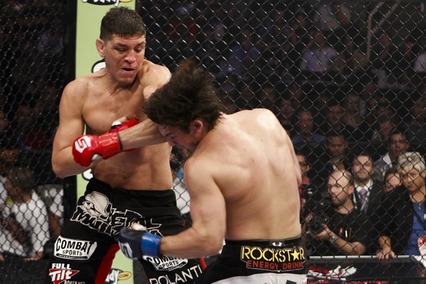 picture courtesy of connect.in.com
Fans watch fights to see who the best in the world is, but they also watch to feed an urge as well. They want to surround themselves with that energy that comes from watching two fighters square off and battle until the better man is left standing.
It is something that resides in every male alive and has for millennia.
Some men decide to learn martial arts because of this.
Others decide to try and become professional fighters because they want to experience the same feeling.
And then there are those who decide to pick fights in bars, especially when they aren't sober.
You never know who you are going to meet in a bar, though, and it might end up being someone tougher than you. In that vein, here are 12 fighters you would never want to get into a bar fight with.
Begin Slideshow

»
Bas Rutten seems like a nice guy. He has done comedy sketches on the Internet.
Those aren't the only videos he has done, though.
He has also made self-defense instruction videos. They are funny until you realize that he probably could do everything he talks about on the video to you.
There is nothing scarier than a tough veteran of MMA attacking.
Unless he is attacking you with a chair. Then it is scarier.
Ken Shamrock was once a great fighter. He isn't now thanks to time and just how many tough fights he has been in.
Unless you are a professional cage fighter yourself, there is a good bet you still won't be able to beat Shamrock.
Not only would it be embarrassing to get beaten up by a worn out, 47-year-old, it would be a 47-year-old who isn't mentally stable.
Shamrock has always had a few screws loose, but then again, to fight in the original UFC you had to be a little off. But he seems to have gotten worse as time goes on.
Should he knock you unconscious, he might keep going until he was satisfied.
For all of his over-the-top antics, Sonnen is a great wrestler and a good fighter. He could easily handle himself in a bar fight and wouldn't care what cheap trick he had to pull to win.
The worst part is that after the fight, he would make everyone realize how pathetic you were and then amplify it.
Whenever a fight starts in a bar, people take notice. It is a natural reaction for people to watch a fight, and one in a bar is even better. The people in it are uninhibited and easily amused.
That means everyone will watch as you are beaten up.
And then they will listen to Sonnen badmouth you. By the end, the verbal beatdown might be worse than the physical one.
Liddell is a quiet guy. He usually let his actions in the cage speak for him and many of those actions were explosive knockouts.
In a bar fight, he wouldn't be the guy you get in a fight with. He would be the guy who is boiling over as you keep prodding him for a match. You wouldn't see it, though, as Liddell's poker face and natural relaxed attitude would mask it perfectly.
Just as you would give up, he would turn around and slug you.
The only excuse that could be possibly made is that you didn't see it coming. Then again, in some ways, that is worse.
If Brock Lesnar was still a UFC fighter, he would have made this list.
If Lesnar was even an active MMA fighter, he would have made this list.
But he isn't. He retired after the one-sided beating Overeem gave him in December, and he looks like he isn't ever going to come back.
This man was able to beat down Lesnar and make it look easy. If that doesn't make you have second thoughts about picking a fight with him in a bar, please consult your local psychologist.
Serra isn't a big guy, but that has only given him a Napoleon complex. Named after the great conqueror who was short, it is a compulsion by short men to take over the world.
Serra didn't do that, but he did win the welterweight championship by knocking out Georges St-Pierre.
He isn't the most imposing man on this list, but the power in his hands along with his black belt Brazilian Jiu-Jitsu skills make him formidable. Even if those skills are impressive, all people will see is a bigger guy getting taken out by a smaller one.
Plus, he is from New York, which seems to give him that extra edge.
Silva looks like he just enjoys hurting people. The Brazilian gives off an aura that makes him look nasty, and he has backed it up in the cage.
And he broke Brandon Vera's nose. He also did it while using banned substances by the commission.
His reasoning sounds logical, but he still cheated. In the cage, that gets you punished with a fine and a suspension.
In a bar fight, it makes you the winner. If Silva is willing to cheat and look for an advantage in MMA, then he would definitely do it in a no-rules brawl.
The only thing worse then getting taken out by the quiet guy is getting taken out by the nice one.
As much as the term "nice guy" is thrown around too much by guys who are too passive to make a move, there is some truth to the way they are viewed.
Nice guys are seen as weak, or at least that is the perception.
Except this nice guy could knock your head clean off your shoulders. Then he would embarrass you more by apologizing and asking if you needed help getting up.
And just like with Sonnen, everyone would be watching.
Torres is the smallest fighter on this list. He has also been in a decent amount of bar fights.
And they weren't even against martial artists. They were against the kind of guys who would actually fight in bar scraps.
And he won those fights.
Any man who has that type of experience deserves to be taken seriously and shouldn't be dismissed for his height or weight. Add in experience to Torres's talent and he could end the fight faster than most men on this list.
Jackson is the only fighter on this list who looks and acts like he would be the one to start the fight. He is brash and comes off as a person who believes in his own dominance.
Of course, most guys who believe this are full of themselves. That isn't to say that Jackson isn't, but he was a former champion, so at one point it was true.
He is so full of himself he has taken it upon himself to fondle several female interviewers. A quick look at Youtube proves he has done it even back when he was fighting in Japan.
Jackson is the guy who would dump you on your head, find your girlfriend and take her home.
Nate Diaz could get in a fight for almost any reason. In fact, a person could confuse what he is saying and through the confusion, offend him.
He is someone who insults or dismisses opponents before fights and only respects and compliments them afterward.
That is, if he liked them to begin with.
For anyone he doesn't like, he just might continue to trash them and keep trying to fight.
He also isn't afraid to fight even after a bout has finished, as the Strikeforce brawl on CBS proved.
The worst part is he wouldn't be alone and you would probably have to fight him and one more guy.
That person is...
Nick Diaz might just be crazy.
Not the funny, "he gets paid to take punches" crazy.
He could have a serious disorder he needs help with. The kind that needs medication.
Diaz is not only the most unstable fighter on this list, he is one of the toughest.
Even on the off chance you should hurt him enough to get him sent to the hospital with you, that might not be the end of the brawl.
Back in 2006, he fought Joe Riggs and lost. Both were taken to the hospital and Diaz got in another fight with Riggs there.
He wouldn't do any less for a a bar fight. The only way to beat him would be to not get in the fight in the first place.
Matthew Hemphill writes for the boxing, MMA and professional wrestling portion of Bleacher Report. He also hosts a blog elbaexiled.blogspot.com, which focuses on books, music, comic books, video games, film and generally anything that could be related to the realms of nerdom.