The Greatest Forgotten Footballers, Pt. 2
Everyone knows Pele (Right), but who are the other two?
First of all, a couple of apologies are in order. After being made a featured columnist, I missed two deadlines during a spell in the hospital, and since then University work kept me sidelined for a few months. Leading on from that, I'd like to apologize to everyone who commented on Part 1 (which can be read here)—and who asked for part 2—for leaving it for so long.
Anyway, back to business.
Part 1 focused on players who have certainly been heard of, but seem to be held in lower esteem than the usual names associated with greatness.
The purpose of this article is to hopefully introduce you to some truly forgotten players who, despite leaving behind a great legacy, seem to have faded from memory for one reason or another—and those who are rarely mentioned in football debates outside of their respective countries, or even clubs.
A lot of these players were trailblazers for the sport we know and love today, and so it seems a shame that they have become more of a footnote in footballing history, rather than receiving the recognition that their achievements surely deserve.
I will start by naming the two players in the photo alongside Pele, from left to right respectively.
I hope you enjoy, feel free to comment and of course, suggestions are always welcomed!
Begin Slideshow

»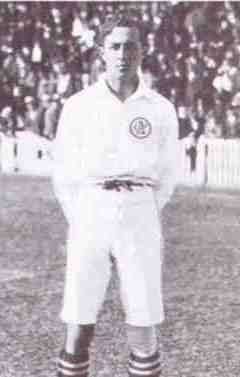 Arthur Friedenreich has a genuine claim as the greatest footballer of all time.
However, possibly because his name isn't particularly Google friendly (Pelé is so much easier to spell), and most probably because of the timing of his career, he has faded from public consciousness, despite legendary achievements, both on and off the pitch.
Friedenreich was born on the 18th of July 1892 in Sao Paulo, the son of a German immigrant father and an African-Brazilian mother, whose parents were freed slaves. Slavery in Brazil had only been abolished in 1888, and the black community still faced segregation and racism during his life.
Football had been brought to Brazil by an Englishman, and since then had been promoted as a rich man's sport—exclusive only to the predominantly white, European elite within the country.
Teams would, at first, only allow certain members of society to represent them. While this would be slow to change for the biggest clubs, over time some teams began to allow working-class men to play, and eventually those of black heritage.
This is where Friedenreich would first make his mark. As a 17-year-old, he would join his father's former club, the now-defunct SC Germania, a club founded by German immigrants. Here, his fairytale career began. After two years of playing for Germania—with a year-long spell at SC Ypiranga sandwiched between—he would sign for AA Mackenzie College, becoming the first professional player of black descent in Brazil.
During a 26-year career, however, acceptance would be difficult for Friedenreich: because of his background and colour, he could not swim, shop, eat or party with any of his white teammates, and would often face abuse from opposition players and fans. It is rumoured that he would even spend hours before a game straightening his hair and powdering his skin, in an attempt to look more 'white.'
Despite this, he would eventually win over fans with his immense ability, earning the nickname 'el Tigre' for his attitude and grace on the ball. He even went on to play for the Brazil national team 23 times, scoring 10 goals and playing in its first international game (one for the pub quiz: it was a 2-0 win over Exeter City).
As if that wasn't enough to be remembered for, Friedenreich was top goalscorer in the Liga Paulista nine times, his last award coming 17 years after his first. It is also claimed that he scored either 1239 goals in 1329 games, or more astonishingly, 1329 goals in 1239 games, a total which would place him above even Pelé.
The actual number might never be conclusively known because of poor record-keeping. FIFA cannot even properly count his professional goals tally, because of disputes as to which tournaments from that period should count as professional.
What is certain though, is that Arthur Friedenreich is a true great. Even if his goals tally cannot be officially confirmed, what he did for the black community in Brazil simply by playing football and persevering, is there for all to see. Brazilian football owes a huge debt of thanks to this legend.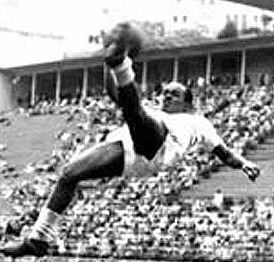 The second man in the opening photo is Leonidas da Silva, another Brazilian legend, affectionately nicknamed 'el Diamante Negro' or 'the Black Diamond' in English. His career briefly overlapped that of Arthur Friedenreich, starting in 1929 playing for Sao Cristovao, where he would score 31 goals in just 29 games in his début season.
His domestic career would last 21 years, playing for the largest clubs in Brazil, including Sao Paulo, Vasco da Gama, Penarol and Flamengo, averaging over a goal a game during his time at the latter two clubs. Again, like Friedenreich, Leonidas had to combat prejudice, as his move to Flamengo in 1936 resulted in him playing for one of the still-elitist clubs in Brazil.
His exploits in Brazil would earn him a call up to the fairly new national side, where he went on to play 19 internationals, scoring 21 goals. He would appear in two World Cups, the first in 1934, when Brazil was knocked out in the first game, losing 3-1 to Spain—despite Leonidas scoring.
Leonidas' second international in 1938 would prove much more successful, as Brazil finished in third place, knocked out by eventual winners Italy in the semi-finals. During this tournament, he would score seven goals, finishing as overall top goalscorer, certainly deserving enough of a place in history.
Yet Leonidas had one more trick up his sleeve, and it was a beauty. Anybody who enjoyed Wayne Rooney's goal of the season (said through gritted teeth as a Liverpool fan!) or marvelled at Mauro Bressan's wonder goal should thank Leonidas, as it's claimed that he was the creator of the bicycle kick, one of the most beautiful methods of scoring in the game.
In fact, during the 1938 World Cup when he performed one, the referee was bemused by it, unsure whether it was even within the rules. He would score with a bicycle kick a number of times during his career.
The photo above was taken during Sao Paulo's 8-0 thrashing of Juventus, and sadly the only known visual evidence of Leonidas doing what he did best.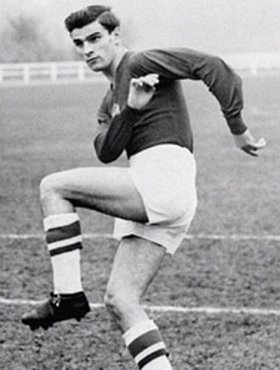 The Hungary side of the 1950's is one of the greatest of all time, and possibly the greatest never to win a World Cup. They revolutionised football tactics, single-handedly forcing a change in formation usage for the first time in some 20 years.
They were regarded as the first total footballing side, since it was said that each player could play in any position if necessary.
They were involved in what is regarded as the greatest international game of all time, demolishing England 6-3—and changing English football forever—before inflicting England's worst ever defeat, 7-1, only a year later. In the 1954 World cup, they would defeat both Brazil and Uruguay, both finalists in the 1950 World Cup, and inflicting Uruguay's first ever World Cup defeat—having won the whole thing the previous two times they had entered.
Ferenc Puskas is the name usually associated with the Mighty Magyars, the talisman of the side who scored 84 goals in just 85 games in international play, and widely regarded as one of the greatest ever. However, even he was outdone by one man in that great Hungary side: Sandor Kocsis.
Kocsis would only come to prominence in 1948, after he had made his debut for the Hungary national side. He would win his first league title at Ferencvaros in 1949, before being conscripted into the army.
Around this time, a team named Kispesti AC would be taken over by the Hungary Ministry of Defence, after the country had become a communist state. Since Ferencvaros were considered right-wing, Kocsis would be made to join Kispesti, now renamed as Budapest Honved, as the Hungarian Army team.
Despite the ulterior motives behind these moves, the resulting team contained Kocsis, Ferenc Puskas, Jozef Bozsik and Zoltan Czibor amongst others—all key players in that great Hungary side. This is often regarded as a notable reason for the international success: the fact that so many key players trained, lived and played alongside each other on a consistent basis.
Kocsis would remain at Honved until 1956—when the Hungarian Revolution forced many players to leave for Europe—having won league titles in 1952, '54 and '55. He scored 153 goals in just 145 league games.
During this time, Hungary would go on to dominate world football, winning the gold medal at the 1952 Olympic games, and the 1953 Central European Championship. Kocsis quickly became a key player in the side for his goalscoring exploits, and he would showcase his talents on the biggest stage of them all.
In the 1954 World Cup, he scored a hat-trick in the opening game against Sweden, before scoring four against eventual champions Germany in an 8-3 win—becoming the first man to score two hat-tricks in a single World Cup.
He would finish as top goalscorer, taking home the Golden Boot with 11 goals, breaking Ademir's record of 10 goals set only four years earlier, and since beaten only by Just Fontaine four years later with 13 goals.
Sandor Kocsis would go on to score 75 goals in just 68 games for Hungary: this is the highest international goalscoring average of any player with more than 43 caps in history, averaging 1.103 goals a game. He is only one of two players in history to average more than 1 goal a game with so many caps (the other being Gerd Muller), and scoring seven hat-tricks in total.
According to these statistics, he is the greatest international striker of all time, yet he never places on any typical greatest ever lists.
In fact, compared to his much more vaunted teammate Ferenc Puskas, he is tragically forgotten outside of Hungary.
Sadly, Kocsis died in tragic circumstances: after being diagnosed with leukaemia and stomach cancer simultaneously, he would be killed by a fall from the fourth floor of a Barcelona hospital. It will never be known if it was suicide, or a terrible accident.
Haj Abdelkader Larbi Ben M'barek, more commonly known as Larbi Ben Barek (for obvious reasons), was born in Casablanca, Morocco, on the 16th June 1914.
Larbi was orphaned at a young age, although he still attended school. He grew up alongside a certain Marcel Cerdan, who would mature into arguably the greatest French boxer of all time. In fact, Ben Barek almost became a boxer himself, before choosing to pursue a potential career in football.
That career began at FC Ouatane de Casablanca as a youngster, before he played for his first adult club, Ídeal Club Casablanca, in 1930. He would move on four years later to US Moracaine, playing there for another four years, before Olympique de Marseille came knocking in 1938—where his career would hit new heights. In his first season with L'OM he would score 10 goals in 30 games, and impress so much that he made his debut for the French national side, in a 1-0 defeat to then-World Champions Italy.
Larbi would go on to earn 19 caps for France, scoring three goals. By this point, Ben Barek was a hero, earning himself the nickname 'the Black Pearl.' He is widely recognised for his first spell at Marseille as the first successful black footballer in Europe.
What seemed destined to become a truly storied career was abruptly interrupted after just one season in France, as 1939 arrived, and brought with it the start of World War II.
For the duration of the war, Ben Barek returned to Casablanca and US Moracaine, depriving Europe of the prime of one of the brightest stars in Europe. However, after the war he would return to France, spending three years at Stade Français FC and amassing 87 appearances and 43 goals.
Although he had attained a true hero status in France, Atlético Madrid, one of the giants of European football, would begin to show an interest in the talented midfielder. Such was his popularity in France, one journalist wrote of his potential move abroad: "sell the Arc de Triomphe or the Eiffel Tower, but do not sell Ben Barek."
Alas, Atlético would get their man, and for five seasons between 1948 and 1953 he would go on to score 56 goals in 113 games, winning two league titles—becoming affectionately known as "the Foot of God" by the Spanish fans.
His career in Europe ended with a return to Marseille, where he would play in the French Cup final at the ripe old age of 40—a career interrupted by war, but no doubt extended by a complete non-tolerance of tobacco or alcohol.
Later in his life, he would be remembered by Moroccans and Frenchmen alike as a hero, and become the first coach of the Moroccan national football team. His legacy was such that it had an influence all over the world: Péle was even given the nickname of "the Black Pearl" after he famously said "If I am the King of Soccer, then Larbi Ben Barek is the God of it."
And if he was good enough for Pelé, he was certainly great for football.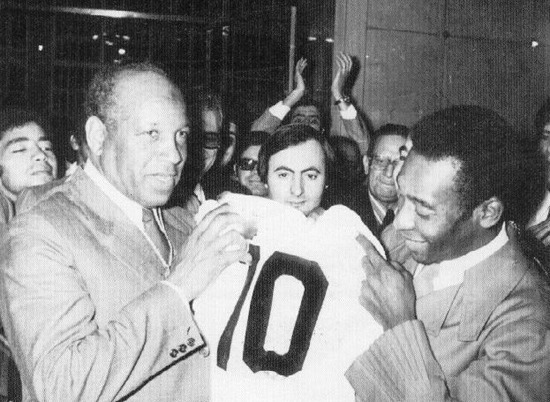 So there you have it. Hopefully I've been able to shed some light on the great careers of these often forgotten legends of football. After all, what is the point of legends if their stories can never be told?
There are many more great players who litter the history of football, who all deserve to have their story told, and that is why I will hopefully write more of these, but only if I can do enough research to properly retell their stories.
As for this picture? This shows that football had a great history even before the onset of widespread media coverage, and that even the greatest have their heroes.
Pelé was no exception: here he is in the prime of his life, meeting none other than Larbi Ben Barek, and presenting him with his trademark number 10 jersey.
I hope you've enjoyed this article, feel free to post comments below, and as always suggestions for future parts are always welcome! Until next time...