2012 NFL Draft: Listing the Top 37 SEC Players Eligible for This Year's Draft
January 19, 2012

Andy Lyons/Getty Images
During the 2011 NFL draft, 37 players from the SEC heard their name called by NFL teams, 10 in the first round alone. Fifty-one total seniors from SEC schools have been invited to participate in the four different postseason All-Star games. Underclassmen are already preparing for this year's NFL combine by hiring strength and fitness instructors to help them display their athletic abilities.
How many SEC players will hear their names called during the 2012 NFL draft? 
Here's a list of the top 37 players that can equal last year's impressive transition from college football into the NFL.
(*Denotes underclassman)
Running Backs
*Trent Richardson, 5'11", 224 Pounds, University of Alabama
Workhorse, power-runner, game-changer, breakaway back, the total package—however you want to describe Richardson as a dominant running back, take your pick. He can also catch the ball out of the backfield. The only thing that will keep him off the field as a rookie in the NFL is if he does not show the ability to pick up the blitz on passing downs.
Richardson led the SEC in rushing yards (1,679), rushing attempts (283) and rushing touchdowns (21). He also led the SEC to their sixth straight BCS National Championship.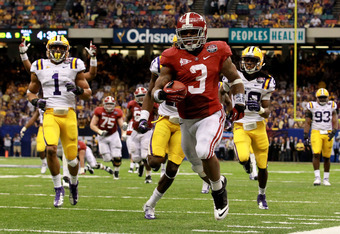 Ronald Martinez/Getty Images
Draft-Worthy Mentions
RB Vick Ballard, Mississippi State
RB Tauren Poole, Tennessee
RB Chris Rainey
FB Broderick Green, Arkansas
Wide Receivers and Tight Ends
*Alshon Jeffery, 6'4", 229 Pounds, University of South Carolina
Jeffery is a big target, which NFL scouts like, and he's great at jumping over defenders, especially in the red zone. Jeffery lacks the blazing speed coveted by NFL teams and his route running is not crisp.
Even with the instability at quarterback for the Gamecocks, Jeffery was able to finish the season ranked No. 5 in the SEC in total receiving yards. His eight touchdown receptions were tied for third best in the SEC.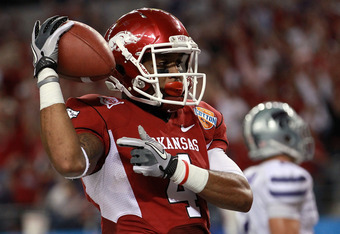 Ronald Martinez/Getty Images
*Orson Charles, 6'3", 242 Pounds, University of Georgia
Charles may be the best tight end available in the NFL draft, much less the best tight end in the SEC. He has the speed, height and athletic ability for the next level. His ability to stretch the field and pump against linebackers will help his draft status.
Charles was No. 12 in the SEC in total receiving yards with 574 while hauling in 45 passes and five receiving touchdowns.
Jarius Wright, 5'10", 180 Pounds, University of Arkansas
Wright is a smaller wide receiver than what most scouts want in a No. 1 receiver. In Arkansas offense he was accustomed to running routes across the middle of the field, which is something he will have to do on the next level as a No. 2 option or as a slot receiver.
Wright finished the 2011 season leading the SEC in receiving yards (1,117) and receiving touchdowns (12). He was one catch shy of tying Da'Rick Rogers (Tennessee) for most receptions—Rogers 67, Wright 66.
Joe Adams, 5'11", 190 Pounds, University of Arkansas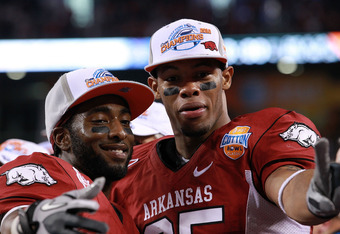 Ronald Martinez/Getty Images
Adams was a consensus All-American as a punter returner in 2011. He led all players with four kickoff returns for touchdowns and his yardage-per-punt-return average of 16.89 was second in college football. Some team will take a chance on Adams for his return ability alone. His 4.3 40-yard dash helps too.
Do not overlook Adams' ability as a receiver. He was No. 4 in the SEC in total receptions (54) and No. 8 in total receiving yards (652).
Draft-Worthy Mentions
WR Greg Childs, Arkansas
*WR Rueben Randle, LSU
Offensive Linemen
Cordy Glenn, 6'5", 348 Pounds, University of Georgia
Glenn has the size of a NFL tackle but played guard for the Bulldogs since his sophomore year. Either way he's a beast to contend with especially on running plays.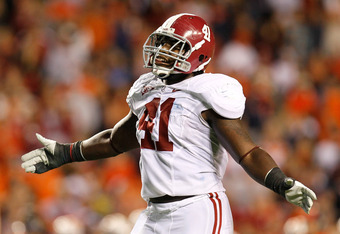 Kevin C. Cox/Getty Images
He has started since his freshman season and has played against top-quality defensive linemen throughout his college career. Glenn should be a late first-round draft pick.
Draft-Worthy Mentions
OT D.J. Fluker, Alabama
C Ben Jones, Georgia
OG Will Blackwell, LSU
C William Vlachos, Alabama
OT Bobby Massie, Ole Miss
Linebackers
*Dont'a Hightower, 6'4", 260 Pounds, Alabama
Hightower is a hard-nosed tackler with size and good speed. If he did not have a history of being injured (tore ACL in left knee in 2009), Hightower might be considered the top outside linebacker in the NFL draft. As it is, he still will go somewhere in the first round.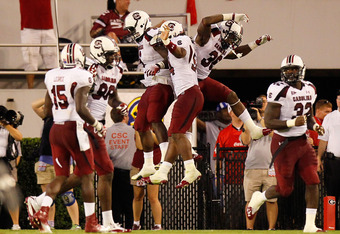 Kevin C. Cox/Getty Images
Courtney Upshaw, 6'2", 265 Pounds, Alabama
Upshaw is another Alabama product that projects high in the NFL draft. Upshaw is an excellent fit as an outside linebacker in a 3-4 NFL defensive scheme. He led 'Bama with 9.5 sacks this season and seven in 2010.
Upshaw was a four-year player for the Tide. He has 4.6 speed to go with his massive frame.
Chris Marve, 6'0", 242 Pounds, University of Vanderbilt
Marve is a typical SEC middle linebacker, always in on a play and a sound tackler. He had an off senior year due to injuries. Still, he finished with 91 tackles and 2.5 sacks.
Unless Marve shows tremendous speed at the combine, he is likely going to drop into the third round.
Draft-Worthy Mentions
LB Jerry Franklin, Arkansas
LB Danny Trevathan, Kentucky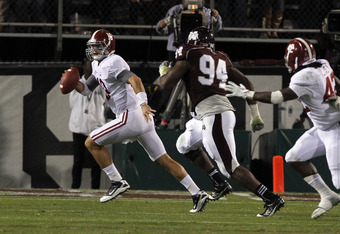 Butch Dill/Getty Images
Defensive Linemen
Melvin Ingram, 6'2", 276 Pounds, University of South Carolina
Ingram was the senior leader of a three-headed defensive end rotation that terrorized the SEC, along with Devin Taylor and Jadeveon Clowney. Ingram had nine sacks as a junior and 10 sacks as a senior.
He has a knack for making big plays. His speed is average for a defensive end his size (4.6 40-yard dash). If he can show off some superior atheism at the combine he could work his way into a solid second-round pick. 
*Michael Brockers, 6'6", 306 Pounds, LSU
A disruptive force for offensive lines to deal with, Brockers easily dominates most blockers in one-on-one situations. He gets up field in a hurry and commands double-teams.
He converted from defensive end to defensive tackle while in Baton Rouge. He is short on overall experience but has a ton of upside. If he does well at the combine he should hear his name called in the first round.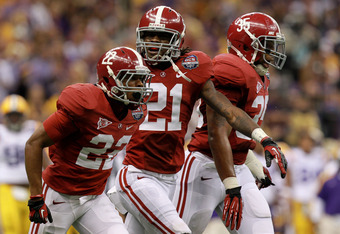 Ronald Martinez/Getty Images
Josh Chapman, 6'1", 310 Pounds, Alabama
Chapman anchored the line for a great Alabama defense throughout his collegiate career. He is a little undersized for a nose tackle. His real weapon in the trenches is his speed; he clocked a 4.92 40-yard dash.
Chapman should go before the second round is over—early third round if he has a bad NFL combine or pro day.
*Fletcher Cox, 6'4", 295 Pounds, Mississippi State
There is nothing bad to say about the abilities of Fletcher Cox. He has a motor that does not stop, he is quick off the ball and he played through double-teams throughout his college career. He posted five sacks in 2011 and 2.5 in 2010.
NFL teams will want to beef Cox up once he is drafted. Look for Cox to go somewhere in the second to third round.
Jake Bequette, 6'5", 271 Pounds, University of Arkansas
Scott Cunningham/Getty Images
Bequette is an experienced college player having redshirted before becoming a four-year starter for the Hogs. He finished the 2011 season with 10 sacks in 10 games, as a hamstring injury forced him to miss three games during the early part of the season.
Bequette is fast but not necessarily strong for a defensive end. He has been clocked at 4.5 in the 40-yard dash. He might end up being a weak-side defensive end in the NFL.
Draft-Worthy Mentions
DT Malik Jackson, Tennessee
DE Tim Fugger, Vanderbilt
Defensive Backs
*Dre Kirkpatrick, 6'3", 192 Pounds, University of Alabama
Kirkpatrick has the size and speed NFL scouts drool over for cornerbacks. His background at Alabama will help him play man defense and zone defense at the next level.
Kirkpatrick had zero interceptions in 2011 but had three in 2010.
His ability on the field makes him a first-round draft pick. Getting busted for marijuana in Bradenton, Florida may drop his draft status.
*Morris Claiborne, 6'0", 185 Pounds, LSU
Claiborne is considered the best corner in college football with the ability to be a shutdown corner at the next level. His speed, toughness and athletic ability will make him a first-round pick for some lucky NFL team.
Claiborne had six interceptions during his junior campaign with one returned for a touchdown. He had five interceptions in 2010.
*Jonathan Banks, 6'1", 185 Pounds, Mississippi State
Banks is a legitimate cover corner ready for the next level. He had three picks in 2010 and five in 2011 with one returned for a touchdown. He also registered three sacks this season.
His ability to move up in draft status will depend on how well he competes at the NFL draft combine.
Draft-Worthy Mentions
*CB Stephon Gilmore, South Carolina
CB Brandon Boykin, Georgia
CB Casey Hayward, Vanderbilt
SS Mark Barron, Alabama
FS Tramain Thomas, Arkansas