UConn Basketball: 4 Underperforming Huskies Who Need to Step Up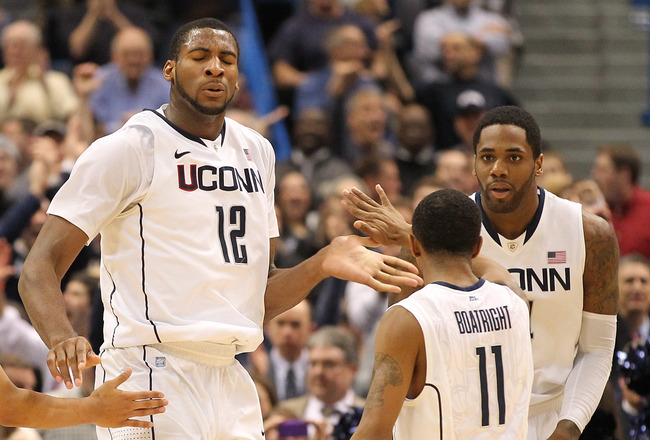 Jim Rogash/Getty Images
Connecticut has lost three of their five games since New Year's Day, including last night's three-point loss to Cincinnati.
The Huskies are currently 4-3 in the Big East, good for eighth place in league play.
While they have enough size, talent and athleticism to return to the Final Four, several of Jim Calhoun's key players are underperforming.
Here are four UConn players who need to step up if Connecticut is going to make a run anywhere close to the one they pulled off last year.
4. DeAndre Daniels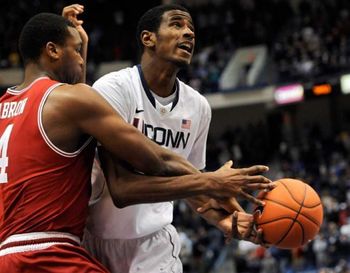 DeAndre Daniels came to Storrs as a highly- touted, 4-Star player who was also recruited by Kentucky, Florida, Texas and Kansas.
He was supposed to be an elite-level scorer, but he hasn't showed that yet on the court.
Daniels is scoring 4.5 points per game and has scored in double figures only in two November games: 11 against Wagner and 15 against Maine.
As of late, the frustrated frosh has only scored nine points in the last five games...Ugh!
3. Roscoe Smith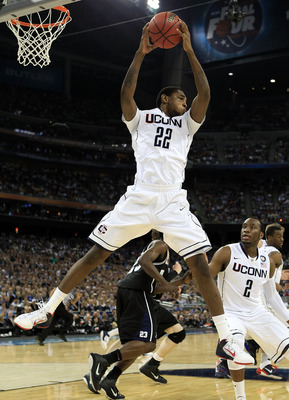 Streeter Lecka/Getty Images
Roscoe Smith was a starter on last year's NCAA championship team.
Smith played 25.4 minutes per game, and averaged 6.3 points and 5.2 rebounds.
This year should have been a breakthrough season for the 6'8" sophomore from Baltimore.
But, so far, Smith is only playing 15.3 minutes, scoring 3.6 points and grabbing 3.1 boards per game.
Smith has only scored double-figures in two games: 15 against Coppin State (on Nov. 20) and 10 against Notre Dame (on January 14).
While he was not much of a threat last year from beyond the arc (30.1 percent), Smith has only made 2-of-13 (15.4 percent) in UConn's first 18 games this season.
2. Andre Drummond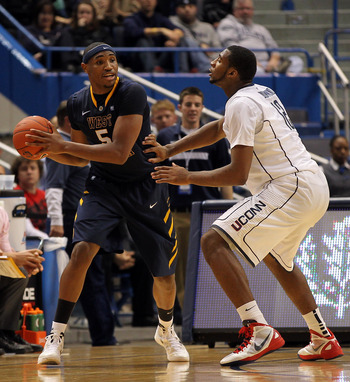 Jim Rogash/Getty Images
Andre Drummond was the top center in the recruiting class of 2011.
At 6'10", 275 lbs, Drummond was supposed to be the next ultimate big man in college basketball.
While AD has now had three consecutive double-doubles, it is too early to say that Drummond has gotten past his early season inconsistency.
In UConn's loss earlier this month to Seton Hall, Drummond only managed four points and five rebounds.
On the season, Drummond is averaging 10.2 points and 7.6 rebounds, but is shooting only 36.4 percent from the line.
Not exactly the second coming of Dwight Howard...yet.
1. Alex Oriakhi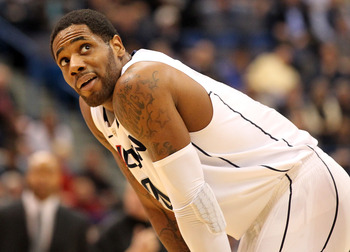 Jim Rogash/Getty Images
Alex Oriakhi, like Roscoe Smith, started on the Huskies' championship team last March.
As a sophomore, he averaged an impressive 9.6 points and 8.7 rebounds.
Oriakhi was an interior force in last year's NCAA Tournament, pulling down 10 rebounds per game
UConn's championship game against Butler made it seem like this year he was going to really turn it on. (He had 11 points, grabbed 11 boards and blocked four shots in that game).
Instead of dominance this season, the 6'9" junior has been inconsistent and disappointing, averaging a mere seven points and 4.8 rebounds per game.
His numbers have dipped even more in Big East play (six PPG and four RPG).
Conclusion
Jim Rogash/Getty Images
If the Huskies can shake themselves in the next two months, and Jim Calhoun can figure out how to combine all of the daunting pieces that he possesses, UConn can still be a force to be reckoned with come tourney time.
If not, they may see a serious opportunity pass by, as players like Jeremy Lamb, Shabazz Napier and even Andre Drummond might throw their names into the 2012 NBA draft.
Keep Reading

UConn Basketball: Like this team?