Mentally Tough New England Patriots Have Psychological Edge on Baltimore Ravens
January 19, 2012

The Ravens win games with brutal defense, but their physical strength masks a deep mental crack within the ranks. Tom Brady is in a position to split this crack wide open.
Let's examine this psychological crack. How did it get there? Why is it still there? Can it be fixed?
Consider this: Let's say you're driving in your car and thinking about the upcoming AFC championship. Your quarterback shows up on the radio, so you turn up the volume.
Your quarterback says, "I'll be wearing the ring, and we'll be holding the trophy, and the perception probably won't change, but that doesn't really matter."
How would you feel about your quarterback after hearing that?
Does this quarterback sound confident or resentful?
Does this guy sound strong or rattled?
Does he sound tough or self-conscious?
Does he sound like Kobe Bryant (five-time champion) or LeBron James (no-time champion)?
This man is Joe Flacco, and he's falling apart at the seams.
Is there a chance Flacco can become Terry Bradshaw?
Maybe.
Bradshaw spent four years in the NFL as a disappointment to himself and others. It took him many dark nights alone, filled with paralyzing insecurity and embarrassment before he showed the world how great he could be.
Alex Smith has been in the NFL for seven years. He's just now coming out of his shell. Some quarterbacks take time to develop. Flacco can be one of these guys, but there have been omens to suggest otherwise.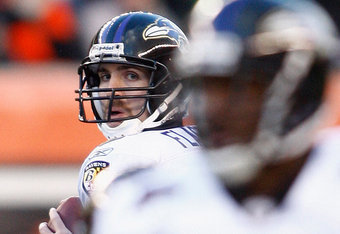 Back in December when Tebow Mania was at its height, Flacco made a statement that raised my eyebrows. He said, "I don't want to see Tim do bad, but look what happens after he wins a football game. If you watched SportsCenter today, it was Tim Tebow then something else, Tim Tebow then something else, and Tim Tebow then something else."
Could you imagine Tom Brady saying anything like that?
In the weeks leading up to both of New England's games against Denver, Brady showered Tebow with praise and respect. Then he went out and spanked him. Twice. 
That's how a championship quarterback operates. A championship quarterback speaks with his arm, not his mouth. A championship quarterback understands that respect comes from winning, not the other way around.
Tebow got a lot of media coverage, but it died out after the Patriots smashed the Broncos last weekend. Tebow's media coverage was temporary and Brady knew that.
So why did it bother Flacco so much?
These are questions that Baltimore fans need to ask themselves because there could be ugly truths behind Flacco's words.
Continuing his thoughts on the Tebow hysteria, Flacco added, "When we beat the Steelers, were we on TV? No. I couldn't even find a Baltimore Ravens highlight."
There's some degree of truth in that. Flacco and the Ravens really didn't get much airtime on ESPN.
But neither did the Patriots.
During the height of Tebow Mania, Brady received the same cold shoulder from ESPN that Flacco received. In the weeks leading up to both Broncos vs. Patriots games, Brady was an afterthought in the minds of most television personalities and analysts.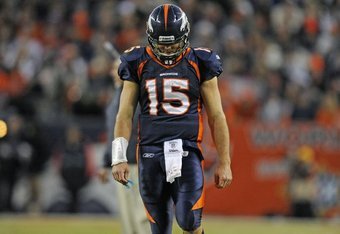 So while Flacco gets brownie points for honesty, the way he carried himself speaks volumes about why he hasn't grown as a leader.
Flacco continued his rant, "I think that's kinda the way it is around Baltimore. We don't always get our respect, but you gotta deal with it and go out there every week and just win football games."
That's a commendable philosophy. Problem is, Flacco doesn't actually "deal with it." He lets it fester inside him.
In preparation for the divisional showdown with the Texans, Flacco threw a barbed wire comment at the media. "I'm sure if we win I'll have nothing to do with why we won, according to you guys."
That isn't how to "deal with it." That's how to be bitter about it.
Does this anger make Flacco better or worse?
If he turns out to be John McEnroe and he plays better when he's angry, then Baltimore is in good shape for this weekend. But that's a big "if".
Right now, the Ravens are not a mentally healthy team.
Ray Lewis is the heart and soul of the Ravens, but football is a game of quarterback leadership. The quarterback controls and protects the ball. Football is about controlling and protecting the ball.
The quarterback is the brain of the team. You need a tough skull to protect it, but the brain still needs to be sharp. Winning the Super Bowl comes down to the decisions made by the quarterback.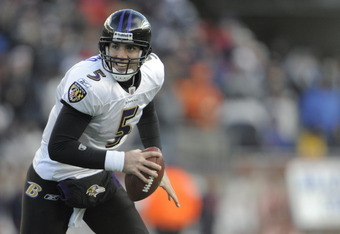 The Ravens are physically strong enough to beat the Patriots this weekend. But still, this Ravens team is no better than they have been in recent years. And that's a problem.
Why haven't the Ravens improved?
Some of the best football players of all time are on their current roster. Like the Steelers and the Patriots, the Ravens are a dominant force in the AFC every single year. The Ravens demand respect from all of us. I think they're a fantastic team.
But they haven't been back to the Super Bowl since their 2000 season. Why?
Angst. Frustration. Bitterness.
There's division within the Ravens. There's bad blood between their offense and their defense. 
From an offense/defense angle, you could argue the Patriots are as unbalanced as the Ravens. On the surface, you might say they have a lot in common.
The key difference is that New England's questionable defense hasn't cracked the psyche of the team or prevented long-term success. The Ravens, on the other hand, have been continually affected by their imbalance. 
Ed Reed recently called out Flacco's divisional-round performance. It was profound. He went on the radio and painfully critiqued the errors of Flacco and the entire offensive line.
On one hand, you could see this as Ed Reed stepping up and being a leader. He's the greatest free safety of all time, so the guy's allowed to speak his mind. Problem is that Reed's got a mentally fragile quarterback with rabbit ears.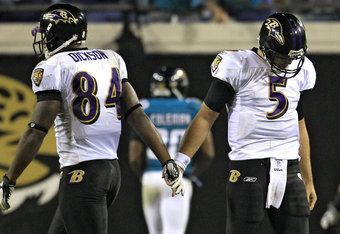 Reed made the mistake of believing that Flacco can take criticism. He can't.
This feels like the Jets' locker room, but with better players. Even though the Jets made it to the last two AFC championship games, there's a reason they didn't win. There's a reason why they imploded this season.
The Jets and the Ravens have bad blood in their locker rooms. These are two terrific defensive teams that can not reconcile the inferiority of their offensive units. Poisonous locker rooms show themselves on the field.
All season long, New England's defensive unit has been attacked on the radio and on ESPN every single day. They've been ridiculed to no end.
But Brady stood by them. Back in October and November, when it was unpopular to stand by New England's defense—Brady did.
Now in the aftermath of the Broncos game, it's easy to give their defense credit. But Brady was doing it long before it was fashionable. He's not an oracle or a prophet—he's a champion.
All season long, Brady has been Devin McCourty's biggest fan. He has been Rob Ninkovich's biggest fan. He has been James Ihedigbo's biggest fan. He has been Kyle Love's biggest fan. He has been Sterling Moore's biggest fan. He has been Matthew Slater's biggest fan. He has been Brandon Spikes' biggest fan. He has been Dane Fletcher's biggest fan. He has been Jerod Mayo's biggest fan.
Tom Brady is a championship leader. He's the reason why the Patriots are so mentally confident right now. As great as Ray Lewis is, he can't be that guy for the Ravens. The leadership must come from the quarterback position. Flacco hasn't assumed that role yet.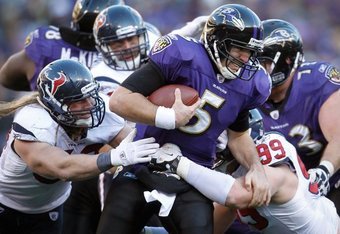 The Ravens have tough guys who will go after Brady on Sunday, but Brady's got guys now who will put their lives on the line to protect him. He hasn't had that for the last few years. There's a different chemistry on this Patriots team right now. They believe in each other, and Brady believes in his pass protection.  
The Ravens' game plan is to attack Brady with a vengeance, but the Patriots' mental unity will manifest itself physically and neutralize this formula. Baltimore will need Flacco to take the next step in his development as a leader and make big offensive plays.
The Ravens will most likely spend the next few days trying to untie the knots in Flacco's mind. The extent to which Reed's comments hurt him or not—we'll see on the field. Maybe those words will serve to be the very motivation Flacco needs to take his game to the next gear.
Only a coming out party for Joe Flacco will prevent Brady from returning to the Super Bowl.