Jordan Nicole Gaza: Story of a Cheerleader Turned Fighter
January 19, 2012

In every high school across the country there are two types of guys; those who spend their days fantasizing about the cheerleaders and those who spend their nights being with the cheerleaders.
Any way you slice it, cheerleaders are awesome.
As sexy as they were when I was in high school, none of them could have physically beaten me up. But Jordan Nicole Gaza certainly can.
Gaza is a 19 year old ex-cheerleader turned fighter, sporting a 4-2 record as an amateur. Fresh out of high school, Gaza is a former Tuff N' Uff women's 115-lb. champion looking to make her professional debut sometime this year.
Here is her story.
An Athlete Since Day One
"I was born and raised in Corpus Christi, Texas, and it was pretty much a small town where everyone knew each other. I started cheerleading when I was, like, five years old but I was also always involved in other sports too," Gaza said.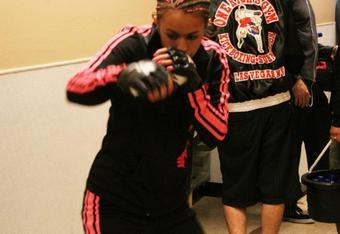 "I've been a cross-country runner my whole life, and then I played basketball and volleyball so I've always been athletic."
"I was a cheerleader all throughout high school and I graduated last year so that was the end of it, sadly."
Found Brazilian Jiu-Jitsu at age 13
"I don't even think my friends knew what [jiu-jitsu] was at first. I started training because I had this boyfriend in middle school and he did it and I thought it was karate or something so I used to make fun of him about it," Gaza said.
"Then one day I went to go try it and at first I didn't take it too seriously and was just doing it along with all of my other sports but then I competed in my first NAGA tournament and beat a boy. I thought it was like the best thing ever so ever since then I've competed every month [in jiu-jitsu competitions]."
Transitioning to MMA
"My coach was an MMA fighter but I would only train in jiu-jitsu, even when they would ask me if I wanted to do some MMA I would say 'definitely not' because [back then] I was afraid of getting hit in the face."
"Eventually my coach took a trip out to Albuquerque, New Mexico to train at Greg Jackson's gym and when he came back he completely changed the gym into a full on MMA gym."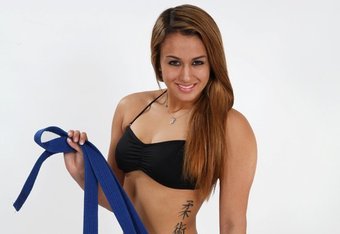 "I actually ended up getting invited to go train at Jackson's when I was about 15 or 16 years old and I stayed there for about a week at Leonard [Garcia] and [Donald] "Cowboy" [Cerrone's] house. They were really nice and showed me the ways of MMA and I got really into it to the point where the following year I started getting really serious about it."
Rough struggles before making amateur debut
"When I used to spar, I would literally run away from people because I hated getting hit. Eventually I started getting better and more comfortable with it and the next year I went back to New Mexico with my coach to train at Jackson's again in the summer."
"I was 17 at the time and things went wrong and my coach and I actually started dating. We stayed up at the ranch with Leonard and "Cowboy" for about two months and when we got back [to Texas] there was so much drama going on."
"He ended up cheating on me and was just a horrible guy and he was the guy I grew up with and learned everything from. We broke up and I ended up switching gyms and right before we broke up it was around the time when I was supposed to have my first MMA fight."
"I was just freaking out but I found a gym, I wasn't too comfortable there but I had my first fight and I won. I wasn't happy with that fight though, I won with a first round TKO but my technique and everything was just crazy."
Evolving as a young fighter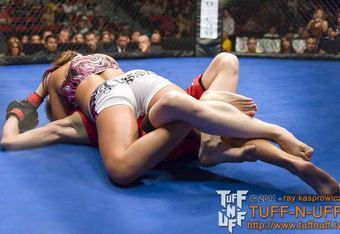 "I started becoming more and more serious about MMA and this was all going on during my senior year of high school. I missed out on a lot of fun things during my senior year but it all ended up for the better. I found a really good gym and I train everyday and I love it there."
"Once I get the fight to the ground and get on top of my opponent, I feel like I'm in a different world. I was talking to my coach about it and he always wants me to stand up more in my fights because now I am just as good with my standup as I am on the ground."
"I'm afraid to use my standup though because I'm afraid of messing up all the time so whenever I get a chance to go to the ground I take it. I feel like, as far as an amateur, I have pretty good jiu-jitsu."
Losing her Tuff N' Uff championship
"The way I trained for that fight (against Jillian Lybarger) was just completely different to the way I looked out there. I didn't even make weight. I came in four pounds over and just didn't take it as serious as it was. Every time I watch that fight I think to myself 'that's not me' and my coach hates it just because he wasn't there."
"I can't make any excuses though because she was awesome and I felt like she tagged me right from the first punch. I just know now that I need to keep my mind on the fight and the fight only and not have my mind all over the place like it was in that fight."
Turning professional in 2012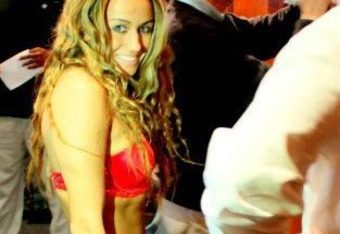 "I don't even care [who my opponent is], I'm just waiting for a fight and hopefully I can get one sometime in February. I don't really care who I fight because, like you were saying, on the amateur level you can have as many wins as you want but I just want to go pro, hopefully by the end of the year. I'm just looking for any kind of a fight and someone with a record similar to mine."
"I'm thinking I will take two more good fights at amateur before I go pro. I was saying that right before my fight with Julie but after seeing how horrible I did and how bad my performance was, I decided to take a few more fights at amateur."
"I'm trying to break my habit of immediately taking my fights to the ground before I go pro. I want to have a good, three round standup fight or just an all-around MMA fight instead of just taking it to the ground all of the time. I'm just waiting for when the time is right and hopefully this year I will make my professional debut."
Mitch Ciccarelli is the sexiest columnist in all of MMA. The man could walk around town in nothing but a leopard thong and a cowboy hat and have women begging for his body. Currently engaged to Bellator ring girl Mercedes Terrell, Ciccarelli is still engaging in mud wrestling competitions with other women behind his wife's back. Follow him on Twitter @ mitchciccarelli