AFC Championship Game: New England Patriots Focused on Super Bowl Title
January 19, 2012

Elsa/Getty Images
If you follow the NFL, you are most likely well aware of the New England Patriots' playoff struggles in recent years.
Since losing to the Giants and being denied an unprecedented 19-0 season four years ago, the Patriots had not won a playoff game until beating Denver last week.
The last two years they had gone one-and-done, with both losses coming at home. This was completely out of character, since New England was 8-0 at home during the regular season in both 2009 and 2010.
What seemed to be missing those years in the playoff losses was focus. The Ravens jumped on them from the very start in 2009, and they looked lost while losing to the Jets last year.
Saturday night, however, they were completely focused in beating the Denver Broncos 45-10. The defense was suffocating as they shut down Tim Tebow and the Broncos top-ranked running game. Tom Brady had the best postseason passing game of his great career, as he completed 26 of 34 for 363 yards and six TD passes.
The Patriots looked like a possessed team. They looked like a team focused on nothing short of another Super Bowl title.
This week, though, the level of competition will be greater. The Baltimore Ravens are a much better team, especially on defense.
This game is a classic offense versus defense matchup.
There is no doubt that the Ravens have the defense to frustrate Brady. Most likely, his stats will not be as good this week as they were last week. It might not matter.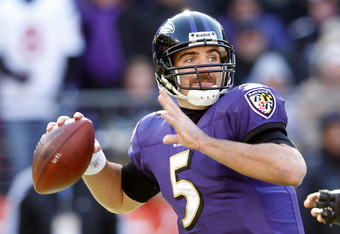 Rob Carr/Getty Images
This game may not come down to the Patriots' offense versus the Ravens' defense. It could come down to the Ravens' offense versus the Patriots' defense.
The key to this game may be how well Joe Flacco plays. Or how well the New England defense plays.
The Patriots defense sacked Tim Tebow five times and held Denver to 10 other plays of negative yardage. Flacco, meanwhile, was sacked five times by Houston, and generated little offense and only three points after the first quarter of the Ravens' divisional playoff win.
If the Patriots can get to Flacco and create turnovers—and set the Patriots offense up on a short field—it will be a recipe for disaster for Baltimore.
The Patriots are focused to do that, and will win this game 38-21.