2012 NFL Draft: Exploring the Houston Texans' Needs at Wide Receiver
January 19, 2012

Rob Carr/Getty Images
Yes, the time has finally come to begin draft season in Houston. Even though it is later than we are used to, expect no lack of effort in all things pertaining the the Texans needs in the 2012 NFL Draft.
Sure, we'd all rather the team be playing in New England this year and I'd much rather be watching that game on my television instead of prospect film on my computer screen, but we don't always get what we want.
But for those of us who have accepted it just under a week later, it's always fun for me personally to start researching the draft. We are Texans fans after all; unlike the playoffs, this isn't our first rodeo.
For the first time in team history, this is the first draft that the team is going into without a glaring need at any one position.
There are those that we can debate about, but for the most part this draft is going to be all about depth for a team that is bringing back a very large chunk of the previous year's team. On defense, besides Mario Williams, all of the key guys are back for the 2012 season. But the team, ownership and even Mario himself have been saying the past couple of days that this is where he wants to be and they feel optimistic that a deal can get done.
In the secondary, depth would always be good because you can never have enough corners. The team likely lets Jason Allen walk, figuring they can't do worse with Roc Carmichael coming back and Brandon Harris hopefully improving.
On offense, the biggest free-agent concerns (since Arian Foster is restricted, I'm not even going to bring him up) are Chris Myers, who the team is highly unlikely to let get away, and Joel Dreessen.
Dreessen had a great year as a reliable red-zone target and I could see him walking if a team can offer him starter minutes elsewhere. With James Casey and Garrett Graham waiting in the wings, they'll be fine there.
So where does a team with very little dire need for any one position turn to? It's really quite simple.
For the first time, the Texans are in a position to take the best player available in every round. Their defense is looking like it's going to be very good for a very long time but that is no reason not to try to improve it. This year alone showed why depth is so important to a contending team, because you never know who is going to get bit by the injury bug.
On offense, getting Matt Schaub back is like signing a huge free agent.
That one move alone will take the offense back to its top-10 level that it was at before his injury. But if I'm taking an offensive player in the first few rounds of the NFL Draft this year for the Texans, it would have to be a wide receiver.
This seems to be the consensus among the fanbase as we all realize that it's time to start grooming the eventual replacement for the now injury-prone Andre Johnson. With that said, let's take a look at a few of the top-rated prospects at the wide receiver position that could be available to the Texans when they go on the clock at No. 26.
Justin Blackmon - Oklahoma State
I think if the Texans found a way to trade up and take the electrifying Blackmon, this city might go nuts. But since he is a top-five lock in this draft, I'm going to file this one under "unlikely to happen." So I won't go too much into analysis on him here. Pipe dream.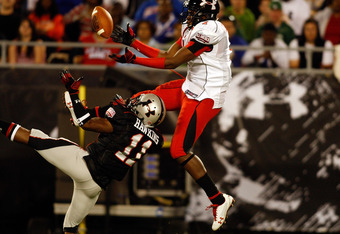 J. Meric/Getty Images
Alshon Jeffery - South Carolina
For a prospect as highly rated as Jeffery is, I've sure seen him mocked all over the place in early expert mock drafts. I've seen him as high as fifth and as low as 26th, but before the combine and pro day again solidify his status as a top-15 wide receiver, I think this one is pretty unlikely, too. But if he slips to the late teens/early 20s, I could see Houston move up a handful of spots for him if it really likes him.
To the people saying they aren't crazy about Jeffery, I have to say quit looking at the stat sheet only and watch some film. This guy is fast, strong, and can go up and get the ball. His numbers suffered from poor quarterback play last year and he still faced double coverage all season. 
Michael Floyd - Notre Dame
In my very first mock draft of the year, this is whom I had the Texans taking in the first round. Since then, his stock has risen probably much higher than to be available at 26. However, crazier things have happened on draft day.
Floyd has had some issues with his coaching staff and got arrested for a DUI in the spring that could make him slide to Houston in an ideal situation. The guy has huge game-breaking ability that could produce a huge mismatch in the Texans scheme. This is the kind of guy that could be the No. 2 option right now that could be groomed to be the future No. 1 when Andre calls it a career.
Dwight Jones - North Carolina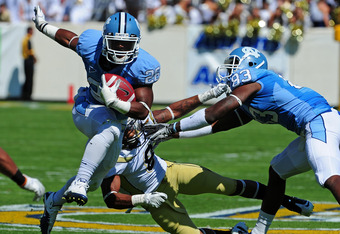 Scott Cunningham/Getty Images
If I was doing a mock draft today, this is whom I would pick for the Texans in the first. Of the guys that are available after the first three I mentioned here, Jones is the only other one I would consider taking in the first round. With any of the others, you're stretching quite a bit and I don't feel that Houston needs to stretch for need on any of its selections in this draft.
Jones is 6'4" of solid muscle at 215 pounds. He replaced Greg Little for UNC his junior season and was successful before having a monster senior season that saw him haul in 11 touchdowns. His draft stock is only hurt by the fact of which conference he played in. If he'd played at a bigger school, Jones would be a top-20 lock and I think he would be a steal at 26 for Houston. He has all the tools to succeed and, if you remember, he knows the Texans scheme since they run it at North Carolina.
Kendall Wright - Baylor
Here comes that part of draft season where I hate living in Texas. You get a couple of the local media members talking about where a guy played his high school or college ball as opposed to what he could bring to an NFL team.
I don't think Wright is going to be a bad football player, but if you're looking for the successor to Andre eventually, a 5'10" slot receiver isn't the guy you want to spend a first-round pick on.
He is a burner downfield that reminds me a lot of Torrey Smith in Baltimore who could create matchup problems, but any earlier that in the second round and I'd be highly disappointed in that selection for the Texans.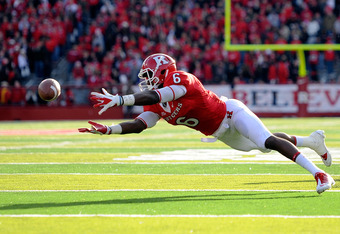 Patrick McDermott/Getty Images
Remember, separate your Saturdays and your Sundays when it comes to drafting for the future of your pro football team. A "good story" only goes so far when you realize that the pick was blown in favor of a "hometown kid."
Mohamed Sanu - Rutgers
Sanu is a guy that holds tremendous value in the second round if the Texans go with the best player available in the first. He has great hands and catches everything thrown his way as he carried the Rutgers offense this past year. The heir to Andre? Probably not, but he certainly has No. 2 potential.
Marvin McNutt - Iowa
I'm still watching tape on this Hawkeye, and I like what I'm seeing. McNutt appears to be a good route runner and excels at creating space between himself and his cover man. He's an extremely quick 6'4" and could be huge in Kubiak's offense.
Tommy Streeter - Miami
In case you've missed it, the Texans love them some players from "The U." But would Streeter be a fit if available in the third round?
His size, speed and ability to stretch the field with his quickness is something Houston lacked when Andre Johnson missed time in 2011. This guy would be a terrific fit.
Reuben Randle - LSU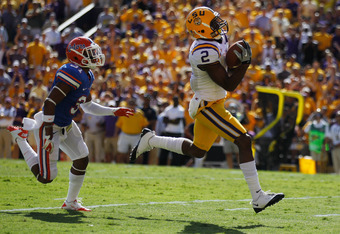 Chris Graythen/Getty Images
To anyone who watched the BCS National Championship Game, you see why Randle's stats aren't going to jump off the page at you. He didn't get too many chances, but he showed solid production when the ball was thrown his way. He's dangerous on the slant and could be a good red-zone target for Matt Schaub.
Nick Toon - Wisconsin
There is that other school that the Texans like to draft guys from. But when you have an NFL factory like Wisconsin has become, that isn't necessarily a bad thing.
In a run-first offense last year, Toon still reeled in nine touchdowns for the Badgers. He has good hands and a solid route runner; this is the kind of blue-collar guy that Gary Kubiak loves. Toon would be a great get in the third round. 
That about limits whom I could see the Texans targeting in the first three rounds of this year's draft. But for the later rounds keep an eye on Jordan White (Western Michigan), T.Y. Hilton (Florida International), Ryan Broyles (Oklahoma), Joe Adams (Arkansas), A.J Jenkins (Illinois) and, for those of you who demand a hometown guy or two, the duo from Texas A&M, Jeff Fuller and Ryan Swope.
Look forward to more position previews of possibilities for the Texans soon. The Senior Bowl is in just over a week and the draft itself is only 98 days away. Good thing I've got plenty to keep busy with until then in draft coverage. Keep it locked in and thanks for reading.
Mike Kerns is a Featured Columnist for the Houston Texans at Bleacher Report. Feel free to follow him on Twitter and catch his latest Texans podcast on iTunes.