2012 NFL Mock Draft: Identifying Top Senior Prospects
January 19, 2012

Kevin C. Cox/Getty Images
The most dynamic players in the 2012 NFL draft class are juniors, but a handful of seniors are special guys that should become solid players at the next level and will almost assuredly be picked in Round 1. 
Let's identify the top senior prospects.
Courtney Upshaw, DE/OLB, Alabama 
Upshaw is the premier pass-rushing outside linebacker in the 2012 class. At 6'2'' and 265 pounds, he possesses great strength but is deceptively quick around the outside and isn't a liability against the run. NFL scouts will love his high motor and the variety of counter moves he employs on opposing left tackles. 
He isn't exactly the most sudden player off the snap, but he makes up for it with great athleticism and has the ability to shed blockers. 
Michael Floyd, WR, Notre Dame
The 6'3'', 225-pound Floyd projects as one of the best possession receivers in the draft. He physically overpowers smaller corners and was extremely productive during his time with the Fighting Irish. As one can imagine, Floyd doesn't have phenomenal speed, but he's elusive in the open field. 
The wideout that caught 37 touchdown passes during his collegiate career is quite the athlete and has great leaping ability to haul in jump balls down the field and in the red zone. 
Quinton Coples, DE, North Carolina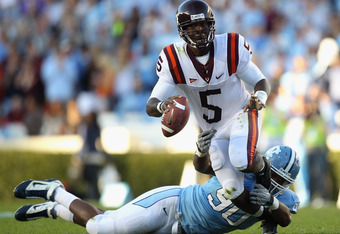 Streeter Lecka/Getty Images
Coples went into 2011 as the top senior prospect. After a monster 2010, the 6'6'', 285-pound defensive end looked like the next Julius Peppers. 
However, he had a rather disappointing final year with the Tar Heels. Coples totaled 7.5 sacks, but issues arose about his work ethic and determination on the field.
Nothing will drop a player's stock faster than apparently having a "low motor."
Melvin Ingram, DE, South Carolina
Ingram had nine sacks in 2010 and racked up 10 more during his senior campaign with the Gamecocks. At 6'2'' and 275 pounds, he projects a defensive end and won't asked to cover tight ends at running backs at the next level. 
He'd be an ideal fit as 4-3 end. 
Ingram is probably the best pure athlete of the defensive end group and moves tremendously well for someone with his bulk. 
He is a bit raw, but with proper coaching could become a terrorizing end in the NFL who can also successfully play the run. 
2012 NFL Mock Draft (Jan. 18 Update, post-Kirkpatrick arrest)
1. Indianapolis Colts: Andrew Luck, QB, Stanford
2. St. Louis Rams: Justin Blackmon, WR, Oklahoma State
3.  Minnesota Vikings: Matt Kalil, OT, USC
4.  Cleveland Browns: Trent Richardson, RB, Alabama
5.  Tampa Bay Buccaneers: Morris Claiborne, CB, LSU
6.  Washington Redskins: Robert Griffin III, QB, Baylor
7.  Jacksonville Jaguars: Alshon Jeffery, WR, South Carolina
8.  Carolina Panthers: Michael Brockers, DE/DT, LSU
9.  Miami Dolphins: Courtney Upshaw, DE/OLB, Alabama
10.  Buffalo Bills: Nick Perry, OLB, USC
11.  Seattle Seahawks: Whitney Mercilus, DE/OLB, Illinois
12.  Kansas City Chiefs: Luke Kuechly, LB, Boston College
13.  Arizona Cardinals: Jonathan Martin, OT, Stanford
14.  Dallas Cowboys: David DeCastro, OG, Stanford
15.  Philadelphia Eagles: Vontaze Burfict, LB, Arizona State
16.  New York Jets: Melvin Ingram, DE/OLB, South Carolina
17.  Cincinnati Bengals (from Oakland Raiders): Lamar Miller, RB, Miami  
18.  San Diego Chargers: Riley Reiff, OT, Iowa 
19.  Chicago Bears: Michael Floyd, WR, Notre Dame
20.  Tennessee Titans: Zach Brown, LB, North Carolina
21.  Cincinnati Bengals: Alfonzo Dennard, CB, Nebraska
22.  Cleveland Browns (from Atlanta Falcons): Dont'a Hightower, LB, Alabama 
23.  Detroit Lions: Stephon Gilmore, CB, South Carolina
24.  Pittsburgh Steelers: Cordy Glenn, OL, Georgia
25.  Denver Broncos: Chris Polk, RB, Washington
26.  Houston Texans: Kendall Wright, WR, Baylor 
27.  New York Giants: Mike Adams, OT, Ohio State
28.  Baltimore Ravens: Quinton Coples, DE, UNC
29.  New England Patriots (from New Orleans Saints): Devon Still, DT, Penn State
30.  San Francisco 49ers: Peter Konz, C, Wisconsin
31.  New England Patriots: Mark Barron, S, Alabama
32.  Green Bay Packers: Chase Minnifield, CB, Virginia