SDSU Aztecs vs. New Mexico Lobos: Live Analysis & Reactions to This MWC Showdown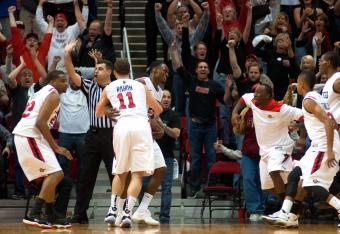 Kent Horner/Getty Images
The No. 16 San Diego State Aztecs (15-2, 1-0 in Mountain West Conference) invade The Pit Wednesday night to take on the New Mexico Lobos (15-2, 1-0 in Mountain West Conference) on CBS Sports Network.
The Aztecs are coming off an emotional and exciting 69-67 victory Saturday at home over UNLV, and have won eight straight games.
New Mexico has won 13 in a row by a margin of almost 20 points per game.
Both teams feature NBA talents. For the Aztecs, Chase Tapley is among the leaders in the mix for conference player of the year, as he leads the conference in scoring, field-goal percentage, three-point percentage and steals.
And Jamaal Franklin was the star of a game full of stars Saturday against UNLV. He made a game-winning layup with 0.3 seconds to go.
For New Mexico, Drew Gordon is a former UCLA transfer who is also among the leaders for conference player of the year. And Tony Snell has stepped up in his sophomore season, much the way his high school teammate, Kawhi Leonard, did for the Aztecs a season ago.
This should be a great battle between two underrated teams on the national scene. Keep it here for updated analysis of this great college basketball game.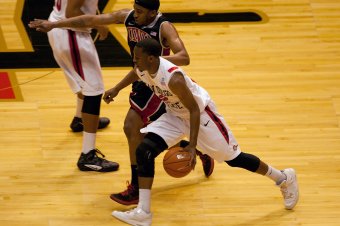 Kent Horner/Getty Images
Xavier Thames was clearly the player of the game for the Aztecs with some huge threes and great passes. He finished with 22 points and 4 assists. His backup LaBradford Franklin played his finest game a collegian finishing with 9 points and a couple nice assists.
But the story of the second half, for a second straight game, was Jamaal Franlin who really ignited the Aztecs to the blowout the game became.
Phillip McDonald put in 20 for the Lobos, but the team never really regained the promise of their early 10-0 start. As a result the Aztecs pretty much cruised to this road victory.
The win makes the Aztecs 16-2 and 2-0 in the Mountain West. For the Lobos they drop to 15-3 and 1-1 in the conference.
All in all it was great night for the San Diego Aztecs.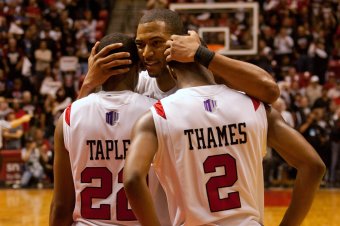 Kent Horner/Getty Images
And it's a final in Albuquerque. After a ton of garbage threes and some free throws, this one ended up a little closer.
Final
SDSU 75 New Mexico 70
After an odd clock situation and much booing from the home crowd, the Aztecs retain the ball with 40.8 seconds.
Now Thames will get a chance to go to the FT line.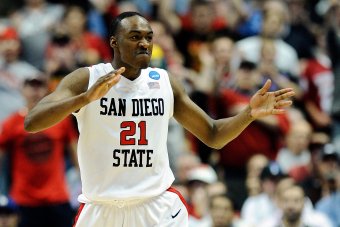 Kevork Djansezian/Getty Images
Jamaal Franklin got all the way to the hoop off an isolation and finished despite some contact.
Franklin was huge for the Aztecs...again.
1:21 2nd Half
SDSU 66 New Mexico 57
Well two threes has brought New Mexico back to within 7 points.
Xavier Thames takes us to the under-4 timeout with a beautiful hesitation after the penetration and-one hoop.
3:41 Second Half
SDSU 63 New Mexico 51
The Aztecs now look in control of this game, as the defense is suffocating and making life extremely difficult on the Lobos.
The Aztecs are getting beat hard on the glass, but their execution in every other aspect of the game is really erasing that rebounding differential.
The run has now reached 10-0 for the Aztecs.
Jamaal Franklin has awaken to ignite this little run. He has two threes and got a steal and dish to DeShawn Stevens for a beautiful fastbreak dunk.
7:21 (2nd Half)
SDSU 59 New Mexico 48
Wow, what an explosive burst by the Aztecs! Reminiscent of last year's team, the Aztecs have gone on a 5-0 run that seemed like a lot more than that.
And all the momentum New Mexico had seems to be gone.
Back-and-forth, back-and-forth it goes. I can't even keep up. There are great shots followed by more great shots.
The only conceivable issue is the Aztecs seem to be getting a lot ticky tack fouls called on them.
If they can avoid these the rest of the way, a win remains very possible.
11:28 in 2nd Half
SDSU 49 New Mexico 48
Aztecs are still alive after an amazing up and under layup by Thames. How good has he been tonight?
Almost immediately Kendall Williams responded with a three for New Mexico, then...
Another 3 for Rahon!
Another huge shot shot by Rahon. This time it was a three-pointer off the 3/4 court pressure. What better way to beat that kind of pressure than with a three!?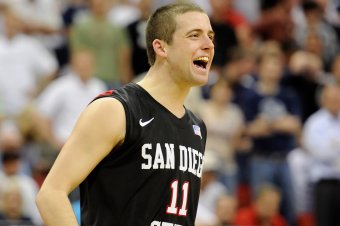 Ethan Miller/Getty Images
Big shot there by James Rahon. Hopefully that's the first of many for the Aztecs' sneaky shooter/scorer.
Four early points and it looks like we could have a similar start to the second half as we did in the first.
Xavier Thames leads the Aztecs with 13 points and 2 assists.
Chase Tapley has 7 points and 4 rebounds.
For New Mexico Phillip McDonald has 11 points, including 3-for-5 on 3-pointers.
And Drew Gordon has 8 points to go along with 3 rebounds.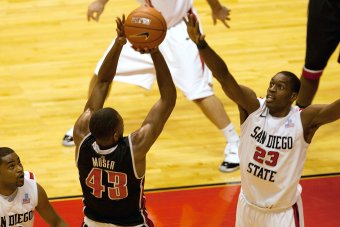 Kent Horner/Getty Images
Is anyone surprised that UNLV is way out on top over TCU early in the first half? I mean you knew they'd be ready to go right?
Coming off their heartbreaking loss on Saturday they were bound to come out strong against a weaker TCU team.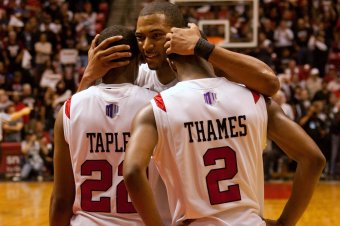 Kent Horner/Getty Images
At the end of the first half the Aztecs somehow only trail New Mexico by one in what was a fairly well played college basketball game. Check back in moments for some first half analysis and stats.
End of First Half
SDSU 30 New Mexico 31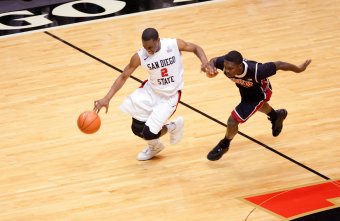 Kent Horner/Getty Images
I don't know about that clear out foul they called on Alec Williams. But the Aztecs are hanging in there with three threes by "X" Xavier Thames. And the Aztecs are down two at the final media timeout of the first half.
With 3:58 in the First Half
SDSU 25 New Mexico 27
Wow great shot there for New Mexico. It was great D by Rahon but Williams just made a better shot.
A lot seems to be going against the Aztecs tonight, but they are hanging in there, something they've always done under Steve Fisher.
And Xavier Thames now has two three-pointers!
With two Australians on the roster, it almost seems as if New Mexico has modeled their program after St. Mary's who has for years done a wonderful job of recruiting from the land down under.
Seeing the replay of Jamaal Franlin's game-winner from Saturday gives me goosebumps. I love it man!
At the second media timeout, the Aztecs have really settled down and are only down 15-12.
Since LaBradford Franlin checked in the Aztecs have taken off and look much more confident. And they're playing a whole lot better.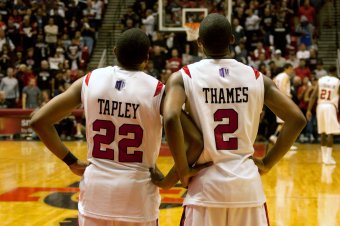 Kent Horner/Getty Images
That Chase Tapley stepback three looked awfully close to a two. The replay showed it was clearly a two, and the officials made the correction. Still impressive from Tapley.
But that is exactly why I am convinced Tapley can be an effective NBA player, similar to Arron Afflalo.
This article is
What is the duplicate article?
Why is this article offensive?
Where is this article plagiarized from?
Why is this article poorly edited?