2012 NFL Mock Draft: Medical Alert for 3 Injury-Prone Prospects
January 19, 2012
Kevork Djansezian/Getty Images
NFL teams evaluating college players as pro prospects have multiple areas they must look at in deciding if a player will pan out for them. Productivity, character and, of course, injury concerns are major factors in deciding who to select in the NFL draft.
In such a physical sport, I hate to call any player injury-prone, but some players just can't seem to stay on the field. With nothing at all guaranteed when picking players to play in the NFL, teams become very leery of taking on players who have a sketchy injury history.
Three guys come to mind immediately who will have to prove to NFL teams that they are healthy going into the pre-draft period.
Nick Toon, WR, Wisconsin
Toon has been a productive receiver for the Badgers even though they are clearly a run-first team. After a breakout sophomore season, Toon struggled with injuries in his junior year, missing three games with a turf toe injury and battling a thigh bruise as well.
The son of former New York Jets WR Al Toon bounced back with a nice senior season, catching 55 passes and scoring nine TDs. Marring that, however, was a foot injury that kept him out of the Indiana game.
In addition, Toon injured his foot while running earlier this month and is questionable to play in the Senior Bowl.
Toon should be ready to participate at the combine in February and a pro day after that to prove he is healthy. Many feel Toon could go as high as the early second round, but he could also slip a couple of rounds if his foot is not fully healed.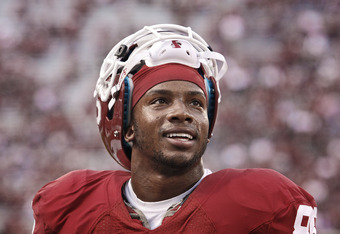 Brett Deering/Getty Images
Ryan Broyles WR, Oklahoma 
The most productive receiver in Oklahoma history, Broyles was a star immediately for the Sooners, but that came to a screeching halt in the form of a torn ACL in November. In addition, Broyles suffered a slight fracture in his shoulder that caused him to miss a game in 2009.
Broyles caught 349 passes in his college career, including an amazing 131 for 1,622 yards in 2010, and he had double-digit TD totals in his final three years in Norman.
The productivity is clearly there, but will teams be willing to take a chance on a player who may miss a good portion of the 2012 season?
Tony Dye S, UCLA
Dye has been a fairly productive player and a team leader for the Bruins, but a neck injury has to have teams unsure if he can withstand the hits he will take in the NFL.
After missing seven games with a neck problem, Dye returned for the Colorado game only to leave it after suffering an ankle injury that also forced him to sit out the Pac-12 Championship game.
Dye also missed time during spring practice in 2011 with a sprained knee.
For someone who was only a lower-round prospect to begin with, Dye's injury history may lead to teams passing on drafting him at all and only taking a chance on him as a free agent.
2012 Mock Draft- First Round
1. Indianapolis Colts: Andrew Luck, QB, Stanford
2. St. Louis Rams: Justin Blackmon, WR, Oklahoma State
3. Minnesota Vikings: Matt Kalil, OT, Southern California
4. Cleveland Browns: Trent Richardson, RB, Alabama
5. Tampa Bay Buccaneers: Morris Claiborne, CB, LSU
6. Washington Redskins: Robert Griffin III, QB, Baylor
7. Jacksonville Jaguars: Michael Floyd, WR, Notre Dame
8. Miami Dolphins: Riley Reiff, OT, Iowa
9. Carolina Panthers: Mohamed Sanu, WR, Rutgers
10. Buffalo Bills: Quinton Coples, DE, North Carolina
11. Kansas City Chiefs: Michael Brockers, DT, LSU
12. Seattle Seahawks: Devon Still, DT, Penn State
13. Arizona Cardinals: Jonathan Martin, OT, Stanford
14. Dallas Cowboys: Dre Kirkpatrick, CB, Alabama
15. Philadelphia Eagles: Luke Kuechly, ILB, Boston College
16. New York Jets: Alshon Jeffery, WR, South Carolina
17. Cincinnati Bengals: David DeCastro, OG, Stanford
18. San Diego Chargers: Kendall Wright, WR, Baylor
19. Chicago Bears: Peter Konz, C, Wisconsin
20. Tennessee Titans: Jerel Worthy, DT, Michigan State
21. Cincinnati Bengals: Alfonzo Dennard, CB, Nebraska
22. Cleveland Browns: Fletcher Cox, DT, Mississippi State
23. Detroit Lions: Nick Perry, DE, Southern California
24. Pittsburgh Steelers: Stephon Gilmore CB, South Carolina
25. Denver Broncos: Dontari Poe, DT, Memphis
26. Houston Texans: Cordy Glenn, OG, Georgia
27. New England Patriots: Zach Brown, OLB, North Carolina
28. Green Bay Packers: Melvin Ingram, OLB, South Carolina
29. New York Giants: Courtney Upshaw, OLB, Alabama
30. Baltimore Ravens: Vontaze Burfict, ILB, Arizona State
31. San Francisco 49ers: Whitney Mercilus, DE, Illinois
32. New England Patriots: Jared Crick, DE, Nebraska