UFC on FX: Guillard vs. Miller, B/R Full Main Card Staff Predictions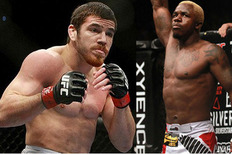 The UFC will make its return to Nashville, TN this Friday for UFC on FX.
Featured in the main event will be Jim Miller (20-3) and Melvin Guillard (46-10-3 1NC), two lightweights who are looking to get back into title contention after ending 2011 with disappointing losses.
In a welterweight scrap, Duane Ludwig will meet fellow UFC veteran Josh Neer.
Relativity new UFC fighter Mike Easton (11-1) will take on UFC newcomer Jared Papazian in a bantamweight battle.
And the always entertaining Pat Barry will meet scrapper Christian Morecraft in a heavyweight battle.
Bleacher Report MMA Featured Columnists Dwight Wakabayashi, Dale De Souza, John Heinis and I, Jeff McKinney, are here to let you know who will win Friday night.
.
Begin Slideshow

»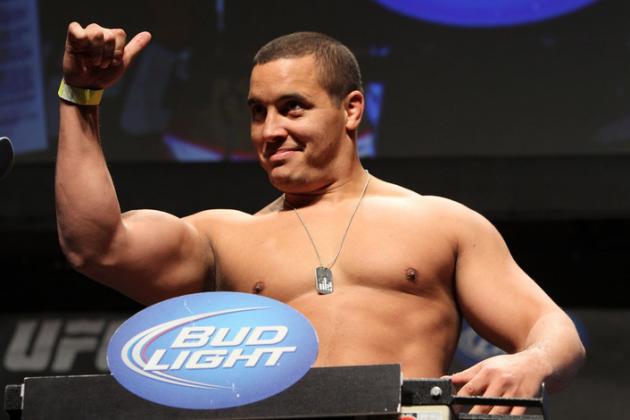 Josh Hedges/Zuffa LLC/Zuffa LLC
John Heinis: Pat "HD" Barry is skating on thin ice coming into this bout, as he has lost two fights in a row to the likes of Cheick Kongo and Stefan Struve.

Interestingly, Struve is the one common opponent between the two. "The Skycraper" made Barry tap to a triangle, while he KO'd Morecraft early in the second round after absorbing a ton of punishment in the opening frame.

While Barry is one of the most entertaining fighters in the UFC today, he has made it crystal clear that he can not do much besides kickbox.

Note his UFC 115 loss to Mirko "Cro Cop" Filipovic as a great example of this: he tapped to a rear naked choke despite the fact that Cro Cop didn't have either of his hooks in.

Morecraft is no college wrestling standout or submission wizard either, but if the fight should go the ground, he has a very slight advantage.

The bottom line is that this should be a fun stand up war for the fans and while it's not the easiest call, I think Barry does what he has to do to remain in the world's premier fight organization.

Pat Barry via Round 2 TKO
Dwight Wakabayashi: Heavyweight fan favorite Pat "HD" Barry will once again be up against a much taller and longer opponent in Christian Morecraft at UFC On FX, and he will have to wade into the fire to execute the game plan he wants to be victorious on Friday night.
The 6'6 Morecraft is 1-2 since joining the tough competition of the UFC and is in dire need of a win to save his spot on the UFC roster.
Barry is coming off a loss to Stephan Struve, a fighter with a similar frame to Morecraft, yet with a higher level of skill.
Barry was not afraid to get in and get at it with the much taller Struve, and he will need to have the same courage here to pull out the win.
Despite his popularity, I believe Barry is also on the bubble to be released with another loss, so he must be aggressive, yet smart, in his approach to getting the win.
Despite his small 5'11 frame, Barry can stand and bang with Morecraft and come out on top using his head movement and explosive aggression.
His devastating leg kicks will be the key to attacking his opponent's chin.
Morecraft will score punches on Barry and do damage, but I don't believe he has the power or crafty skill to win a stand up war.
Barry has weaknesses in his ground game, but I don't see Morecraft being good enough to capitalize on them.
Barry wins via Round 3 TKO

Dale De Souza: Pat Barry vs. Christian Morecraft is a pretty intriguing bout for a number of reasons, but the most glaring of reasons is really what the fight means for Barry.
For Morecraft, the fight is a rebound after a loss to Matt Mitrione, but for Barry, this is a possible do-or-die fight. "HD" left Roufusport to train under the DeathClutch banner, but has not seen Octagon success since a win over Joey Beltran at UFC Fight for The Troops 2.
In fact, Barry's two losses came by way of a comeback and eventual knockout shot from Cheick Kongo, and a super-tight triangle choke by the man against whom Morecraft almost recorded a UFC 117 win over in Stefan Struve.
Barry showed serious slams against the taller Struve, and he hasn't been shy about letting his hands go, but as a kickboxer, Barry has been known for landing kicks of all calibers in scary fashion, and against Morecraft—whose offense is budding but still green—Barry will look to mount that offense early.
Morecraft is definitely the taller man, and I'd expect him to not only have a slight edge on the reach, but also I'd expect him to be a bit heavier than Barry on fight night, regardless of the weights at which they both come in.
Morecraft is for real, but Barry's train has been derailed four times under the Zuffa banner, and come Friday night, it will rapidly slam into Morecraft, whether he likes it or not.
Barry by Round 2 TKO (punches)
Jeff McKinney: In a bout between two heavyweights in need of a win, Pat Barry (6-4) will take on Christian Morecraft (7-2).
Barry is known for his hard leg kicks and is always in an exciting fight.
Barry is also a funny guy outside the Octagon who is often seen joking around.
But for all of his entertainment value, Barry has only gone 3-4 in the UFC.
Morecraft came into the company with an impressive 6-0 record.
But, the 6'6 slugger has gone 1-2 thus far, with both of his losses coming by way of knockout.
This fight could be an absolute war.
I believe Barry knows he's on the edge of getting his walking papers and will have to find the perfect balance of fighting smart and keeping the fight entertaining.
If he can do that, he could pull off the win.
Barry by TKO or Unanimous Decision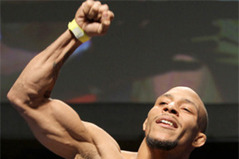 John Heinis: Jared "The Jackhammer" Papazian makes his UFC debut after closing out his King of the Cage career (where he was the bantamweight champion) on a three-fight win streak.
The 23-year-old brings solid wrestling chops to the cage, but his jiu-jitsu game is definitely behind, since four of his six losses have come via submission.
Additionally, his Muay Thai game is enough to keep his opponents honest on the feet, but Papazian does not really have one-shot KO power.
Also, let me take a moment to mention that Papazian is a cousin of the former Jon Koppenhaver, better known now by his legal name "War Machine."
On the other side of the cage, Mike Easton enters his second UFC fight after an impressive knockout out Byron Bloodworth at UFC Live: Cruz vs. Johnson.
Easton is a pretty decent wrestler in his own right, and is no knockout specialist either, so this one could really go either way.
In a bout between two dark horse contenders at 135 pounds, I'll give Easton the edge since he's a little bigger and stronger. The fact that he has faced slightly better competition doesn't hurt either.
Mike Easton via split decision
Dwight Wakabayashi: In a fight that was originally set to be Easton vs Stone, Jared Papazian has stepped in for the injured Stone to make this fight.
Both Easton and Papazian are young up and coming fighters who will be looking to impress on Friday night.
Easton has won six fights in a row and has a nice win over recent TUF 14 winner John Dodson.
Easton brings an aggressive, explosive and well-rounded game. He can hurt you in many ways from many places in the cage, with his power and quick guillotine submission.
Papazian is formidable on his feet and has a credible Muay Thai skill set.
He will be looking to keep this one standing with Easton and hope to use his technical skill to open up the knockout win.
Easton will have no problem standing with Papazian for a little bit, but he will eventually open up his bag of tricks to secure some points and will take a decision.
Easton Wins Via Unanimous Decision
Dale De Souza:
So, you want a "Fight of The Night" contender, but you don't want to just jump to Melvin Guillard vs. Jim Miller as your pick for UFC on FX's Fight of the Night?
Okay, cool—so sign "The Jackhammer" Jared Papazian to the UFC against highly regard Mike "The Hulk" Easton and put it on the main card when you hear of Ken Stone pulling out.
Easton is on a six-fight win streak as of right now, including wins over Josh Ferguson and TUF 14 winner and Zuffa-branded "Flyweight-at-Bantamweight" John Dodson, and while some might say he needs to step up his wrestling game, others recall that the guy has only lost once in his career, so it's tough to accuse him of being susceptible to submissions or elite wrestling.
Papazian, like Easton, is seen as more of a striker, and while Papazian isn't going to hop on the Dominick Cruz bandwagon, even he will admit that he also has his share of decision wins.
Don't let that or the five decision wins of Easton's career fool you into thinking that both guys don't go in for the kill, because they always will go in for the kill once they find it, and the fact that they have earned the majority of their career wins by decision—despite being clearly devastating on the feet—speak more to the level.
I know I haven't mentioned Papazian's current three-fight win streak, which includes a win over recent DREAM Bantamweight GP contestant Abel Cullum, but did I also forget to mention that Easton's current win streak consists of a win over John Dodson?
Really, I did? Damn, I'm really bad at this.
Anyway, the key difference might be who simply can land the more effective strikes in the fight, unless Easton's stepped up his wrestling game, but rest assured that this one will end close. It will have people talking for all the right reasons, and it will result in an outcome that elevates both fighters' stock as opposed to the "hurts one, helps the other" trend that exists.
Jared Papazian by majority decision (29-28 x2, 28-28)
Jeff McKinney:
In a bantamweight bout, Mike Easton (11-1) will take on UFC newcomer Jared Papazian (14-6-1NC).
Easton comes into the bout on a six-fight winning streak. Easton made his UFC debut with an impressive TKO victory over Byron Bloodworth and holds a victory over TUF 14 winner John Dodson.
Papazian is the younger of the two fighters at age 23, but has had nearly twice as many fights.
Although Papazian has his share of TKO victories, more of his fights have gone to the judges.
Despite Papazian's fight experience, I see this bout going in favor of Easton.
He may be the smaller fighter, but he has good Muay Thai and Brazilian Jiu-Jitsu and has four victories by knockout.
Easton by Decision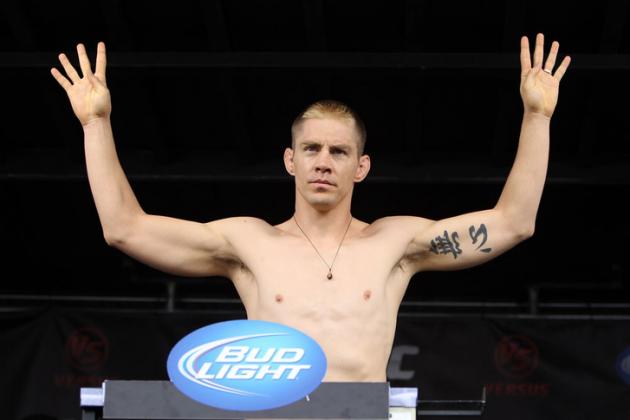 Josh Hedges/Zuffa LLC/Zuffa LLC
John Heinis: Duane "Bang" Ludwig is riding high after Dana White recognized his knockout over Jonathan Goulet (back in January of 2006) as the fastest in UFC history.
Neer, a 12-year veteran of the fight game, has been inconsistent in recent memory: 2-2 in his past four and 4-3 in his past seven.
He currently has strung together back-to-back wins over Nick Osipczak and Amir Sadollah so at the very least, he still deserves a roster spot for the time being.
His opponent, Josh Neer, has the hot hand right now, boasting a five-fight win streak, finishing each of his Octagon adversaries during that span.
"The Dentist" has an obvious grappling advantage in this one (to the surprise of no one who realizes he trains at Militech Martial Arts), so the big question will be: Does Neer have the wrestling chops to get Ludwig down to the mat?
Recent losses to fighters such as Lyle Beerbohm and Jim Miller show that you don't need to have elite takedowns to get "Bang" down to the mat and submit him, so I think Neer does what needs to be done to pick up the "W" here.
Josh Neer via Round 2 submission (armbar)
Dwight Wakabayashi: In an intriguing battle between two veteran UFC fighters looking to re-establish themselves among the welterweight elite, Duane "Bang" Ludwig will face Josh "The Dentist" Neer in the co-main event of the evening.
Ludwig is a feared striker and is 2-2 since his return to the UFC in 2010, while Neer is a bit more well-rounded, is the bigger man in this fight and is 1-0 since he returned last year.
Both men are very crafty and experienced but I see the difference coming in Ludwig's improved takedown defense, and the fact that he is coming off a tough win over Amir Sadollah.
Neer's win came over newcomer Keith Wisniewski and Sadollah is a step up from him.
Expect Neer to want to get this fight to the ground quickly, and when he burns most of his energy doing that to no avail, "Bang" will close in for the kill.
Ludwig wins via Round 3 knockout

Dale De Souza: So Josh Neer is back, and with a win over Keith Wisniewski, he's already headlining a free card.
If you haven't seen Neer fight, he's pretty much a good example of why people give a damn about the lightweight and welterweight divisions, because even when he loses and loses convincingly—as he did to Eddie Alvarez in Bellator—he at least keeps you awake before his opponents put him to sleep.
Now at welterweight in his current UFC run, Neer has an "always-on" killer instinct and knockout power, but it's been a while since he's fought anyone that could flatline his night and his momentum the way Duane Ludwig can.
Ludwig is coming into his own as a straight up mixed martial artist, and officially owns the fastest knockout win in UFC history. On top of that, his knockout power is mean in its own right.
Neer will be taller and younger than Ludwig, and I would not be surprised if the reaches were identical, but Neer will have to make sure he's amped his wrestling as well as his strength and conditioning if he wants to hang with Ludwig.
If it stays on the feet, it won't matter who Neer is or why he is not going to back up against Ludwig. He's getting knocked out, whether he likes it or not.
Winner: Ludwig by Round 3 KO
Jeff McKinney: UFC vets Josh Neer and Duane Ludwig will meet in what could be Fight of the Night.
Although Ludwig has had a rocky back and forth career, he is currently on a two-fight winning streak and looks to continue to build his record.
Ludwig has a Muay Thai background so he should be looking to keep the fight standing.
Neer may be the younger of the two fighters, but he's just as experienced and may be the more well rounded fighter of the two.
He comes into this fight on a five-fight winning streak, but most of that competition came from smaller promotions.
To Neer's credit though, he does own a 2006 victory over Melvin Guillard.
This should be a good fight that could go the distance or end with a first round KO.
Neer may be the safe pick, but I believe Ludwig will have the slight experience factor and gain an edge over him.
Ludwig by Split Decision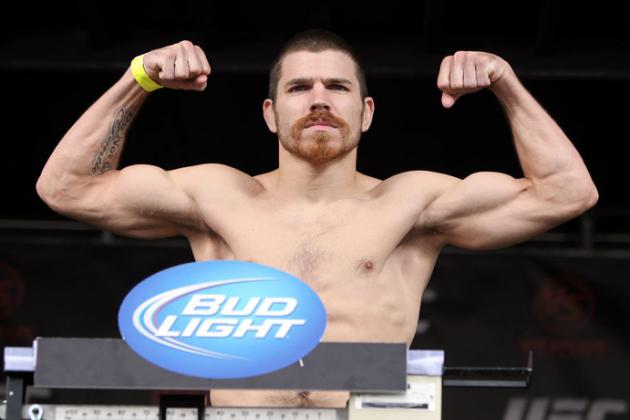 Josh Hedges/Zuffa LLC/Zuffa LLC
John Heinis: Two of the most recognizable faces at 155 pounds will battle it out in the main event to determine who still remains at the top of the division.
Both fighters are coming off of losses that knocked them out of the immediate title picture.
Guillard took submission specialist Joe Lauzon lightly before getting caught with a straight right and rear naked choke at UFC 136.
Meanwhile, at UFC Live: Hardy vs. Lytle, Jim Miller's risky, submission heavy attack left him wide open for Ben Henderson's vicious ground and pound, and "Smooth" was able to cruise to a dominant unanimous decision win.
Prior to those fights, Miller and Guillard were riding impressive seven and five-fight win streaks, respectively.
Miller is a Brazilian Jiu-Jitsu black belt who comes from a wrestling background, so while his attack will always be submission heavy, he has good enough stand up to hang with a lof of guys in the UFC's lightweight division.
On the other hand, "The Young Assassin" is a pretty decent wrestler in his own right, but Guillard chooses to stuff takedowns and batter his opponents with his fists instead of using a takedown heavy approach.
Guillard's punching power is second to none at lightweight, so Miller would be remiss to willingly keep this fight standing for an extended period.
However, also bear in mind that Miller has never been stopped in his three career losses, so the Greg Jackson turned Blackzilian slugger will have his work cut out for him.
Given that Guillard has long struggled against fighters with a solid submission acumen, I think we'll see an entertaining war that ends late in the fight when "The Young Assassin" runs out of gas.
Jim Miller via Round 3 submission (triangle choke)
Dwight Wakabayashi: This is a very exciting and important matchup for the lightweight landscape in 2012, as both these men are right at the front of the line in terms of earning a shot at the title in the very near future.
However, a loss for either of these men would be the second in a row, and knock them right back down the ladder. One fighter will have to climb a tough climb to get back to this spot.
Guillard is coming off his surprisingly quick loss to Joe Lauzon, and needs to come in with a much calmer, even mindset than he did in that fight.
Guillard was way too jacked up before that fight, and it cost him dearly, as Lauzon knocked his star down considerably with the easy win.
Guillard is as quick and explosive as they come in the 155 pound division, but against a tough veteran like Miller he can't expect to get an easy knockout.
Miller is also coming off a loss to Benson Henderson, where he was outpointed and outclassed by a slightly better fighter that night.
Miller brings a relentless, in-your-face, pressure style that can tire you and break your will to win. He is going to want to get in Guillard's face early and let him know that he is not going anywhere easily. He'll want to work his clinch, takedown and all-around wrestling game.
Miller's attack will either break Guillard's will and open him up for the finish, or it will lead to a "grind it out" decision victory. Either way, I see it being a long night for Guillard.
Miller wins via unanimous decision
Dale De Souza:
In a perfect world, Melvin Guillard and Jim Miller would be fighting for a spot in a title eliminator opposite the winner of Anthony Pettis' UFC 144 bout with Joe Lauzon, but alas, both are fighting to get back on the winning track after suffering losses in 2011.
Guillard's loss to Lauzon came as no surprise to some, as his jovial attitude—the result of fighting in Houston against a man he personally expressed interest in fighting in Lauzon—came off as cocky. In about 46 seconds, Guillard would pay for it as Lauzon submitted "The Young Assassin."
Realistically, a loss to Benson Henderson should not be a surprising footnote on anyone's record, but many were shocked that Miller was handled so easily by Henderson, and now here they both are: in the marquee fight of the UFC's true debut on FX.
The bout breakdown is simple: Miller is a hard hitter, he hits to set up takedowns and he sets up takedowns to implement his wicked jiu-jitsu game. Meanwhile, Guillard possesses a strong wrestling game and can hang with some of the best in the world, but he almost always opts to stand and trade—often looking to land his patented money shot, which is a hook to the body.
Guillard is determined to avoid the same mistakes he made against Lauzon, but while he might have the better and more explosive striking, it takes a lot to rock Miller. While Guillard could show some sick ground and pound with a successful takedown on Miller, Miller has the potential to end Guillard's night even if he's put on his back, in what should be a very close but somewhat clear encounter.
Jim Miller by Split Decision (29-28 x2; 29-28 Guillard)
Jeff McKinney: Melvin Guillard and Jim Miller are two guys who were asking for title shots in 2011.
While both fighters looked good at the beginning of the year, they both ended the year with a loss.
Now Guillard and Miller are hoping to climb back up the rankings.
Guillard comes into the bout with twice as many fights as Miller.
Known for his striking and cocky attitude, Guillard has all the potential in the world to be a champion.
But when ever he gets close to a title shot, he seems to break down.
If needing the win to get back into title contention wasn't bad enough, Guillard has the pressure of fighting under a new camp as he recently left Greg Jackson's group in order to train with the Blackzilians.
While Guillard has KO power, it will take a lot to keep Miller down.
Miller's three losses have come to Frankie Edgar, Gray Maynard, and Benson Henderson, and they were all by decision.
Miller has a few knockouts of his own, but he is known for his Brazilian Jiu-Jitsu, which has earned him eleven submission victories.
Although Guillard is tough when he is focused, eight of his nine losses have come by submission.
This fight could go either way, but I believe Miller gets Guillard to tap.
Miller by Submission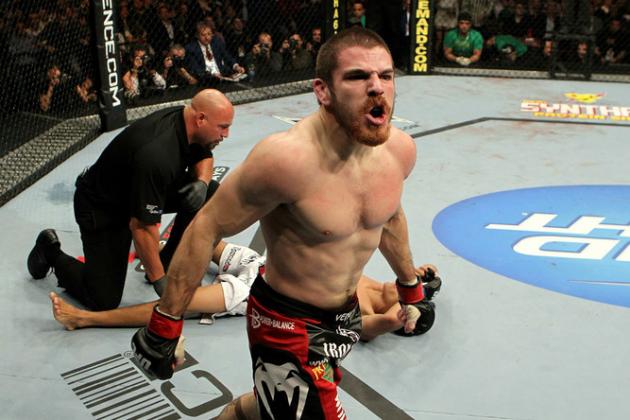 Josh Hedges/Zuffa LLC/Zuffa LLC
John Heinis: Fight of the Night: Guillard vs. Miller

Knockout of the Night: Pat Barry

Submission of the Night: Josh Neer
Dwight Wakabayashi: Fight Of The Night: Ludwig vs. Neer
Knockout of the Night: Kamal Shalorus
Submission of the Night: Nick Denis
Dale De Souza: Fight of The Night: Papazian vs. Easton
Knockout of the Night: Duane Ludwig
Submission of the Night: Jim Miller, if he submits Melvin Guillard
Jeff McKinney: Fight of the Night: Ludwig vs. Neer
Knockout of the Night: Pat Barry
Submission of the Night: Jim Miller