San Francisco 49ers: Appreciating Alex Smith's Perseverance
January 18, 2012

Ezra Shaw/Getty Images
This past Saturday a much maligned former first-round pick, who played under Urban Myer in college, threw a miraculous touchdown pass as time was nearing expiration.
He led his team to victory in what will ultimately be known as his career-defining coming-of-age play.
It wasn't that former Urban Myer coached player either. It was of course, Alex Smith.
Ever since being drafted number one overall out of Utah by the San Francisco 49ers in the 2005 NFL Draft, Alex Smith has been widely considered a bust. He was viewed as a man that was a product of the "system" he played for at Utah and wasn't the prototypical NFL QB.
He was too small, didn't have a strong enough arm and would surely break down if he tried to have the same success with his legs he had in college.
In his rookie season, Smith threw just one touchdown compared to eleven interceptions. He continued to struggle the next few seasons as the man they passed over, Green Bay QB Aaron Rodgers, went on to win a Super Bowl and emerge as one of the best QBs in the league.
49er fans continued to grow frustrated with Smith and were calling for a change.
Upon completion of his fifth year in San Francisco and the completion of his rookie contract, he had thrown 51 touchdowns and 53 picks. The 49ers were just 18-31 in games started by Smith and it looked like the team was poised to finally go in a different direction when the Seattle-born player hit free agency this past offseason.
However, with the lockout-shortened offseason, a brand new rookie head coach coming from college with no prior head coaching experience and little other offseason moves, the Bay Area club decided to stay put and give Alex a one-year deal to come back.
The mindset was that keeping a team that was familiar with each other under a new coach could allow Smith to give it a go one more time.
It's a good thing they worked out the way they did.
Alex Smith moved out of the category of NFL draft bust, (with the likes of Ryan Leaf and Akili Smith) right into the class of young, emerging, NFL QBs on the cusp of trying to break the glass ceiling and take their team to the promise land, a Super Bowl. He joins a class that includes Philip Rivers, Tony Romo, Matt Ryan and others.
Smith is a classic example of a little patience going a long way. Smith, the "system" guy as I mentioned above, proved he may have just needed a stable system.
Alex went through five different offensive coordinators in his first six years in the league. That's a disturbingly high number. Many young quarterbacks who come into this league struggle to learn and master one system.
This guy has had to learn five or more. He showned his ability to learn various playbooks, terminologies and tactics but was never allowed to blossom under any of these previous coaches.
It's an alarming thing happening all across the league. Players, coaches and GMs are all being asked to win in seemingly one year or else. His coaches were being cast aside year in and year out, and it seemed like he was forced to start back at square one every time he strapped on the helmet for training camp.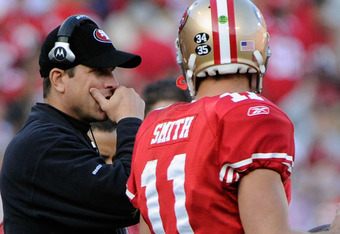 Thearon W. Henderson/Getty Images
These were things that were out of his control and they certainly didn't help his overall development. This year was no different; with a new season came a new coaching staff. However, since day one on the job new head coach, Jim Harbaugh, showed confidence in Smith. He wanted to bring him back and named him his starter.
Jim Harbaugh brought a new voice, but he has also played QB in the NFL. That was huge for Alex. Harbaugh was a guy who could suddenly relate to what he was going through, situations he had encountered and situations he would face coming up.
Alex was suddenly not being asked to carry the team, but simply to lead it. He was asked to be a leader of men and no longer the wide-eyed, overwhelmed guy he appeared to be in previous seasons.
Harbaugh simply wanted Alex to play the game with the confidence a first-round pick and potential franchise quarterback should have. Such confidence is infectious. Other guys on the team see that and they can thrive off of that.
Harbaugh's confidence in Smith paid off all season. Sure he had nine games where he threw for less than 200 yards, but he had a career-low five interceptions. He made good decisions and distributed the ball when necessary, leading to 17 touchdowns.
In addition to those stats, his confidence and presence was embraced by the team and they had their most successful season in a decade, going 13-3 and snagging the number two overall seed in the NFC.
This past Saturday when all the hard work, the 13-3 season and the result of the playoff game was in the balance, Harbaugh showed the most confidence in Smith to date. With the 49ers already in field-goal range to tie the game, Harbaugh made an investment in Smith that the 49ers had failed to do since announcing his name on draft day.
Harbaugh was no longer asking Smith to manage the game as he had all season. He called a play that allowed Smith to go out there and try to win the game because he believed in him and he believed in the hard work and confidence Smith showed all season long.
That belief paid off. Smith threaded the needle between three Saints defenders and found Vernon Davis for the game-winning touchdown. In one magical play, Smith silenced seven years of frustration, critics and the draft bust label.
He showed that the immediate-results league the NFL has seemingly become may be a little premature. For at least one day, one game and one play he was as good as anyone in the league.
Smith made the play of his life during the game of his life, with four overall touchdowns. Now he is riding a wave of momentum unlike anything he has ever seen before. But it wouldn't be as sweet if he didn't have to face the adversity he encountered during his first six years.
His interceptions and the boos his team endured during losing seasons were learning experiences for Smith. They allowed him to overcome it all and become the player who can make that game-winning touchdown pass.
Players can progress, coaches can make adjustments and GMs can find new players to build championship contenders. Not all players burst onto the scene and are a legend overnight. Not all players stockpile championship rings before they hit their late twenties.
Some players face adversity just like everyone does in life. Just because these men and women make their living on a field, diamond or court doesn't make them any different than anyone else in this country. They face challenges just as we all do, and they might fall along the way.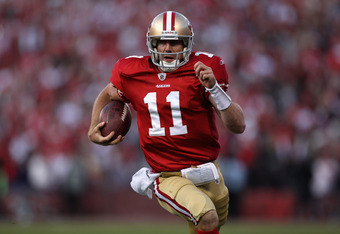 Jed Jacobsohn/Getty Images
But it's the ones that continue to get up and fight that become the true legends. The true role models are the ones who can overcome defeat, keep working and persevere.
They are the ones that exude true greatness, never throw in the towel and never quit. They always keep working and strive to be better.
Those are the players I would want to build my team around. Give me Alex Smith. Give me guys that keep working and never give up over the ones who are only passionate when times are good.
I don't want the guys who will crumble at the first sign of adversity. Championships are not built overnight, Hall of Famers are not elected after single seasons and a measure of a man isn't simply in one action.
Alex Smith is an example of perseverance, hard work and dedication. He might not be a premiere QB in this league. He is certainly not in the category of a Tom Brady, Peyton Manning or Drew Brees. However, on this particular day he was rewarded for all of his hard work.
For that I was extremely happy for him and the 49ers as they celebrate their divisional playoff win. However, it will only last so long. The NFL is a "what have you done for me lately league," and Smith will be judged again based upon his performance this Sunday against the Giants.
But at least for one week Alex Smith is on top of the world, and more people should take the time to appreciate it and tip their cap to a guy who deserves it. This is why we watch sports.