2012 NFL Draft: 5 Major Sleepers Who Could Be Stars at the Next Level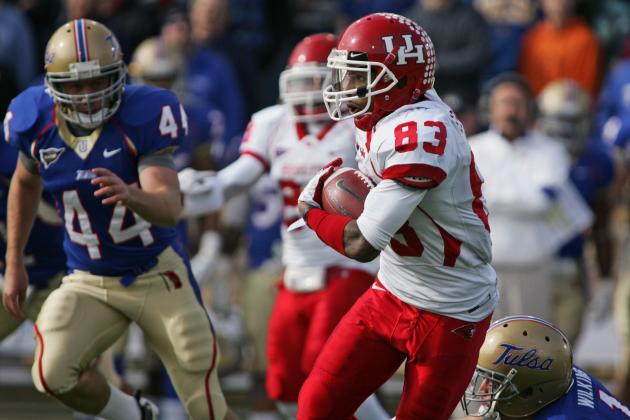 Brett Deering/Getty Images

Every year there are always players in the draft who no one talks about, and it turns out they have a huge impact in the NFL. The dream of every team is to use their late-round picks to find this proverbial diamond in the rough.
Everyone has thoughts each year on who these possible draft sleepers could be. This year I believe there are some major sleepers that no one is talking about. I think some of these players could have a huge impact on whatever NFL team they go to.
Here now is my list of five sleepers to watch for in the 2012 NFL draft.
Begin Slideshow

»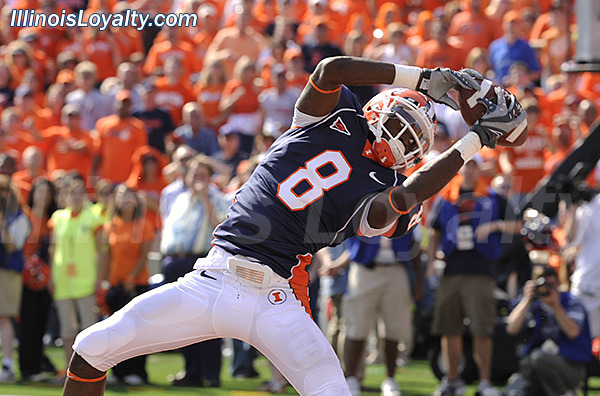 A.J. Jenkins is currently projected to go in the fourth round of many mock drafts. If he does go in the fourth round, whatever team gets him will surely be happy with their selection.
Jenkins led the Illinois Fighting Illini this year with 90 receptions, 1,276 yards receiving and eight touchdowns. One of the reasons I consider Jenkins to be such a sleeper is because the Illini had very little talent at the wide receiver position.
Jenkins had seven of his eight touchdowns through the first six games of the season. His next touchdown came seven games later during the Kraft Fight Hunger Bowl. The reason Jenkins numbers went down is not due to his lack of talent, but the lack of talent on Illinois, like I mentioned before.
Jenkins was the focal point of the offense and was thrown to so often that opposing teams realized they needed to focus the majority of their attention towards him.
With the amount of attention defenses were giving Jenkins, he had no chance to succeed. He has the ability to be a big play receiver and would be a good No. 2 or No. 3 receiver on any NFL offense. In my opinion Jenkins should be a second-round pick, but since there is so little hype surrounding him it appears he will go in the third or fourth round.
Whichever team pulls the trigger and takes Jenkins will have a great young talent on their hands.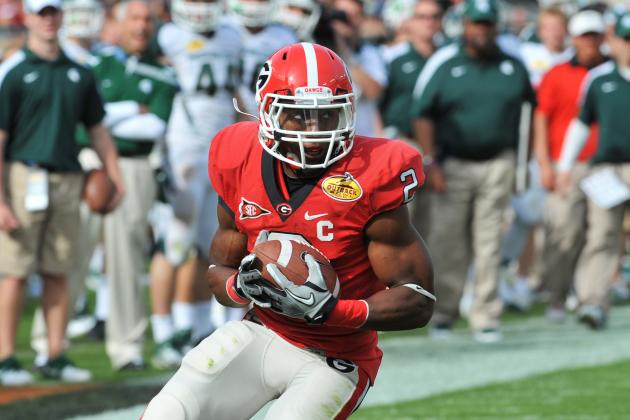 Al Messerschmidt/Getty Images

Brandon Boykin is a game-changer. When Boykin gets the ball into his hands, he makes big plays happen. He has great speed and a natural instinct to break free from defenses.
Boykin's great skill can be seen in the fact that he is the only player in SEC history to have three 100-yard plays in his career. He was also named the winner of the Paul Hornung Award, which goes to college football's most versatile player.
Boykin is also a solid cornerback. He is not very tall at 5'10", but like I said before he has good speed, so he can contain most receivers despite his size. I would expect Boykin to be a third-string cornerback for whichever team drafts him.
Boykin will likely go in the third round of the draft this year. I think this is probably the right round for him to go in. Most players that are extremely strong on special teams will usually go in the third or fourth round, and Boykin certainly is strong when it comes to special teams.
Whichever team drafts Boykin will have a very explosive player on their hands, who has the ability to change the game whenever he touches the ball.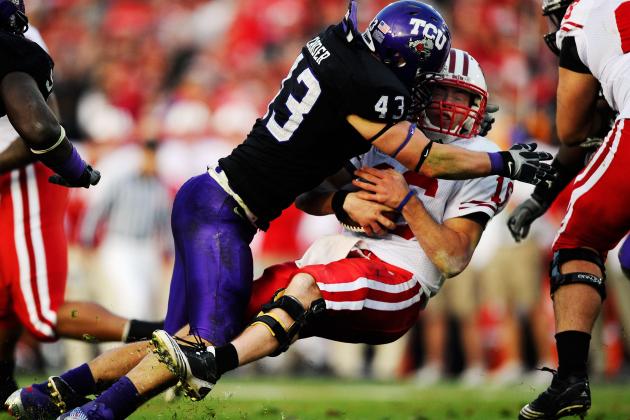 Kevork Djansezian/Getty Images

Tank Carder is one of the deepest sleepers in this year's draft. Carder is currently projected to go in the fifth or sixth round of this year's draft. One of the reasons Carder is projected to go so low is because this is an extremely strong draft class for linebackers.
Many people know Carder because in his junior year he anchored the strong defense of TCU that won the Rose Bowl in 2011. Carder fell off the map a little bit in his senior year, but it certainly was not his fault. I think Carder is not talked about as much now because TCU did not have as successful of a season as it did last year.
Although TCU had a slightly down year, Carder's numbers went up. He had 70 tackles this season, seven more than last year. Carder also had two interceptions and returned both of them for touchdowns.
Since this draft is so full of talented linebackers I do not really expect Carder to go higher than the fifth or sixth round, his projected spot, but I would not hesitate to take him in one of these rounds. He is extremely talented, and he can help add youth at the linebacker position for any team.
Any NFL team should be happy to had a player like Carder to their roster.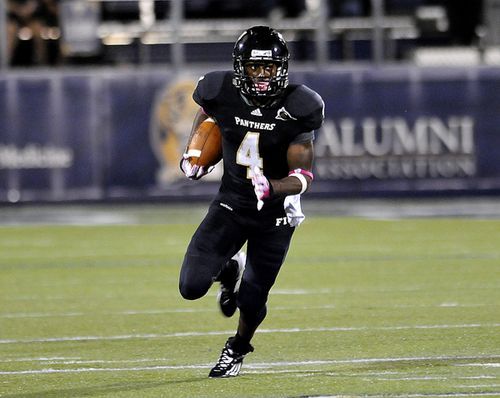 Just like Brandon Boykin, T.Y. Hilton is a game-changer. The difference between them is that Hilton is a wide receiver as well, so he has the opportunity to get the ball in his hands more than Boykin who is a cornerback.
Hilton has six kick or punt returns in his four-year career at Florida International. He also has over 3,500 yards receiving in his career. This year, his senior season, Hilton had 72 receptions for 1,038 yards and seven touchdowns.
Hilton is not very tall, 5'10", but would be a great slot receiver for any team. I think Hilton has all the talent to be a solid NFL player, but I do not think people have seen him play much because he plays at Florida International.
Hilton is considered to be a third- or fourth-round pick right now. I think early third round is an accurate spot for him. Like I said with Brandon Boykin, strong special teams players generally go in the third round. Hilton is not only a strong special teams player, but a good slot receiver, and that is why I think he will go early in the third round.
Whichever team drafts Hilton adds an explosive special teams player and a player who can add another dimension to their offense.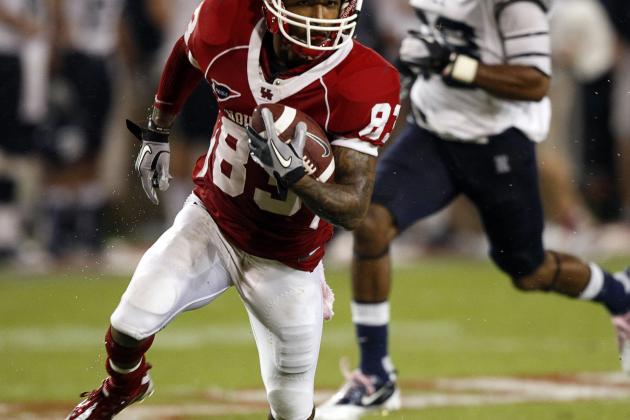 Bob Levey/Getty Images

Patrick Edwards may be the biggest sleeper in the history of the NFL Draft. Say what you want about his stats being inflated because he did not play tough teams, but Edwards can play, and the NFL will find out soon enough.
Edwards is currently projected by many mock drafts to not be drafted. This is completely insane because I think Edwards is a second- or third-round pick. Edwards had 89 receptions this season for 1,752 yards and 20 touchdowns.
Any player who can do this deserves to be drafted. His 89 receptions tied for fifteenth in the league, his 1,752 yards were second and his 20 touchdowns were the highest by any receiver in college football.
The reason I think Edwards is so talented though is because of what he did in the TicketCity Bowl against Penn State. The Penn State Nittany Lions defense was considered one of the top defenses in the country this season. They allowed an average of 16.8 points per game which was fifth in all of college football. Edwards did not seem to care though.
He lit up the Penn State defense for 228 yards and two touchdowns. This is why I believe Edwards can play in the NFL. Even though his team played a fairly weak schedule this season, he stepped up and played well even when they played against strong defenses.
Edwards is an absolute steal in the draft this year. I would give an A-plus to whichever team decides to take him because this guy is a big time player and can help out any offense.