2012 NFL Draft Projections: Overlooked QBs Who Deserve More Respect
January 19, 2012

Christian Petersen/Getty Images
The NFL draft is not always about the quarterbacks, but they do make it far more interesting. Teams are always going to reach for that position in the draft because of how important it is to the success, or failure, of the franchise. 
This year's draft has a number of intriguing quarterback options, even after you get past Andrew Luck and Robert Griffin III. There seems to be a lot of debate on whether or not they will be the only two taken in the first round, but we should know better than to question the power of the signal-caller. 
Here are the quarterbacks that deserve more respect than they are getting. 
Nick Foles, University of Arizona
Foles is a borderline first-round pick right now, and it is entirely possible he gets taken that high depending on how some other things shake out in the top 10. 
He has all the measurables that scouts look for in an NFL quarterback. He is 6'5", 240 pounds with a great arm, accuracy and the ability to avoid would-be tacklers in the backfield thanks to his presence in the pocket. 
The problem is inconsistency on the field. He had moments of brilliance during his time at Arizona mixed in with games where he looked completely lost. If he can harness the good and block the bad, to use a Happy Gilmore reference, he could be a steal for some team. 
Ryan Tannehill, University of Texas A&M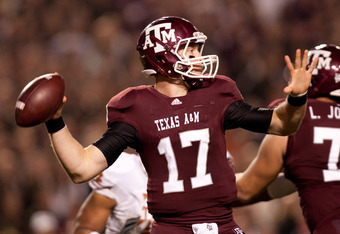 Darren Carroll/Getty Images
Like Foles, Tannehill's inconsistency in college is going to hurt his draft stock. He is also dealing with a broken foot that will prevent him from playing in the Senior Bowl and could keep him out of the scouting combine. 
Those red flags are likely going to drop him out of the first round, but when healthy he is one of the best overall prospects in this draft. 
If the Cleveland Browns, who have two picks in the first round, decide to pass on Robert Griffin III with the fourth pick, Tannehill would be a very nice backup plan with the 22nd pick. 
Brandon Weeden, Oklahoma State University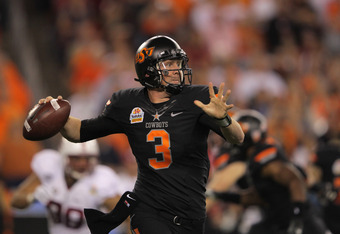 Doug Pensinger/Getty Images
The biggest knock against Weeden isn't about anything he does on the field, but the fact that he is 28 years old. He went to school late because he played baseball in the New York Yankees farm system from 2002-06. 
During his time at Oklahoma State, he proved himself to be one of the best quarterbacks in the country. He has great physical attributes at 6'5" and 225 pounds with a rocket arm and nice accuracy. 
His stock is going to be hurt more than most players simply because of how old he is, but he does have the potential to be a more-than-capable starting quarterback in the NFL.