Washington Redskins: Peyton Manning Is Not DC's Answer in 2012
January 19, 2012

Kent Nishimura/Getty Images
It's not that I don't love Peyton Manning. For well over a decade, Manning has been the face of the NFL. He's marketable, he commands respect and, of course, he's one of the best pure-passing quarterbacks in the history of the game. 
So, why am I about to state that my position stands opposite of those who would bring Peyton Manning to D.C. in a millisecond? It's because the Redskins need to stand firm on thinking long term if they want to get this franchise out of the cellar. 
I'll admit, it seems a little crazy to hit the skip button on a guy whose career passer rating is 94.9 and is just shy of hitting 55,000 yards for his career. But this is also the same guy who sat out an entire season with a surgically-repaired neck. We're not talking about elbow bursitis here. 
Nor are we talking about a baby-faced rookie fresh out of Knoxville. Peyton Manning will be a ripe 36 by the time summer workouts convene, so there is age to consider here as well. Age and durability concerns for that matter, and when you combine the two, you get a quarterback, however great across his career, who is suddenly not as attractive an option as he seemed on paper. 
So, what's the answer? Well, first and foremost, we need to win the draft battle with Cleveland for Robert Griffin III. Yes, they have two first-round picks to our one, but we also have Dan Snyder, his ego and his deep pockets. This is the same guy that paid $100 million for Albert Haynesworth to come and embarrass himself in and around the nation's capital. 
If, for some reason, the Redskins can't successfully navigate the draft waters to land Griffin III, there are other options.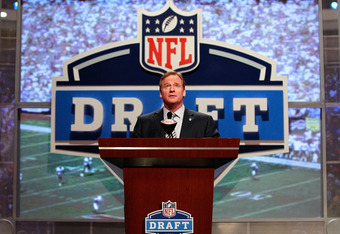 Chris Trotman/Getty Images
Tyler Wilson from Arkansas was a mobile, big-armed threat that led the SEC in passing this past season. Wilson also had the advantage of playing in Bobby Petrino's pro-style offense, and this could be a deal sweetener for a team looking to avoid developing a "project" over the course of a couple seasons.
Nick Foles from Arizona and Brock Osweiler from Arizona State both had monster years in the Pac-12. With Foles the shorter of the two at 6'5", there is plenty of pocket presence to go around here and more than enough arm strength. Osweiler, in addition, is far more mobile than his 6'8" frame lets on, although he is still a little raw and is primed for a few growing pains. 
I didn't want to turn this into a mock draft card, and I don't intend it to be.
RGIII is certainly the cream of this year's quarterback crop (aside from Andrew Luck), but there are more than two talented quarterbacks to be had in the draft. 
Unfortunately, the same can't be said for the two quarterbacks currently on the Redskins roster. 
A stop-gap sounds attractive at first, but when you think about it, all it does is set up the Redskins to keep perpetuating an already-vicious cycle. For years now, we've either settled for a middle-of-the-pack prospect with a lot of "promise" (Patrick Ramsay) or signed a proven veteran who couldn't stick around long enough to generate any positive residual energy (Mark Brunell). 
Don't forget the Donovan McNabb experiment either. That one, uhh...failed.
Washington hasn't been able to boast a true, franchise quarterback in years. It's about time we draft, develop and build around a signal caller that we can be proud to rally behind.     
Here's the thing: Peyton Manning is a rare talent, and he's had 14 seasons to demonstrate this fact.  But with the Redskins' needs being as dire as they are, it seems to be a stretch to want to place our hopes for resurgence on a quarterback whose best years [I'm shamed to say] are behind him and is still recovering from neck surgery No. 3.
This being the Twitter era, it would be criminal not to mention that Rob Lowe of The West Wing fame tweeted today that Peyton Manning has announced his retirement. Lowe is very close to the Colts ownership, though I doubt between mai tais on a balcony somewhere in Maui, he's getting Twitter alerts from Peyton himself. 
Again, I couldn't not mention it.   
The Redskins need to have faith in the draft, and they need to pursue Robert Griffin III as hard as possible. If Cleveland wins the RGIII sweepstakes, then Shanahan goes after the next best option. We not only need a quarterback, but it needs to be someone young with a great deal of upside.  
Dan Snyder needs redemption. Bruce Allen and Mike Shanahan would probably like nothing more than being able to cement their legacy as the men who helped right the ship.  
On April 26, they'll all have their chance to begin doing just that.