The North Carolina Tar Heels All-2000s Basketball Team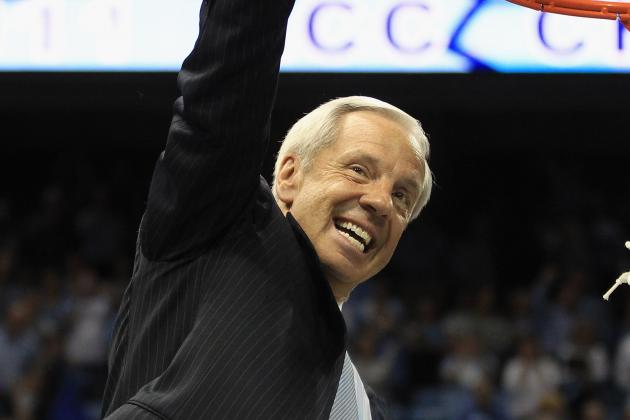 Streeter Lecka/Getty Images

The University of North Carolina is one of the greatest college basketball programs of all time—period.
With five National Championships and over 2,000 wins, the team has the numbers to back up that statement. Since the turn of the century however, UNC has taken it up another level.
The Tar Heels' resume includes four Final Fours along with two championships since 2000, proof that they have been one of the best—if not the best—team in the country this millennium.
They've had their down seasons like most teams, but for the most part UNC has been on top of the college basketball world. That success is due in large part to head coach Roy Williams, who replaced Matt Doherty before the '03-04 season. Since then, the program has soared to new heights, bringing in great players left and right.
There are 12 current players on an NBA roster that went to North Carolina, nine of whom have played under Williams. Out of the nine, only one fell past the first round. Many other Tar Heel alumni play in the D-League and overseas, and a few that have started their coaching careers. Some have even gone to NFL careers.
The level of talent is so high that unfortunately not everyone made the cut for this team. Most other fan bases would die to have this many talented players as alumni all time—this is just a list made from the past 11 years.
So now with your mind blown from the excellence of Carolina basketball, sit back and enjoy the list.
Let's start off with the First Team...
Begin Slideshow

»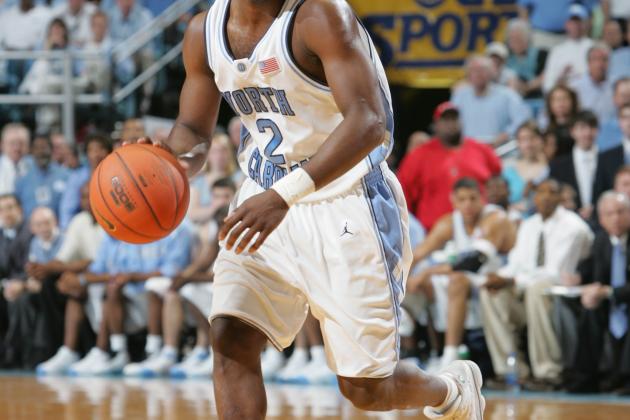 Streeter Lecka/Getty Images

Career Stat Line (per game): 12.5 points, 6.9 assists, 4.1 rebounds, 1.9 steals
It was hard to choose between Raymond Felton and Ty Lawson for the starting role, but to me, Felton's leadership gave him the edge. Certainly many elite point guards that have dawned the North Carolina uniform, but he is one of the greatest.
Besides just leading his team to a National Championship in 2005, Felton put up extremely good numbers as you can see above. He was a true floor general and great teammate. He always seemed to no exactly where everyone on the floor was and was able to find them at a moment's notice.
Along with May, they were probably the biggest reason the team won it all their final year. The maturity and talent he possessed were bar-none.
Felton didn't just dish it—he could also score when he needed too. His biggest asset was his scoring deceptiveness. His passing skills made teams think about assists first, and then he would just drive to the goal and make them pay.
He had the ability to go off scoring-wise if needed, and at times he showed that. For the most part, though, he did what it took—whether it meant scoring or passing—for the team to win.
Felton's lived up to his ability in the NBA as well. He is having the best career out of any of the Tar Heels on the list, and I don't think he'll allow that to change anytime soon.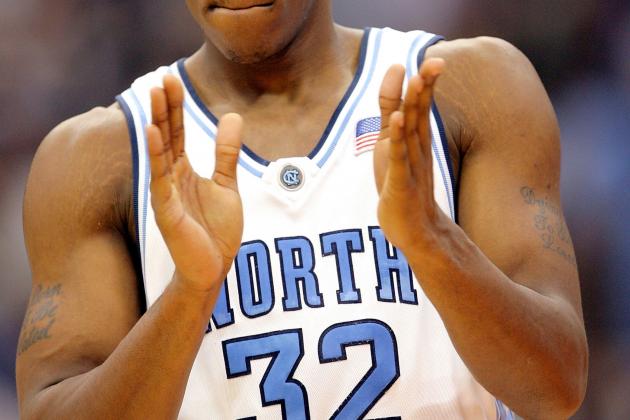 Jamie Squire/Getty Images

Stat Line: 17.6 points, 2.1 assists, 4.1 rebounds, 1.5 steals
I never thought I'd say this, but I miss Rashad McCants. His chippiness and energy level is exactly what this year's team is missing.
His ability to electrify the team and the crowd throughout the game is something that the Tar Heel's lack in 2012, a huge factor in their losses. The talent's there, but something that McCants brought isn't.
Still, I'm glad some of McCants' other qualities—such as his attitude and maturity—aren't here. Overall though, Rashad was a big part in the 2005 Championship run. He was primarily a scorer, and he was good at his job.
He brought it every single game and was often the spark the team needed to pull out the win.
In my opinion, part of his contributions, legacy and talent is due to his teammates. There's no doubt he could have scored more points if he had of chose a different school, but his immaturity might have cost him. With the leaders such as Felton and May surrounding him, it kept him down to earth, which helped him—and the team as a whole—to develop.
In 2005, McCants finally got to let out all that emotion in a victorious fashion.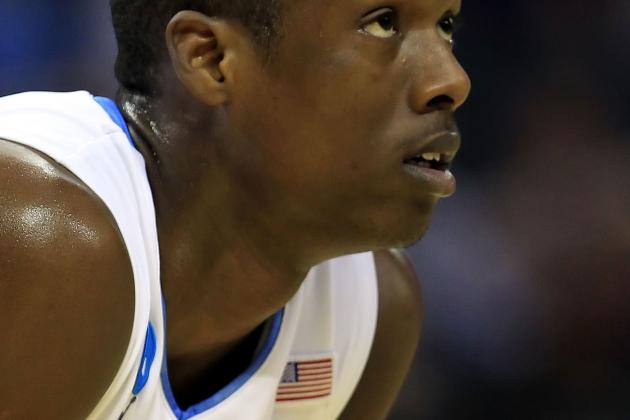 Streeter Lecka/Getty Images

Stat Line: 16 Points, 1.3 assists, 5.5 rebounds, 0.8 steals
There may be a few players who have had as good as numbers as Barnes, but no one has been on the same talent level as him.
Coming in as the only freshmen to ever be named a pre-season All American, HB had an indescribable amount of pressure on him. In the early goings it got to him, but by seasons end you would have never noticed.
Few at the college level have Barnes' ability to take over a game at a moments notice with poise—including his clutch shots last year against Miami and the buzzer beater against Florida State. He proved he can be an overall dominant force by dropping 40 points against Clemson in the ACC Tournament—a freshmen record
Though he's only been on the team for a year and a half, he has rightfully earned his spot on this list. 2012 might be his last year of college ball, but he has given—and hopefully will still give—us memories to last for quite some time.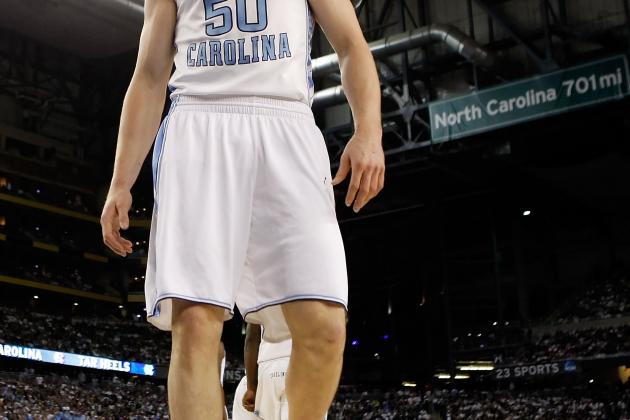 Streeter Lecka/Getty Images

Stat Line: 20.2 points, 1.1 assists, 8.6 rebounds, 1.3 steals
Any list of greatest Tar Heels of all time would have this name on it, so it's no surprise to anyone that Tyler Hansbrough would be a starter on this team either.
When some consider you the greatest college basketball player of all time, you probably did something right. Besides sticking around for all four years, "Psycho-T" earned Player of the Year, broke the ACC scoring record, and won a National Championship—among other outstanding achievements.
He is one of only eight Tar Heels to have his number retired. The number 50 hangs besides the likes of James Worthy and Michael Jordan, if that tells you anything about just how dominating he was.
Hansbrough's hustle and work ethic made him an early fan favorite, and his legacy grew through each of his four years. Out of all the numbers he put up, the one most admire most is his 4-0 record at Cameron Indoor Stadium, including embarrassing the Blue Devils on Senior Night his freshman year.
He brought hope back to Chapel Hill the year following the '05 National Championship, when all the talent headed for the NBA. His first three tournament appearances fell just short, but he came back to win it all—in legendary form—with a blowout against Michigan State.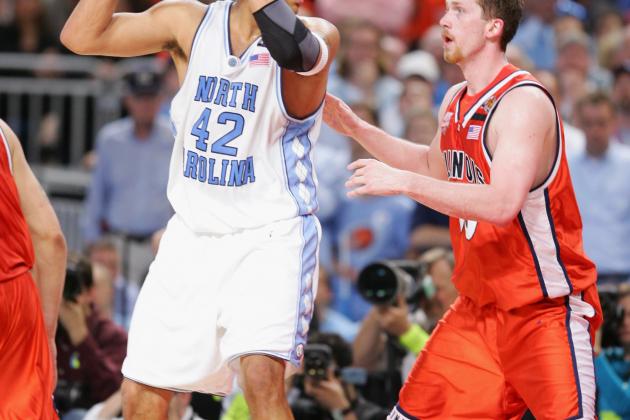 Elsa/Getty Images

Stat Line: 15.8 points, 1.5 assists, 10.0 rebounds, 1.2 blocks, 1.3 steals
May only played in eleven games his freshmen year due to injury, but you could still tell just how great of a player he was going to be.
He was true workhorse in the paint, evidenced by his numbers. Not too many people can average a double-double for their career, but May showed his greatness by doing so. Though his times at Chapel Hill were often accompanied with injury, he pushed through to show his toughness.
In the 2005 title run May really inserted his dominance. He put the team on his back in the championship game by shooting 91 percent from the field—going for 26 points and 10 boards. His will to win was absolutely contagious, and thankfully his teammates caught it.
Though some have forgotten about him since leaving college after he fizzled out in the NBA, he will always be loved in the hearts of Tar Heel fans.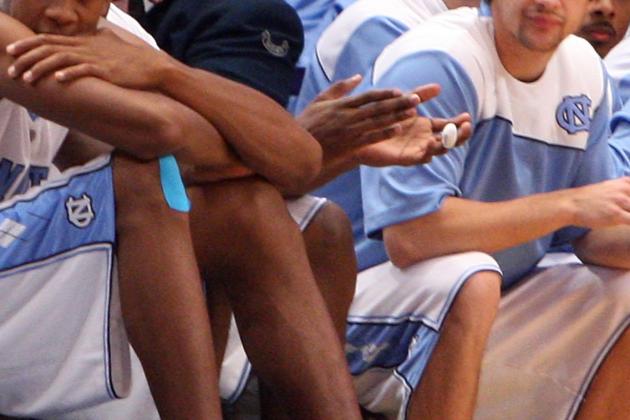 Jim McIsaac/Getty Images

Second Team is a laughable title considering the amount of talent these next five players have. Seeing that four of them all played on a National Championship team together, I'd be willing to say that they could beat just about anyone in this year's game—or most years, for that matter.
This group has two current Tar Heels, and three from the '09 team. The first three have moved on to the NBA and are breaking on to the scene as we speak, and the next two, unfortunately, will most likely be headed there next year.
Needless to say, if the First Team and Second Team had all have played together at once, they would quite possibly be the greatest of all time. Forget about just crushing the opponents from the 2000's: there's not a team that would come close to competing with this level of talent.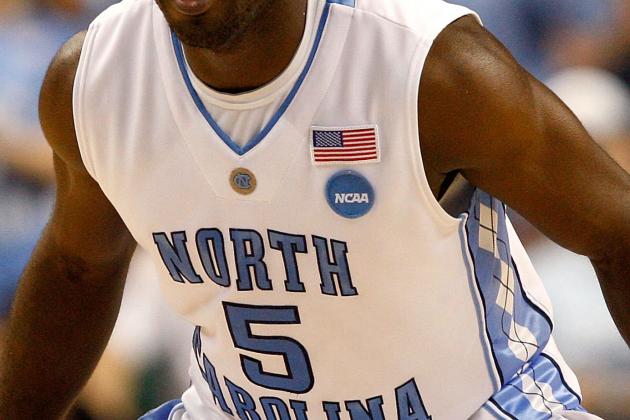 Streeter Lecka/Getty Images

Stat Line: 13.1 points, 5.8 assists, 2.9 rebounds, 1.8 steals
The difference Ty Lawson made during his UNC days is incomparable to anyone I've seen of late. Down the stretch of his final year in '09, this team was untouchable when he was on the court.
Without him they still could have won the championship, but with him they went down as one of the greatest championship teams of all time.
After rolling his ankle before the ACC tournament, the Tar Heels worried he wouldn't make it back in time for the big dance. After a second round exit in conference play due to his absence, they prepared for their first round opponent in the real thing without him. Fortunately they pulled off a win despite his absence, but hoped they would have him back for the next round.
Thankfully, he showed up—bigger and badder than ever. The next five games belonged to Lawson, none more than the championship game. Besides tying the all time steals record with eight, he dropped 21 points.
He was quite possibly the fastest Heel ever, and he showed that game in and game out, even with a bum ankle.
Lawson's performances earned him ACC Player of the Year, among other awards. His overall play got better each year he was with the team, and now he's doing it big time in the NBA as the starting point guard for the Denver Nuggets.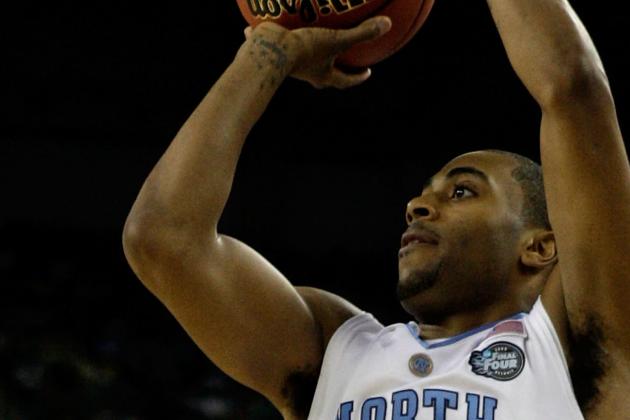 Andy Lyons/Getty Images

Stat Line: 14.7 points, 2.2 assists. 4.1 rebounds, 1.0 steals
Seeing that he is my favorite Tar Heel of all time, I am glad that he was great enough to make it on this list. Just like Lawson, he picked up his play when the team needed it most. There's no greater proof to that than him being named the Final Four's Most Outstanding Player in 2009.
Though Ellington was inconsistent at times—and stressed many people out with some of his shot selections—he was overall one of the greatest jump shooters we have ever seen. With great teammates around him everywhere, a lot of the pressure was taken off of him to be an elite scorer. Without the pressure, he became just that.
His 14.7 points per game average doesn't do justice to just how prolific a scorer he was. His inconsistency skewed the numbers, but when he was on, he was on.
Thankfully for the Tar Heels, Ellington was on the entire 2009 tournament. He shot 54 percent from beyond the arc over the six game stretch, and his sweet stroke was a large factor in the Tar Heels' smooth sailing throughout the tourney.
He may not go down as one of the greatest Heels of all time, but he definitely deserving of this recognition.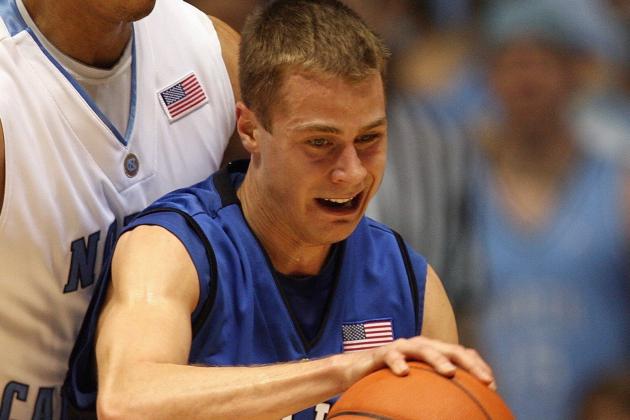 Streeter Lecka/Getty Images

Stat Line: 9.4 points, 1.8 assists. 4.1 rebounds, 1.1 blocks, 1.1 steals
His lack of playing time his first two years hurt his career numbers, but even when he became a big factor he was so much more then stats.
Besides being the best dancer on the team, Green was the glue that kept the group together. Whenever the team needed a boost of energy—be a huge dunk or just a clutch defensive play—Green was that guy. He was a hard worker, and one of the greatest sixth men ever.
At any time Green could come out of nowhere and put on a scoring clinic. He never went for a ridiculous amount, but he always seemed to get just what the team needed to put them over the top.
His excitement and leadership are something the Heels have missed in the years since his departure.
Remarkably, he was the only Tar Heel alum on this list not taken in the first round—instead, he fell to the second round. But as of a couple weeks ago he is starting to make a splash with the Spurs. If he turns out to be what he was at UNC, the NBA will be in a for a nice treat.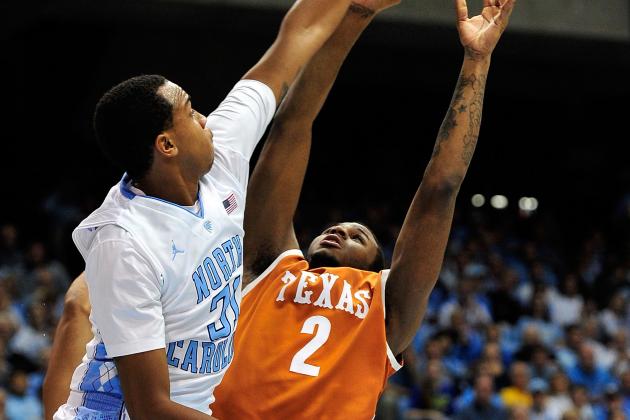 Grant Halverson/Getty Images

Stat Line: 9.8 points, 1.0 assists, 7.7 rebounds, 2.5 blocks
If there's any one player whose stats you should ignore, it's Henson's. For some reason, coming in coachees labeled the 6'11" Henson a small forward. His contribution that year was little to none which didn't help that already terrible team.
Luckily, since then he's found his right place at power forward, and has made himself at home. His numbers skyrocketed after the switch along with the number of team wins.
The impressive numbers he puts up are not enough to describe just how much of a difference maker No. 31 is. Due to his length he has the ability to alter shots without even being around the ball—teams have to game-plan ways to attack around the block machine.
Kentucky's Anthony Davis is the only other person in the country that can match Henson's length, and luckily Carolina has already got the Wildcats out of the way this season. Henson may go up against people the same size, but his hops and his reach outmatch them every time.
A lot of the times, the way he plays determines how the team goes—which isn't always the best thing. When he's on top of his game—which is usually—the team usually comes out on top, and that is why he deserves the spot on this list.
He has one season of eligibility left after the season's over. Even though he could stick around to beef up a bit, Henson will probably head for the draft—where he picked to be a potential lottery pick.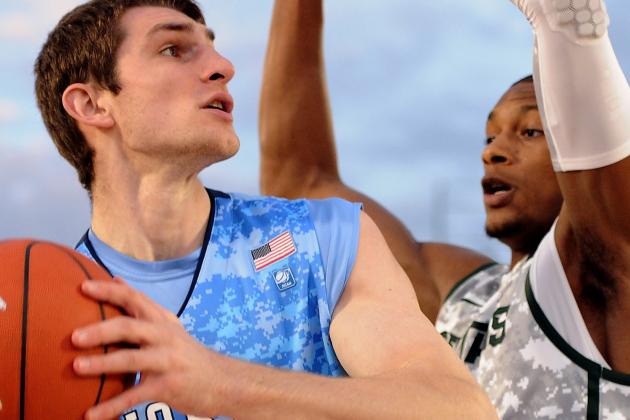 Harry How/Getty Images

Stat Line: 11.7 points, 6.1 rebounds, 1.0 blocks
Zeller is the only member of the current team who knows what it feels like to win a championship. Unfortunately for him, he missed out a large chunk of that season—due to a broken wrist. Just like the four other starters from last year's team, he came back to win the school another one.
For any other school, the numbers he puts up on a nightly basis would earn him a spot on the first team. It's hard to compete with two of the greater players in school history, though.
The only seven-footer on this list though is arguably the best center in college right now. With all due respect to Anthony Davis, Big Z plays the post much better than him. If you don't agree, just check out what happened when they squared off.
Unlike Davis, who struggles when put up against a tough opponent, Zeller uses his body to get down low to put up his deadly hook shots and/or dunks. When those don't work, he just gets hacked and heads to the free throw line, where he is just as deadly.
The most impressive asset of the big guy's game is his ability to run the floor. It helps that he has an amazing point guard in Kendall Marshall, but there have been countless fast break buckets between the two due to Zeller's hustle. If he doesn't get the board, he takes off down floor often beating his counterpart for the easy score.
Z's play will be a big part of how far Carolina can go in this year's tournament, and if he plays to the best of his ability, that could be a very long way.
Stats are from ESPN.com and statsheet.com .