Australian Open 2012: 4 Reasons Rafael Nadal Is the Front Runner for the Title
Mark Kolbe/Getty Images
Nadal has looked very sharp through the first two rounds.
While there is no doubt world No. 1 Novak Djokovic entered this 2012 Australian Open as the favorite, there have been some impressive aspects Rafael Nadal has shown in his game in his first two matches down under.
Not only has Nadal's game looked solid, but his draw is setting up very nicely. And the draws for some of the other favorites are starting to look a little rough.
So, let's get started with the four reasons why Nadal should be the front runner.
Begin Slideshow

»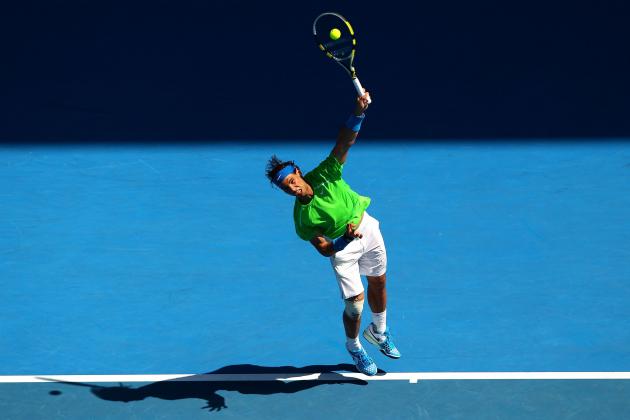 Mark Kolbe/Getty Images
Nadal is serving at speeds that are near his 2010 U.S. Open serving performance.
Through his first two matches, Nadal is already serving at faster speeds than most matches in 2011, which was something that hurt him in the big matches against the hard-hitting Djokovic.
In the two matches, Nadal's average first-serve speed has been hovering around 110 MPH—a mark that is a big difference from last year's US Open when his average first serve clocked in at around 107 MPH.
While three MPH doesn't sound like that big of a difference, it helps Nadal get his opponents off balance as he sets up his second shot so that he can be in control of the point.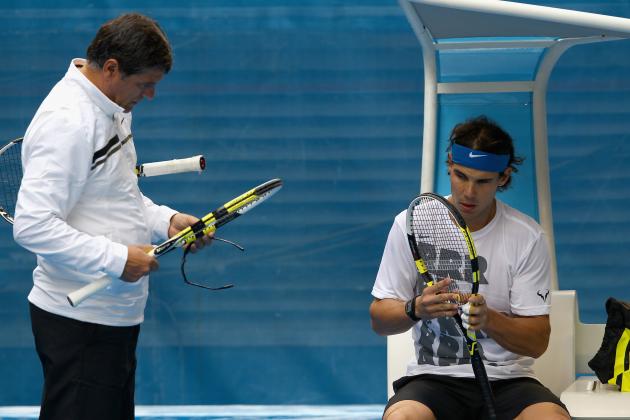 Clive Brunskill/Getty Images
Nadal's adjustments to his racket have added power to his swing.
In an effort to add speed and power to his swing, Nadal has opted to add three grams to his racket by putting lead tape on it.
Nadal is still using the same Babolat AeroPro Drive GT as last year, but by adding the three grams to it with lead tape, it will allow him to hit a harder ball that should bother top players such as Djokovic, who had little problems with Nadal's forehand last season.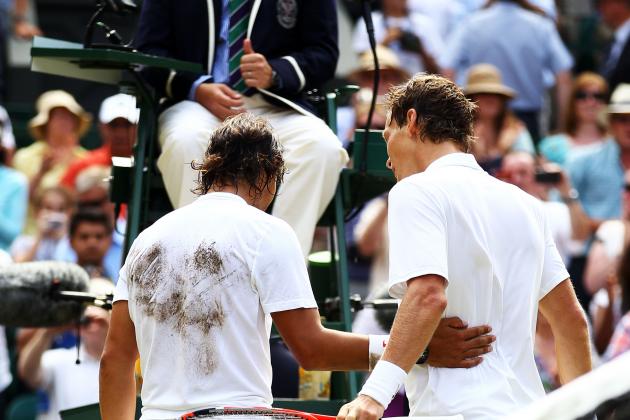 Julian Finney/Getty Images
Berdych and Nadal look like they will meet in the Quarterfinals, as they did in the Final at Wimbledon in 2010.
In the third round, Nadal is facing 119th-ranked Lukas Lacko, who probably feels lucky to have made it this far. After that, he will be facing the winner of John Isner and fellow Spainard Feliciano Lopez. Isner is nearly out of gas after his five-set marathon against David Nalbandian, and Nadal has a 8-2 career record against Lopez.
With Tomas Berdych in Nadal's quarter of the draw, Nadal must be feeling confident in his chances of advancing to the semifinals, as he has a 10-3 career record against Berdych and has won their last nine meetings.
That is a great draw considering the fact that if he does advance to the semifinals, he will most likely face Federer, who will likely be very tired after tests from guys such as up-and-coming Australian star Bernard Tomic and 2009 US Open champion Juan Martin Del Potro. Nadal is also, of course, 17-9 against Federer in his career.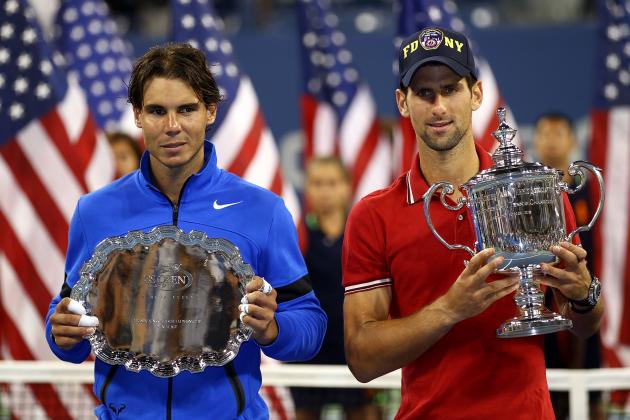 Clive Brunskill/Getty Images
Nadal has had time to adjust his game to defeat Djokovic's new power game.
While it was clear that by the end of the 2011 season Novak Djokovic was in Rafael Nadal's head, expect Nadal to come out with a new game plan and return to holding his own and controlling points against him—just like he was able to do two and three years ago.
It's already clear that Nadal has made changes to his game through the first two rounds, as he has flattened out his serve and added more power to his swing by putting three grams of lead tape on his racquet.
Nadal had nearly a month off in December to make adjustments to his game so that he can take down the mighty Djokovic. Look for him to do just that if they meet in the final down under.