With the conference championships just days away and the Super Bowl not far beyond that, the end of the season brings football fans down.
But wait! The 2012 NFL Draft will save us from the monotony of our everyday lives by keeping us entertained with trade rumors and enough scenarios to sink a ship.
All of the following teams may be looking for a RB come draft day, but that would be the worst possible mistake each of these organizations could make.
New York Jets
Which Team Needs a RB Least?
Despite a lack of superior talent at running back, the New York Jets have bigger fish to fry during the draft this season. They still have Mark Sanchez, too.
The Jets running game was ranked 22nd in the NFL, but Shonn Greene showed he can be an elite back when given the chance. If New York goes after a solid back to split carries with Greene that's not named LaDainian Tomlinson, it will be fine.
With issues on the defensive and offensive lines and one giant issue at quarterback, the Jets couldn't afford to waste a first-round pick on a running back that will split carries for the foreseeable future.
Buffalo Bills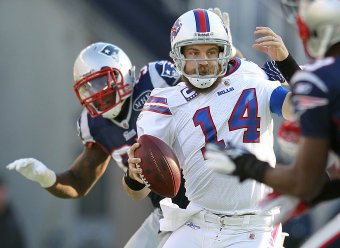 Jim Rogash/Getty Images
There has been talk of the Buffalo Bills considering Trent Richardson if he falls this far, but despite the excellent value, taking a RB at the No. 10 spot would be madness.
Even with the knee injury to Fred Jackson, the Bills proved they can keep their running game going with C.J. Spiller leading the rush. If Jackson doesn't look like he'll be back in time for the start of the season, that's when Buffalo grabs a RB in a later round or via free agency.
The main and sole focus of this draft for the Bills needs to be drafting an offensive line than can protect Ryan Fitzpatrick. Buffalo needs to protect it investment, not add another running back.
Dallas Cowboys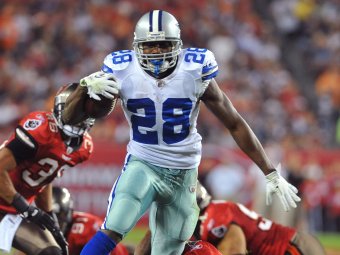 Al Messerschmidt/Getty Images
Despite already having breakout star DeMarco Murray and Felix Jones on the team, Jerry Jones may not be able to handle himself if the Cowboys see Trent Richardson on the board.
I'm willing to bet the comparisons several NFL analysts made between Richardson and Emmitt Smith has the Cowboys owner foaming at the mouth. It wouldn't even shock me if the Cowboys traded up to get Richardson.
That would be the biggest mistake in the franchise's history. Not only would the Cowboys have to give up too much to get the back in the first place, they wouldn't get much in return for Felix Jones because of his down season. Dallas will lose for a long time if it makes this move and ignores the other glaring needs.
Check back for more on the National Football League as it comes, and check out Bleacher Report's NFL page to get your fill of all things football.