2012 NFL Draft: Cincinnati Bengals' First-Round Options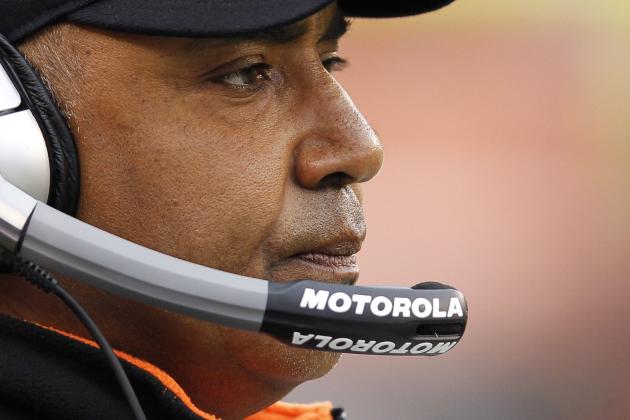 Joe Robbins/Getty Images

The NFL Draft has been uncharacteristically kind to the Cincinnati Bengals in recent years, something the team hopes will continue in April as they look to build on an impressive 2011 season.
Cincy looks to have struck gold last year with the selection of standout rookie WR A.J. Green at No. 4 overall, followed by Rookie of the Year candidate QB Andy Dalton at No. 35. The dynamic duo helped propel the Bengals from 4-12 a year ago to 9-7 in 2011, culminating in a surprise playoff berth.
The team still has holes, however, that must be addressed if they are to take the next step from "feel-good story" to "Super Bowl contender."
Let's take a look at some of the team's most glaring needs, as well as the prospects that may be available to them when the team is on the clock.
Begin Slideshow

»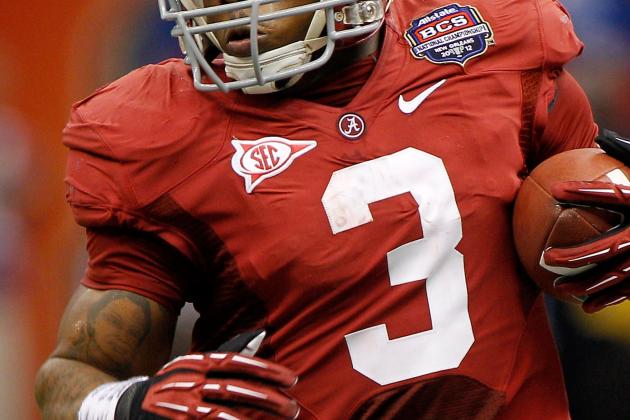 Chris Graythen/Getty Images

Cedric Benson's days as a Bengal appear to be over, which makes running back a position of need for Cincinnati on draft day.
Back-up RB Bernard Scott figures to see his role increase next season, but he isn't really an every-down, feature-back in the NFL.
Cincinnati has two first-round picks in this year's draft––their own: No. 21, in addition to the No. 17, which they acquired from Oakland in exchange for Carson Palmer at the trade deadline.
Though adding a running back figures to be a top priority in the draft, selecting one in the first round isn't necessarily a given, despite having two picks. There figures to be talented running backs available on day two of the draft, but if Cincy were to look to bolster their backfield with one of their first-round picks, here is who would likely get the call:
Trent Richardson, Alabama
Even the most optimistic Bengals fan would tell you the chances of Richardson being available when the team selects 17th are extremely remote, but the possibility of trading up to select the former Alabama running back exists.
Richardson could cement his status inside the top 10 with an impressive showing at the combine, which would mean the Bengals may have to deal both of their first-round picks in order to secure his rights. This scenario doesn't seem likely at the moment, but if management becomes enamored with the difference-making back between now and draft day, they could decide he is worth the high price.
Lamar Miller, Miami
Miller is an explosive back whose stock may rise during the combine. He is the playmaking running back that Cincinnati currently doesn't have on their roster, which makes his name easy to link to the Bengals.
If Cincy goes RB in round one, Miller would be a great choice. It's possible he could be taken earlier (possibly by the Jets at No. 16), but his performance at the combine will likely determine if he is a mid-first round player or if he falls to the end of the round.
David Wilson, Virginia Tech
Wilson is similar to Miller in size, speed and style of running, though Miller is widely-viewed as a superior player. Just like everyone else, Wilson's ultimate landing spot will be determined by pre-draft workouts and measurables, but at this point, he wouldn't appear to be an ideal first-round pick by Cincy.
Chris Polk, Washington
If the Bengals decide to go with a big, bruising running back to replace Cedric Benson, Polk could be the selection.
Polk is nearly identical in size to Benson, at 5'11" and 222 pounds, though he is more explosive at this point in his career and is a better receiver. His name is one to keep an eye on as the draft nears.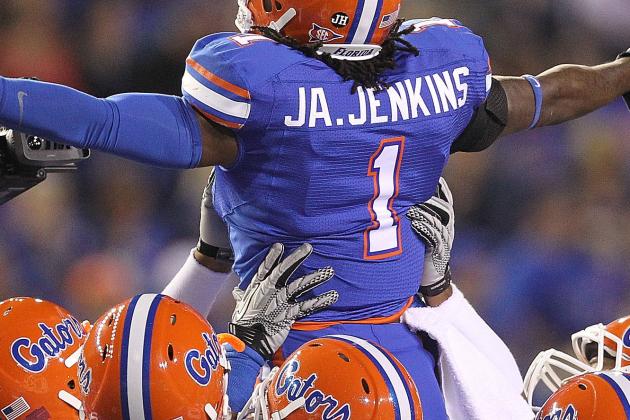 Mike Ehrmann/Getty Images

Cornerback Leon Hall's season-ending achilles injury further illustrated the Bengals' need to upgrade the defensive secondary this offseason.
Hall may not be ready for the start of the season, but even if he is, the team still needs to improve the talent around him. Drafting a young corner to develop across from him would be a great start.
Dre' Kirkpatrick, Alabama
Until just days ago, it was a near-certainty that Kirkpatrick's name would be off the board when Cincinnati makes it's first pick at No. 17, but after being cited for marijuana possession earlier in the week, that is no longer a guarantee.
From a purely football standpoint, Kirkpatrick would be an ideal fit. He's big, he's fast, he helps in the running game and has the tools to be an elite shut-down corner in the NFL. If he is still on the board when Cincy makes their first selection, don't be surprised at all if Kirkpatrick is the pick.
Janoris Jenkins, North Alabama
Kicked off the team at Florida for his own marijuana troubles, Jenkins may find himself free-falling on draft-day further than his talent would suggest as well.
Though he isn't the physical presence Kirkpatrick is at only 5'10" and 182 pounds, Jenkins has all of the physical tools to be a No. 1 corner at the next level. Pairing him with a healthy Leon Hall would give the Bengals a terrific cornerback duo for years to come.
Alfonzo Dennard, Nebraska
Dennard's fight with fellow first-round prospect, Alshon Jeffery, that resulted in his ejection from the team's Capital One Bowl didn't do anything to improve his stock, but he still seems slated for a mid-late opening-round selection.
Dennard is one of the better tackling cornerback prospects in this year's class and excels in press-coverage. He, also, would be a great complement to Hall.
Stephon Gilmore, South Carolina
Probably the last corner that has a realistic chance of hearing his name called in round one, Gilmore appears ready to be an impact player in the NFL.
Though he isn't as fast as some of the other players listed above, Gilmore can be a real asset in the run game, which could make him appealing to Cincinnati towards the end of round one, as well as their AFC North rivals, Pittsburgh and Baltimore.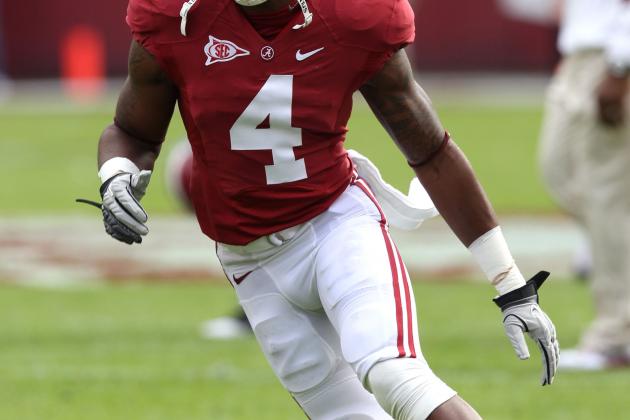 Mike Zarrilli/Getty Images

Safety may be the position of biggest need for the Bengals entering the offseason.
Though there is only one safety worthy of a first-round selection in April's draft, look for Cincinnati to address the position early, likely in the first three rounds.
Mark Barron, Alabama
A run-stuffing stud, Barron figures to be a commodity on draft day. He has the size and speed to be an elite playmaker in the NFL, which makes him unique at his position in this year's class.
If Cincinnati isn't satisfied with their options at cornerback or running back when they make their first selection, Barron would make for a terrific pick, as he would be an instant-starter in 2012.
Oklahoma State's Markelle Martin and South Carolina's Antonio Allen would figure to be targets in the second or third round if Cincy doesn't take Barron.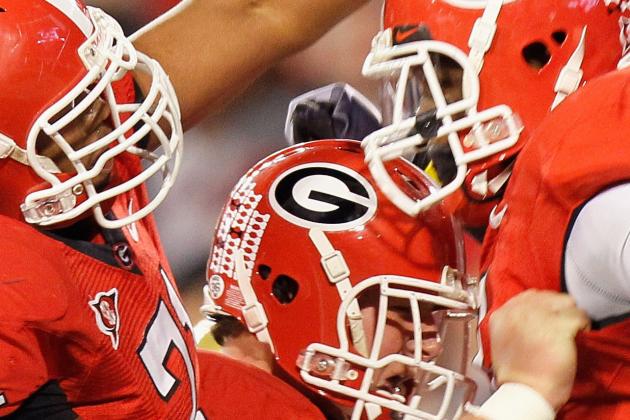 Kevin C. Cox/Getty Images

Though their offensive line played well as a whole in 2011, the interior of the line can certainly be improved.
Adding a run-blocking guard will be a priority this offseason, and several intriguing options figure to be on the board when Cincinnati picks in round one.
David DeCastro, Stanford
There is a possibility that DeCastro could fall to No. 17, though at this point, it seems unlikely.
The Bengals could be blown away by the all-around guard from Stanford and decide to package a couple of picks in order to move up and select him. The more likely scenario has them staying put and hoping he falls to them, but it is possible they view his Steve Hutchinson-like upside as too good to pass up.
Cordy Glenn, Georgia
Glenn is a mountain of a man (he stands 6'5" and weights 350 pounds) and would be a great addition to the Bengals massive o-line.
Running backs tend to look better than they really are when running behind players like Glenn, and if Cincy decides guard is the position they most need to upgrade in the draft, look for Glenn to be selected with one of their two first-round picks.
Peter Konz, Wisconsin
A versatile player, Konz would fit in nicely either at guard or center for the Bengals.
Though he likely wouldn't be their top choice, Konz could make for a nice pick with Cincy's second first-round pick.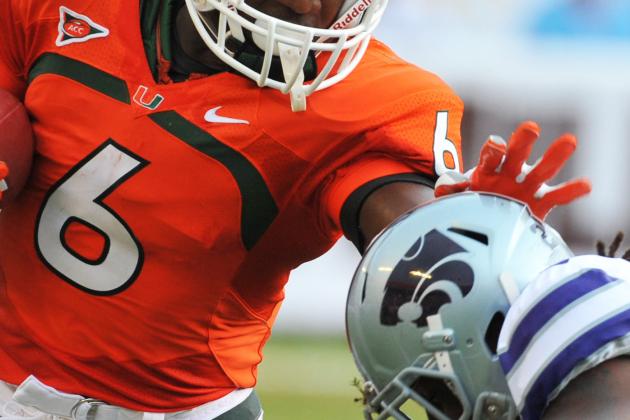 Al Messerschmidt/Getty Images

Cincinnati was the beneficiary of Oakland's desperation at the trade deadline this season and netted a 2013 second-round pick in addition to the 17th overall selection in the 2012 draft.
Thanks to a string of successful early-round picks in recent drafts, the Bengals don't have many glaring needs. With solid returns on each of their two first-rounders in the 2012 draft, Cincinnati could take the next step towards becoming a perrenial contender.
With the expected departure of running back Cedric Benson looming, Cincy figures to address their need for a playmaking running back early in the draft.
While Trent Richardson has established himself as the clear No. 1 option at running back, the No. 2 slot is wide open at this juncture.
Miami's Lamar Miller is the most explosive back in the second tier and could emerge as the clear-cut No. 2 back by April 26th. If that happens, look for him to be a mid-first round pick, which would put him right in the mix for the Jets at pick 16 and the Bengals at 17, since no team in front of them has a clear need at running back.
If Cincy goes offensive with their first pick––be it offensive line or running back––look for them to address defense with their second pick.
The most glaring need the team has on defense is clearly in the secondary, as they could use at least one safety and one cornerback opposite shutdown corner Leon Hall.
Unique players have a tendency of rising in the draft, because teams with a need for that player's skill-set have a tendency to reach for them.
In this draft, there may be no bigger drop-off between the No. 1 player at that position and the second option than at safety. Alabama's Mark Barron is unique and peerless in the 2012 draft, which means his stock could rise on draft day, making him an ideal selection for the Bengals at pick No. 21.
Cincinnati is not only drafting in accordance with the weaknesses of their team, but also with the strengths of the draft. This draft has depth along the offensive line and many fine cornerback prospects, which means they may be able to find impact players to improve their team later on at those positions.
The Bengals lack an explosive, every-down running back as well as a difference-making safety. Selecting Miami's Lamar Miller and Alabama's Mark Barron in April's draft would go a long way towards solidifying Cincy's new-found standing among the NFL's elite.