College Basketball Recruiting: Top 11 High School Slam Dunk Artists in History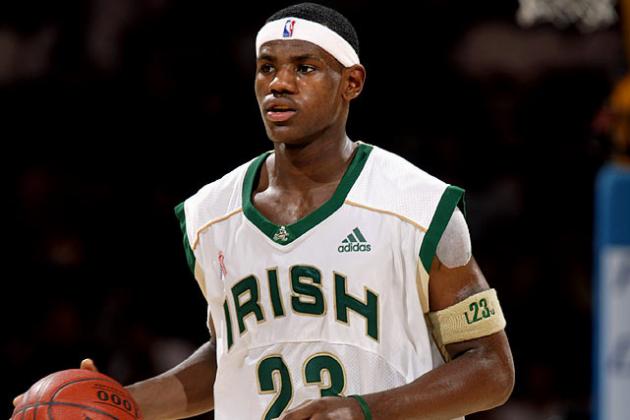 NBA Star LeBron James
Over the years, the evolution of the slam dunk has changed the game of basketball. Fans are enamored by it, the media publicizes it and the players love to do it. With the amount of athletic players displaying their dunking ability each and every game, all year long, it's quite a feat to be included as one of the "Top 10 High School Dunk Artists in History."
Some of these incredible athletes are current stars in the game of basketball, while other stars' careers have come and gone like a shooting star on a clear summer evening.
Take the time to sit back and appreciate the awe-inspiring highlights of the game of basketball's best high risers to ever hit high school gyms in the United States.
Begin Slideshow

»
The most unknown athlete on this list is Ike Nwamu. The 6'3" bull of a shooting guard played second fiddle to Deuce Bello on his high school team for the past few seasons, but he is dunking machine.
If he had played anywhere else in America, he would have gotten more publicity for his dunking ability. He is currently a freshman at Cleveland State University.
Look for him to provide plenty of highlights throughout his Viking career.
Though his shooting ability earned him rave reviews in his time at New Jersey powerhouse St. Benedict's Prep, his ability to dazzle with his dunks was also a key component of his game.
Though he is currently playing in the Chinese Basketball Association, a few teams are working to lure him back to the states and into the NBA again.
The 6'5" shooting guard would be an immediate impact player if he does make it back to an NBA roster this season.
The city of Compton was buzzing during the high school career of local legend DeMar DeRozan. The 6'7" shooting guard made a lasting impression throughout southern California during his prep school days, which culminated in 2008.
After showing off his vertical prowess during a short stint for Southern California, he took his game north of the border to play for the Toronto Raptors.
He is currently one of the game of basketball's main attractions in the NBA, in what should be a long and productive career.
The "Reign man" was a legend since his high school days in the Hoosier State. The former Seattle Supersonic made a career out of producing rim-rattling dunks.
His athleticism also helped him to be a quality shot-blocker in his career. Though this video quality isn't the best, you are able to detect that he was a man among boys at the high school level.
The Washington, D.C. native was one of the most feared dunkers to hit the college game when he played for the Florida Gators before transferring to the Cincinnati Bearcats.
He earned the nickname of James "Flight" White because of his ability to seemingly hang in the air for minutes at a time.
The 6'7" shooting guard trademarked the two-handed dunk from the free-throw line.
Just as Deuce Bello was the sidekick to Quincy Miller in high school, Bill Walker played Robin to O.J. Mayo's leading role as Batman.
The 6'5" shooting guard was the definition of an explosive phenom. While he didn't receive as much praise as his high school superstar friend, he was just as sought after by college coaches.
Though knee injuries have robbed him of some of his athleticism, he is still one of the NBA's best athletes for the New York Knicks.
The Baylor freshman has been an Internet legend since his junior year at Westchester Country Day School, along with star Quincy Miller.
While Miller received accolades and praise for his all-around game, the 6'4", 185-pound shooting guard was known for his above-the-rim antics.
Early in the college basketball season, he already has several highlight-reel dunks for the Bears.
The high school senior is already the state of Georgia's best high school dunk artist ever. His vertical leap is somewhere in the vicinity of 45-plus inches.
His 6'5" frame makes it easy for him to leap over any defender in his way, and he usually does. His talented Milton High School squad has been packing gyms from coast to coast all season long, and it's mostly because of his aerial displays.
Expect him to gain more national recognition next season when he suits up for Auburn in the Southeastern Conference.
The 6'6" legend has been destroying rims from the high school ranks all the way to NBA arenas over the past 20 years.
He started inflicting his will on opponents and rims alike at Mainland High School in Daytona Beach, where he received prestigious honors over the span of his high school career.
His repertoire of dunks only expanded as he took his show on the road to North Carolina and the National Basketball Association. He will forever be known as one of the revolutionary dunkers in all of basketball.
Ask any of the older population in the Windy City about who could have been one of the greatest players to ever play the game of basketball, and the resounding answer from them would be Ronnie Fields.
The 6'3" shooting guard had more explosion in his jump than people can imagine, and made gyms around Chicago his own personal playground. His high school teammate was Kevin Garnett, yet Fields was the one everyone was talking about.
His highlight season included averages of 34 points, 12 rebounds, four assists, four steals and four blocks per game. While a serious car injury took away a promising career, it could never derail his legend in high school basketball.
LeBron James, simply put, is an athletic freak. He always has been, and always will be. He was blessed with a body and genetic gifts that many humans can't even consider attaining.
Being the prodigy he was and is, he started turning heads as early as his middle school days in Akron, Ohio. Watch the noticeably younger LeBron, as a sophomore and freshman, still attack the rim with the same ferocity that he does today.
He also shows the same motor and instinct while chasing down helpless offensive players in transition before he swats their shots with ease.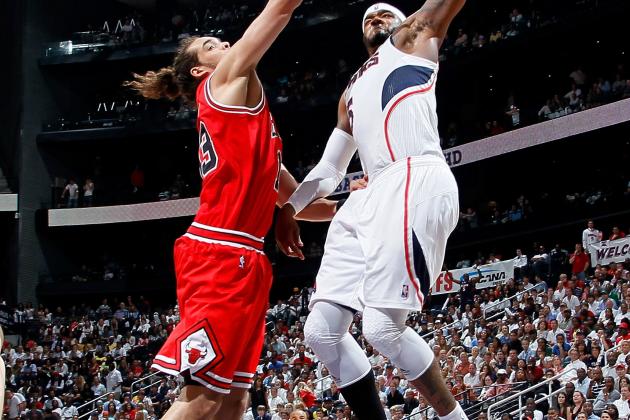 Kevin C. Cox/Getty Images

Josh Smith, Oak Hill Academy (VA)
Andre Iguodala, Lanphier High School (IL)
Dwayne Polee II, Westchester High School (CA)
Gerald Green, Gulf Shores Academy (TX)